By Charlene Muhammad CHARLENEM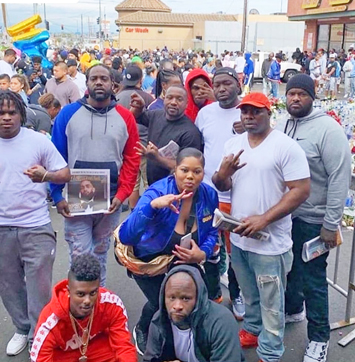 LOS ANGELES–Before their brother rapper and self-made millionaire Nipsey Hussle, who was born Ermias Asghedom, was gunned down execution-style in front of his Marathon Clothing store in South Los Angeles, some among the Bloods and Crips street organizations were working to build a movement for peace.
Not for fame, fortune or notoriety they say, but so that children could grow up to realize their dreams as Nipsey did, and to prevent mothers from grieving over sons and daughters gunned down in gang wars.
LaTanya Ward (aka FO), a member of the Black P Stones Bloods, and Lil' A.D., a Rollin' 60s Crip, talked recently about wanting to close the gap between warring factions, factions that may include cousins, brothers and sisters connected by blood lines. They are planning a Memorial Day outing for peace May 27. Everyone is invited–children, gang members, mothers of murdered children, the Nation of Islam, anybody Black, said Lil' A.D. Nipsey Hussle allegedly killed by a fellow Crip was a member of the Rollin' 60s Crips in early April. Eric Holder has been arrested and charged with his murder.
Respect is a requirement for the May gathering that follows a successful April 6 gang peace walk to ground zero, the Nipsey Hussle memorial site at Crenshaw Blvd., and Slauson Avenue. The place where he was murdered on March 31 outside of the store he owned and in the midst of a plaza and neighborhood he planned to redevelop.
Respect. Respect. Respect. "That's the key word, because the love part, Im'ma be real. Like I tell them, I'm not asking y'all to have a party together. I ain't asking y'all to hang out with each other. But I'm asking ya'll can we please just stop killing each other? Can we please just respect each other? When we see each other in the streets, can we just be like, alright … and you go your way. He go his way?" asked Lil' A.D. "I'm asking them don't advise no more kids to gangbang. Don't put no more kids on to gangs. Where we at right now, let's just leave the gang right there," he said.
According to the 39-year-old Crip who started gangbanging when he was 12, responses have been very positive. "They actually with it. They actually want that, too. They actually respect what I'm asking them for, and they actually want to do it themselves," he said, referring to other street organization members.
Over the years working for peace has been difficult. Not everyone welcomes the efforts, sometimes due to high tensions on the streets, friction from law enforcement or others linked to street wars. Nipsey's death heightened efforts to end fratricidal violence, gang members said. Ms. Ward felt it was the perfect time given sadness expressed by rival gangs and in media coverage at the Crenshaw memorial site. These urban peace seekers want fellow gang members to experience the brother and sisterhood they share, despite the fact they are from different gangs.
We want the world to know that gangs are ready for something different, said Ms. Ward.
"We're ready to be better, and we really are more connected than ever. They like to make people think that gang violence is still at an all-time high, but it's not. So I wanted the news to cover that, which they did not, not on the level that they covered the fake news about people being shot and stabbed," she told The Final Call.
After Nipsey was shot, she called to check on Lil' A.D., because Nipsey was like his little brother. She said at first he didn't think it was the right time, because everyone was grieving over Nipsey.
"My woman's intuition was like, no! It's the perfect time," said Ms. Ward, whose urge for peace began in 2010, when she started building relationships with those from rival gangs and friendships with Bloods and Crips she would see at clubs.
She has to fight pretty hard in the male-dominated culture, so fighting for others to respect her role in the latest push for gang peace was not surprising, but, it was intolerable, she told The Final Call. It's not about egos or credit, but it's about telling the truth, which is the foundation for peace, said Ms. Ward.
"It's important for women right now, Black women, to recognize their position and their responsibility in all of this and if they know that I did it … It's important for us to spark that in our men, because a lot of them are trying to f—–g impress us," she said.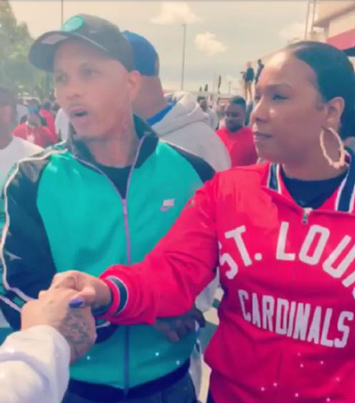 When women take responsibility with their power, they'll do and feel better, added Ms. Ward. "We'll see ourselves as the help instead of the helpless, and we'll start putting our power on s—t and we'll see how s–t will turn over," she continued. Ms. Ward touched on Black women's pain in having their men, their protectors, stripped from them by an enemy dating back to slavery and how that resulted in Black misplaced female masculinity. "They put all these things in our mind like we gotta be our own f—–g man damn near, but we have like this nurturing ass spirit as women and that's needed right now because it's a lack of it," she said. "That's why it's so sad that Nipsey is dead, because he came with that as a male, and it's already a lack of it so it's so sad that the world has less of it now that he's gone. He was all-inclusive, and a bunch of things that would be considered feminine and woman-like, like just giving a f—k about people. That's needed, and it's in women a lot, so we need to step up and they need to know that a woman spearheaded this s—t."
"I don't want to take anything from anyone who did assist because I jump started it. I made the call. I connected the niggas that needed to be connected and then from there, they connected more people and more people, and it went on, but I feel like people don't want to give me credit because I'm female … I made these calls and invited y'all and now you gon' tell the story excluding me? I'm not having it but thank God for me having a relationship with the dudes that have a say in this gang bang s—t!" she said.
Lil' A.D. felt it. He also felt more sad than angry, and wished everyone could get along, so together the Bloods and Crips, backed by their "O.G.s," Original Gangstas, elder members of the street organizations, picked up the baton in a marathon for peace ignited over 25 years ago. On April 28, 1992, gang members from four major housing projects in the Watts section of Los Angeles, Imperial Courts, Jordan Downs, Nickerson Gardens and Hacienda Village, established a peace treaty trying to curb bloodshed that resulted in over 1,000 murders a year in the 1980s.
The '92 Peace Treaty came in the midst of the Nation of Islam Minister Louis Farrakhan's clarion Stop the Killing lecture series delivered across the country. He appealed to youth and warned them of government and law enforcement plots to use their violence as a justification to slaughter the Black community. While others were skeptical and suspicious, Minister Farrakhan embraced and applauded the urban peace efforts. He brought the Nation of Islam's annual Saviours' Day 1993 convention to the City of Angels as a tribute to the tremendous and painful steps Black youth had taken. Minister Farrakhan's 1989 Stop the Killing address at the L.A. Sports Arena and the acquittal of White officers videotaped beating Black motorist Rodney King and rioting that followed helped build support for the '92 Peace Treaty.
Min. Farrakhan came to Los Angeles and spoke at the memorial outside Nipsey's store with street organization members at his side and April 11 at Nipsey's Staples Center funeral. He applauded youth for finding the way to peace, acknowledging it was a difficult road. Min. Farrakhan asked for continued efforts to stop the killing and make and maintain peace in Nipsey's memory.
"What happened to Nipsey, it really tore me apart. This is a different hurt. This is a hurt that I ain't never felt before. I done lost a lot of homies, and I done been sad and I done been hurt and I still think about them 'til this day, but this is a different hurt. This is a hurt, like I wanted revenge at first, I did. But then it opened me up to seeing your lil bro was trying to get Black people to love each other," Lil' A.D. told The Final Call.
It's important for neighborhoods to care for the children, whether they want to be a teacher, singer, are going to church, or preaching the word–just make sure they avoid gangs and drugs, he said.
After Ms. Ward and Lil' A.D. brainstormed on how to get the gangs, also called "tribes," together, they called on activist Skip Townsend, founder of 2nd Call gang intervention effort, and Rollin' 60s Big U and Bear Claw to help. Their first meeting had some 10 different gang members from 10 different gangs, and their second meeting had 30, they said.
"Voila! … We made history," said Lil' A.D., who gives credit to gang members older than him, like Big U, Bear Claw and others paving the road to peace with their work. "I give them their props and all the respect in the world for even trying to bring peace and trying to bring unity and I take nothing away from them. Peace hasn't been this good for a minute 'til right now."
"At the end of the day, it's real rewarding when you know you're doing something that helps these elderly and the Black folks. I feel that now we got progress," said Melvin Farmer of the Eight-Tray Gangster Crips. "We're not guaranteeing nothing's going to happen. It might start tomorrow, but we're in position to where we're almost going to guarantee it's nipped in the bud, because when it happens we're gonna find out why." He was talking about intervening in conflicts or problems that arise and threaten peace. Gang members also argued reports of gang violence are isolated, personal incidents, such as domestic violence episodes, but White news media labels them gang related. Older leaders are trying to control such false propaganda, said Mr. Farmer.
Things have been calmer on the West Side area, particularly in what's called the "Death Alley" corridor, he added. It's a one and a half mile stretch west of the 110 Freeway in South Los Angeles that has been historically plagued with gun violence.
"There has not been no shooting. There has not been no looting. There has not been nothing. The children are out playing. The elderly are enjoying the opportunity to come out and breathe and walk freely, and the city is vibrant on the West Side," stated Mr. Farmer on April 18. "You can see it! I ain't heard a helicopter since the night he (Nipsey) been shot. Now when I hear a police car or an ambulance, I think of an elderly being hurt or an accident happened, but I don't think of murder in hearing the sirens, so the sound of the streets dictate that we're walking in public safely," he told The Final Call.
Part of redefining the community is working toward restorative justice, not punitive justice, Mr. Farmer added.
Despite the challenges of helping misled youth to understand they don't have to pick up a gun and killto get respect over a color and they can respect their own kind, said Lil' A.D. who has never been more equipped to help save young people.
"I don't care where they from and it's the same manner as Louis Farrakhan. He's one Black man that's been there for his people. He's a Black man that opens up his arms to every Black man and Black woman and I admire that about him, and it was an honor to meet him. Even Tony Muhammad, they made me feel so good about myself, about what I'm doing, because they were so happy to meet me and hear that I was the person and my sister that came with this idea to press this, get Black love and unity back," said Lil' A.D. "For some people like that to admire you, that's been doing it and fighting this fight for so many years, it makes you feel good, it makes you feel happy, what you're doing. You're doing the right thing," he said.
Another part of solving the violence problem may be through United Hood Nations, an initiative marked by Bloods and Crips seeking peace in July 2016. Over 2,000 gang members, intervention specialists, activists and concerned citizens including mothers of murdered children, met in South Los Angeles where many signed a peace treaty. "That particular organization has structure, and now the goal is to activate that, United Hood Nations, meaning it's similar to the United Nations," said Nation of Islam Western Region Student Minister Tony Muhammad, who has been working for peace and was given the name Abdul Malik Sayyid Muhammad during Min. Farrakhan's recent visit to Los Angeles.
The goal is to get each group to dedicate three to four people to attend quarterly meetings aimed at developing street protocols toward peace and getting all the neighborhoods to buy into and activate new policies that build peace, he explained.
"Just because peace has been declared, it hasn't gotten to every group. It hasn't gotten down to every man to where they understand what that means, so it's just like the Civil War. When the war was said to be over, there were still certain battles going on, and it took maybe a while for those battles to subside, so the same thing here," he stated.
We have to continue what's already established, find out what the gang members need and fulfill it, Min. Muhammad said. "We don't have to reinvent nothing, because we're already on the road to peace. Nipsey's murder has just quickened the pace of the peace."
A big challenge is overcoming self-hatred and lack of knowledge among some in street organizations and acclimated to self-love, Min. Muhammad said. "It's the love of self that will help us move toward the love of others. That's the biggest challenge," he said.