By Charlene Muhammad CHARLENEM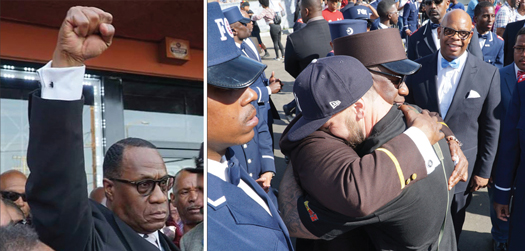 LOS ANGELES–For more than two decades, Nation of Islam Student Minister Tony Muhammad has demonstrated a love, commitment and dedication to his people in Los Angeles that has grown into the pure and near perfect love displayed in recent days since the passing of beloved rapper/entrepreneur Ermias Asghedom aka Nipsey Hussle.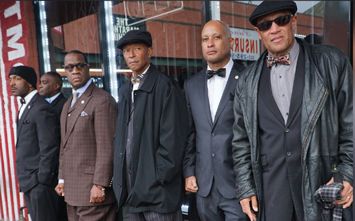 When the Honorable Minister Louis Farrakhan appointed Min. Muhammad as his Western Region Representative over 20 years ago, the Georgia-born helper, affectionately called "Brother Tony" by many in the streets and from all walks of life–had never even been a minister of any Nation of Islam mosque before.
But when he touched down in L.A., 'Brother Tony' hit the ground running to help those most in need. His work was in the streets. His years of service with the Nation of Islam's Western Region Headquarters, Muhammad Mosque No. 27, and tireless sacrifice, are bolstered by the love, sacrifice and support of his wife L'tonya and their children, Khallid and Asha.
Min. Muhammad's extensive work has included helping to make peace among warring gang members and feeding not just the poor, but the Black community in general, like when he launched Your Farmers Market with local Black farmers. They provided boxes of fresh, organic produce to families in poor communities, including low income neighborhoods and residents in L.A.'s housing projects.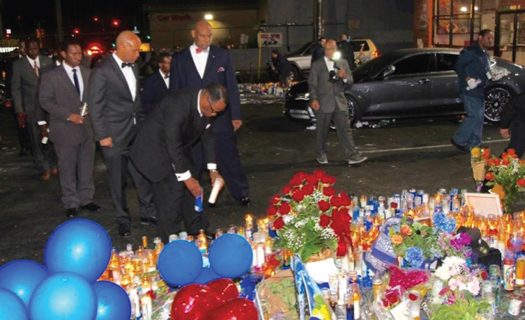 Whether speaking out for or praying with and for mothers of murdered children and their families, or bridging the gap between the police, city officials, and the community, Min. Muhammad has been a vanguard in promoting peace.
"Brother Tony Muhammad has been very impactful, not only in this situation with Nipsey Hussle, but he has been consistent. His consistent effort, working with Crips and Bloods, dating back to '92, so the measurement of success for me is through his consistency," said Skip Townsend, former gang member who founded 2nd Call, a gang intervention organization in South Central.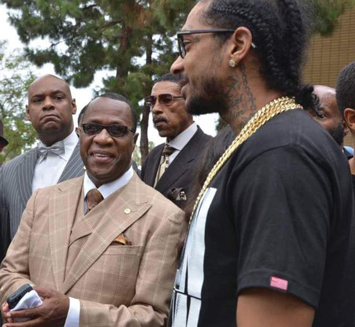 He said Min. Muhammad has a very impactful role in Los Angeles and everything that goes on there and said his mentorship has been key. Min. Muhammad mentored his mentors and now, those younger generations, Mr. Townsend explained.
"We're often looking for his leadership and guidance, even if it's just words of encouragement or whatever is going on in different situations. We often go to Minister Tony Muhammad for advice and leadership," he said.
Min. Muhammad has always gone to battle with the police and anybody for the people and demonstrated that he's willing to pay the price for peace.
Mr. Townsend said when he learned back in August 2005 that the LAPD had beaten and arrested Min. Muhammad on 63rd and Crenshaw during a community vigil for a victim of gang violence, he became a full-fledge believer that the Nation of Islam representative was definitely there for Black people.
"When anybody risks their life, their stature, their status in the community to help the people, I always take my hat off to that, so Minister Tony Muhammad has done that several times, going into the community and actually telling the truth. So when we say go into battle with the police, it's not just a battle, like we want to fight for something. We want to fight to make sure it's the truth. That's what the fight is for," said Mr. Townsend.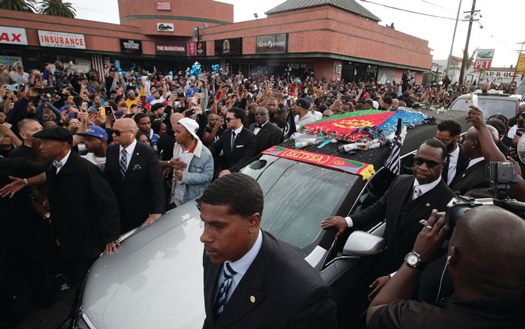 Min. Muhammad has been honored by various community groups including Stop the Violence, Increase the Peace Foundation for his work. Recently, he received the International Association of Scientologists' (IAS) Freedom Medal of Valor Award for his activism and peacemaking work in the cause of human rights.He was honored for his efforts creating the United in Peace Peace Rides and UpFest. The Peace Rides have rolled more than 50 times, on the fourth Sunday of every month, with motorcycles, low riders, sports cars, and mini bikes, through 33 of the toughest neighborhoods in the inner cities of Los Angeles, promoting peace.
L.A. Mayor Eric Garcetti, Compton Mayor Aja Brown, other city officials and national politicians honored the Peace Rides with proclamations, thanking Min. Muhammad and all involved, including Christian pastors, street organizations, bikers, mothers of murdered children, and other community stakeholders.
In addition to those entities, Min. Muhammad thanks the street gangs, because they trust and help him. His work towards peace is constant and not an individual thing, but a team effort, Min. Muhammad has said.
Without the street gangs, he could never have accomplished what he has done, he has told The Final Call. He has shared consistently, that he loves South Central L.A., and will never turn his back on the streets of Los Angeles.
Part of what makes Min. Tony Muhammad fearless and unafraid to go into the trenches to help bring a healing to his people who suffer from violence, homelessness, mental health issues, unemployment, and other problems, is that he is obedient to his teacher Min Farrakhan's guidance. He said he has followed the Minister's guidance to mediate a ceasefire among the rival Bloods and Crips gangs.
In July 2016, Min. Muhammad along with rapper The Game, and many others, held the United Hoods plus Gangs Nation Peace and Unity Summit at Mosque No. 27, where approximately 2,000 people, including gang interventionists and concerned residents responded. Some Bloods and Crips sets made a peace treaty there.
In July 2018, approximately 100 desperate small community business owners appealed to him for help because their businesses were suffering due to construction on Crenshaw. Some of the entrepreneurs literally cried, saying the Metropolitan Transportation Authority's building of the Crenshaw/LAX underground light-rail line to ease congested traffic had been blocking access to their businesses, among other things.
In addition, they had been disqualified for grant funding for directly impacted businesses. Min. Muhammad met with the community business owners, as well as Metro officials and helped to handle some of their immediate unmet needs and developed an action plan to ensure their longevity and survival.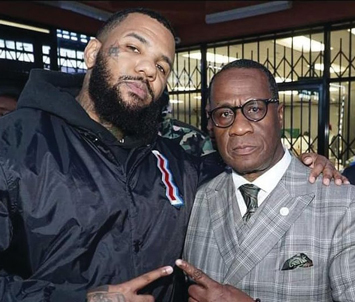 Part of why he's been successful in service to the community is because people trust him, residents said. He has street credibility and has an integrity that's real, no matter who he's dealing with, many people have previously expressed to The Final Call.
"Minister Tony has been really, really important to both me personally and to Black Lives Matter in general, but also to the whole of the Black community," said Dr. Melina Abdullah of Black Lives Matter Los Angeles and chair of the Pan African Studies Department at California State University L.A.
"As we talk about how Black people are vulnerable to police violence and abuse and killings, the question always comes to us, well what do we do for public safety? I think that what the Nation (of Islam) and what especially the Nation in Los Angeles has been able to do is step in and intervene when we need something," she said.
Such was on the day the community was out at Nipsey Hussle's procession following his celebration of life and memorial service at the Staples Center on April 11, according to Dr. Abdullah.
"The LAPD came in and they were pushing kind of a confrontational egotistical, disrespectful narrative so instead of talking to people … what they did is come in and police and tell people don't sit on curbs. Well, we've been sitting out here since 1 o'clock, 2 o'clock in the afternoon, hours and hours have gone by. How are you gonna tell a mother and her little child not to sit on the curb, as opposed to when the Nation comes in, we're greeted respectfully," said Dr. Abdullah.
"We're engaged. There's some conversation. We know them. They're part of our community, and there's a different kind of level of respect and engagement," she said adding that Min. Muhammad has been at the forefront of leading that effort.
Beyond the protocol of how the Nation of Islam works for the community and has personally helped her family with safety and security, Min. Muhammad has a level of care, despite the fact that they don't agree on every single thing, she continued.
"Minister Tony is very important to Los Angeles and Black Los Angeles reveres him. When I was on trial, Minister Tony showed up. No fanfare but came just to support me. And that's what I mean about love and care– beyond what your role is," said Dr. Abdullah.
"Everything, all the work that we do for our people has to be grounded in love, and I think, I feel that not just as a member of the movement, but as an individual, and so I really, really appreciate him."
So do many others, including fellow Muslims at Muhammad Mosque No. 27 and across Southern California and the world. They cheered loudly when Min. Farrakhan announced during an April 12 Nation of Islam Believers meeting in LA that he had given to Min. Muhammad the holy name Abdul Malik (meaning not just a king, but also a judge who settles the differences of others) Sayyid (one highly respected; master; lord), and to his wife, the name Malika.