By Charlene Muhammad CHARLENEM
'Not Just An Ordinary Man'
LOS ANGELES–Love descended on grieving residents of South Central Los Angeles when the Honorable Minister Louis Farrakhan visited the Rollin' 60s Crips street gang neighborhood to honor Ermias Asghedom, the slain hip hop artist, family man, entrepreneur and community builder known as Nipsey Hussle.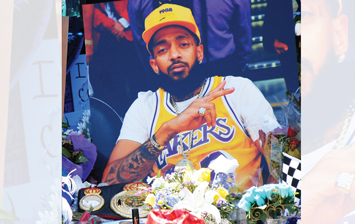 Minister Farrakhan, the revered 85-year-old National Representative of the Honorable Elijah Muhammad and the Nation of Islam delivered a powerful message where the 33-year-old hip hop star was gunned down.
Minister Farrakhan's presence was very special, not just for the Rollin' 60s, but all street gangs. On April 10, he said it was a joy to be standing on 'sacred ground,' as he delivered a monumental message from the Ground Zero memorial site outside the hip hop artist's Marathon Clothing Store. It sits in a plaza also owned by Nipsey and his business partners, at the intersection of Crenshaw and Slauson popularized in his music. Nipsey was shot and killed March 3l.
"The man who made this happen is not just an ordinary man, because ordinary men don't think like he thought. Ordinary men don't do like he did. He was a man that God sent this way and he rose up out of a culture that nobody would think that greatness would come out of," said Minister Farrakhan. "It's like the Bible says about where Jesus was born, can any good come out of Nazareth? Can any good come out of the 'hood? And, Nipsey answered and said, 'Here am I. Send me,'" Minister Farrakhan said.
The Minister spoke on why he likes the name Ermias, which means "God will rise," and said he likes the name Nipsey, too, because in the young artist's Eritrean language it means homie–one of the brothers that never forgot his roots.
"So, all of you that love him, you cannot let his legacy die. He called it a marathon, and you know a marathon is no light weight jog or sprint," said Minister Farrakhan. "As Jesus said it, the race is not to the swift or even to the strong, but the race is to those who can endure to the end."
"What our brother has done, God has called him back to himself. He's like somebody that God lent to the world, like he lent you and me to the world. You can't stay forever, because life must fade and fade away and ultimately the flesh will die and return to the earth, but where you come from, listen to me carefully, where you come from, you can't return to God if you didn't come from God," said Minister Farrakhan.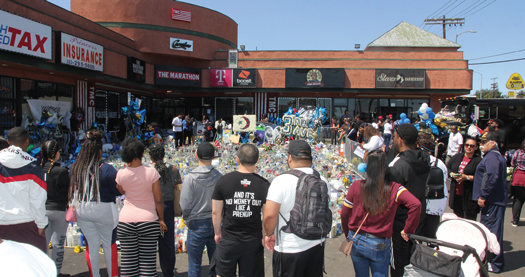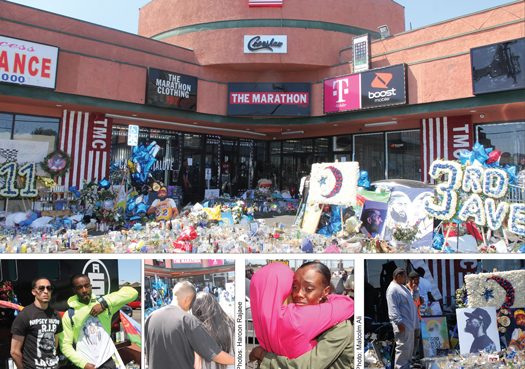 The hush that had not before existed over the area since Nipsey Hussle's death lifted just a bit when people around the parking lot agreed loudly with Minister Farrakhan. Use the spirit within, the energy of life, like Nipsey used his in songs that had meaning, he said.He saluted gang members for forging a peace treaty and urged them to strengthen that commitment, saying those who are the enemy of Black people are fearful of a peaceful, united community. The Minister also called for unity between Blacks and Latinos, Blacks and Native Americans and Blacks and poor Whites.
He said the so-called gangs can end all of the death and fratricidal violence, if they end their self-hatred, and told them there's no reason for them to hate themselves. "You are a direct descendant of God himself, so each time you look at yourself in the mirror, you're looking at a part of God. And when I look at you, I see God," he said.
Min. Farrakhan is no stranger to embracing young people, the hip-hop community and street organizations as a father-figure and guide, encouraging them to unearth and cultivate their God-given talents for the betterment of themselves and their communities.
He praised Nation of Islam Western Region Student Minister Tony Muhammad (now known as Abdul Malik Sayyid Muhammad) for his work with Nipsey Hussle and in the community (See page 6 for related article). He was especially pleased at a recent salute to the slain son of South Central from the Nation of Islam in Los Angeles that featured Muslim men and women in uniform and led by Min. Muhammad. The brief ceremony went viral on social media.
Minister Farrakhan said he has never seen anything in life so beautiful than their work that day at Ground Zero for Nipsey.
"You sisters showing the world what Elijah Muhammad and his teaching does for Black people who want to become great. I saw the brothers, marching in their uniforms, and we gave the world a picture of what a civilized man and woman, a fearless man and woman look like," said Minister Farrakhan. The images shook the world and made his job a little easier, he expressed.
"You gave the world a view of where we are going–cleanness of our bodies; the cleanliness of our minds; the brightness of our skin; the light that is in our faces is the light of God. You don't have to die so soon," said Minister Farrakhan.
Local police who have been meeting with Min. Muhammad acknowledged, somebody lied to them about the Nation, and himself, Minister Farrakhan said.
"They're terrified, not because I'm a hater. They're terrified because I'm a lover and I'm a lover of life and the people of God, and every human being that is struggling, we love them like we love ourselves," Minister Farrakhan said.
He instructed the men to protect the women, because their wombs birth the prophets, people like Nipsey, and giants who are born to answer the prayers to end the scourge of disease and other ills.
There should be no more fights between the Black and the Brown to the pleasure of the enemy, and no one stands for the killing of Nipsey, the Minister explained.
"He didn't gain. We didn't gain. The enemy gained, because he said if this Black man can tie us together with high technology, if this Black man can put out a documentary on Dr. Sebi, if this Black man can rise above gang culture and the red and the blue come together as one, you'll produce a change in America," he told the crowd.
"You'll produce a change in the world, and you will be the author of that change and the beneficiary of what comes from that change," said Minister Farrakhan.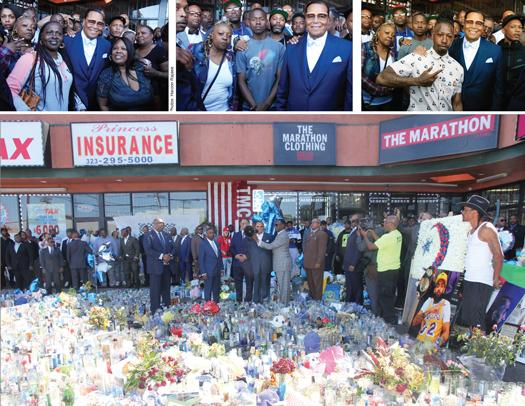 Before departing, he prayed that God blessed them, keep them, and grant them knowledge, wisdom, understanding and power that they may put Satan to a perpetual flight and make a better world for all to live together in peace.He again thanked Min. Muhammad, the Nation of Islam, brothers and sisters of the Rollin' 60s, the Hoovers, and all the gangs. "Let's make this pledge: Everyone that died did not die in vain. Everyone that was slaughtered on the streets of Los Angles did not die in vain!" the Minister concluded.
He then greeted members of the Rollin' 60s, many overcome and overjoyed by his presence. Many fell into his arms, smiled and hugged Minister Farrakhan, who smiled just as warmly at them. Some, including female gangsters, flashed their gang signs as they posed for photos with the Minister.
"When he showed up and the people saw us pull up in all these SUVs, they didn't know who that was, until we got closer. When the Minister got out of that car, the tears that started rolling down our people's eyes were like, 'Farrakhan came! He's the only leader that came,'" said Min. Muhammad.
He said Minister Farrakhan would not even come unless Nipsey's family and the people wanted him to. "What a noble man. Negro leaders come to take the spotlight for themselves, but the Minister's biggest concern was he didn't want the family to be uncomfortable with his visit. That was so beautiful," said Min. Muhammad.
Jason Jackson from South Central Los Angeles, by the way of St. Louis, Missouri, East Side 87 Kitchen Crips Gangster, said Nipsey meant a lot to him because he's seen his progression from a time of no recognition to success.
"He was selling CDs out his trunk; but he hitting everywhere. He just didn't stay in his 'hood. He trying to unite Black men as a whole, man. All this gang stuff, man, we are our own military, man. We don't need no outside help from nobody, man," said Mr. Jackson.
Olivia, a Columbus, Ohio native who lives in California thought Minister Farrakhan's message was amazing!
"I thought it was beautiful. He's an amazing man and he inspires me in many ways. I wasn't able to meet him, but I really love him. The fact that everybody is out here, everyone's coming to support and show love and then the Minister which was so amazing and beautiful. I just loved everything about it," she stated.
"His (Nipsey Hussle's) music would help me to get through a lot of the things that I was going through. And I'm trying to be successful in school and everything. I would listen to his music when I was studying. He was a real genuine guy and you could tell how he matured over time through his music," she stated.
Min. Farrakhan also spoke at the funeral service for Nipsey at the Staples Center on April 11. The service was livestreamed on various social media platforms and carried on local LA news stations. Social media was buzzing on Twitter, Facebook and YouTube to Minister Farrakhan's remarks which included people commenting how he connected the Rollin' 60s to the Bible. Minister Farrakhan trended on Twitter for over six hours, according to Jesse Muhammad, his social media director.
Comments from some users included:
Farrakhan is so angelic that he can't help but see God in a person like Nipsey because he doesn't look at faults. He looks at need. We need to appreciate this man before he leaves as well.
Louis Farrakhan Just stopped the World, That's Power. Louis Farrakhan really compared the rolling 60s to biblical prophecy.
This man had Louis Farrakhan speak at his funeral that speaks for itself.
Though I don't follow or am a fan of Louis Farrakhan, I cannot dismiss the fact that he is an eloquent wordsmith who brought powerful words in a hopeless moment. Regardless of how you feel about or the things he's done, it was a celebration of life for Nipsey Hussle. Don't be negative. (Final Call Staff contributed to this report.)