FINALCALL.COM
Related news:

Statement on the Passing of Nipsey Hussle
Mourning, Missing, Honoring Nipsey Hussle
Rebuilding and Buying the Block
Nipsey was true hip hop culture: revolutionary, unapologetic, standing for the rise of a people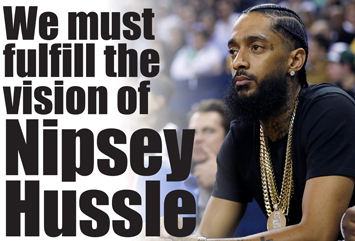 Ermias Asghedom, who was born to an Eritrean father and a Black American mother, grew up in the Crenshaw section of Los Angeles and was known to the world as Nipsey Hussle.
We lost Nipsey on a Sunday in the neighborhood where he grew up, opened businesses, bought a block and was a sign of how far talent, determination, wisdom and love can take you. There was an outpouring of sorrow March 31 as word of his death spread.
At Final Call press time, it was not clear who pulled the trigger or why, but we can count the taking of his life at 33 years old as a tragedy. You can hear his life story and feel his heart through his music and his words. But we hope his work and vision to redevelop an entire neighborhood, extend opportunity and promises of a better life to others will live on.
Its clear Nipsey's dreams were never solely for himself.
"I just want to give back in an effective way," he told the Los Angeles Times in an interview. "I remember being young and really having the best intentions and not being met on my efforts. You're, like, 'I'm going to really lock into my goals and my passion and my talents' but you see no industry support. You see no structures or infrastructure built and you get a little frustrated."
That frustration opens the door for life on the streets and the violence that Nipsey was able to survive– and it was a reality that he wanted to change.
Giving back meant not only supporting people doing good work, encouraging young people to avoid the gangs and violence that were once a part of his life but literally creating opportunity. It meant businesses, jobs, products and neighborhood redevelopment.
"Change is coming to Crenshaw, and Nipsey is aiming to be on its bleeding edge: This month, Nipsey and business partner Dave Gross swooped in to pay 'a couple million' for the plaza. Within 18 months or so, they'll knock everything down and rebuild it as a six-story residential building atop a commercial plaza where a revamped Marathon store will be the anchor tenant," wrote Forbes magazine in a February 20, 2019 profile.
"In the meantime, a light rail line is rising to link Crenshaw–which, crucially, qualifies as a tax-advantaged Opportunity Zone–to Los Angeles International Airport and other key nodes of sprawling Southern California. The plaza will be among the first to benefit: There's a brand-new train station under construction just steps away.
"Nipsey may not be hip-hop's biggest name, but he's certainly among the genre's most entrepreneurial."
Nipsey, who came up from "the worst house on the block," was purchasing blocks and laying out plans for those blocks. It was about the bigger picture and acquiring knowledge to move people who didn't have anything forward.
"I'm going to name my last album The Spook Who Sat By the Door," he told the hosts of The Breakfast Club, the popular radio and YouTube.com show in February 2018. In the book by Sam Greenlee and the movie of the same name, a Black man is recruited as a token for the CIA, but he acquires knowledge and training and with that knowledge and training unleashes a guerilla war and urban insurrection.
"I don't want to blow nothing up like he did in the movie but in terms of being able to mobilize his homies to a higher cause, that's something I feel like we all gotta do," Nipsey said.
The weapon used against those who sought to exploit the man and his community were the expectations that he and they would fit into prescribed roles and personas, but the Black agent uses their evil intentions against them.
There is plenty of work to be in Nipsey's name, including his understanding that bringing gang wars into the rap game serves no one and mutual respect and even collaboration can allow for mutual respect and mutual benefit.
People can follow examples, Nipsey said on The Breakfast Club. They can follow one path that has led to jail and death or they can follow another path that can bring success and benefit to their families, their homies and their communities, he said.
Even questions he raised in his music, such as, on his song "Blue Laces," Nipsey rapped: "They killed Dr. Sebi, he was teaching health. I fuck with Rick Ross 'cause he teaching wealth. Dropped out of school, I'ma teach myself. Made my first mil' on my own, I don't need your help."
During The Breakfast Club interview, host Charlmagne Da God observed that mentioning the holistic doctor's name would cause people to research him and asked why would Dr. Sebi, or a holistic doctor, be targeted? "Why do they kill all holistic doctors? You shortstopping their grind. Why do niggers get killed for hustling in front of another nigger's spot? You're shortstopping the grind. These niggers (pharmaceutical companies) their checks are billions," said Nipsey as he talked about doing a Sebi documentary.
A meme and video widely distributed on Facebook, Twitter, and Instagram contained Nipsey's words from an interview with filmmaker Tariq Nasheed. "If I die over this documentary y'all better ride for me," he says. The documentary Nipsey referred to was his work about the trial of Dr. Sebi, who won a case challenging his newspaper ads saying he found a cure for AIDS. Dr. Sebi, also known as Alfredo Darrington Bowman, was instructed by the New York state attorney to take the ads down, charging he was selling non-FDA approved products, and practicing medicine without a license. In court, Dr. Sebi said he had cured patients who received his treatments. When the judge asked for proof and patients, Dr. Sebi provided 77 healed patients to the court, and he won the case. He was later arrested on different charges and reportedly died from pneumonia in Honduras in 2016. Many believe he was targeted and questions about his death rose as questions were asked about Nipsey's passing and documentary.
If Dr. Sebi's work could have challenged the great pharmaceutical companies by offering a cure for AIDS, diabetes, herpes, cancer and all kinds of diseases afflicting our communities and others, how many billions of dollars did the big pharmaceutical companies stand to lose? It would seem important to do a serious documentary to look into such work and its ramifications. On Instagram, entertainer Nick Cannon promised to finish Nipsey's Sebi documentary, saying, "It's a marathon so I'm picking up the baton."
Nipsey Hussle gave his all to us and we owe a debt to him. We must repay that debt by finishing his work.