By Charlene Muhammad CHARLENEM
Related news:

Statement on the Passing of Nipsey Hussle
Mourning, Missing, Honoring Nipsey Hussle
Rebuilding and Buying the Block
We Must Fulfill The Vision Of Nipsey Hussle
Nipsey was true hip hop culture: revolutionary, unapologetic, standing for the rise of a people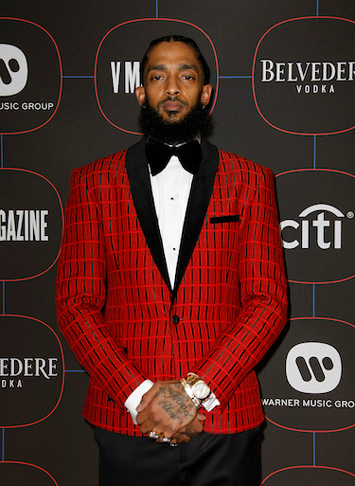 LOS ANGELES–Numbness, despair, shock, and confusion permeated the air around ground zero, The Marathon clothing store where popular rapper, entrepreneur, and social activist Nipsey Hussle was gunned down.
The 33-year-old Grammy-nominated artist, born Ermias Asghedom, was with his 12-year-old daughter at the store and plaza he and a partner owned. She was unscathed during the attack, which occurred in broad daylight on Sunday afternoon, March 31.
Two male companions suffered non-life threatening injuries, authorities said. The suspect "came out in a red shirt, with possibly two guns in his hands, leaving with a female driver, wearing some beads in her hair, but didn't really give a description of the actual vehicle," said Nash Baker, a Muslim journalist who reports from live crime scenes for various outlets. This was according to his police scanner, he said.
"There were roughly 30 people here, a lot of them screaming and a lot of the men had to console the women, because they were really adamant on the police trying to go catch the killer, and they wasn't moving fast enough to that extent, but at this particular time, they were locking down the crime scene and I was being asked to basically get out their crime scene," he said. "At that time, I did not know it was Nipsey that was shot."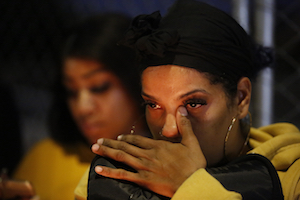 Prayers, condolences and messages of love and support poured in from across the world to Nipsey's family, which includes his fiancé, actress Lauren London, and their son.
Police still had not located the suspected shooter, whom they identified as Eric Holder, a Black male. Anonymous and on the record sources told The Final Call Nipsey, a well-known member of the Rollin 60s Crips street gang, was likely killed by someone close to him.
Student Minister Tony Muhammad, Nation of Islam Western Region Representative, was at the scene with some community and street leaders shortly after the shooting. According to the Nation of Islam student minister, the alleged shooter was known to Nipsey, from the neighborhood and words were exchanged, connected to suspicions the man was a police informant, and Nipsey asked him to leave his store.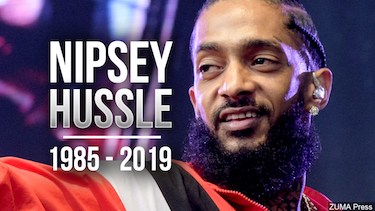 "And the guy said, 'I'm going to show you. I'm going to show you what kind of snitch I am,' and walked away and came back and shot Nip and the two people that was with him," Minister Muhammad said, citing neighborhood sources.
Police have said they believe the shooting was gang-related.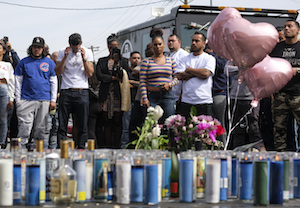 According to a young man in mid-twenties, who identified himself as a friend of Nipsey's, the suspect hadn't been seen in the neighborhood for years. Many in the so-called gang and on the streets wondered how did he even get so close? he said.
"How did this even happen? It just seems like, in honesty, when you put the pieces to the puzzle, who sent you to do that … It's just weird. But, you can tell he wanted, he wanted Nipsey," added the young man, who said he was part of a gang.
Nipsey fell forward after he was shot and the gunman sprayed the scene with bullets after he shot Nipsey, he said, describing video footage he showed a Final Call reporter. It has not been made public, he said.
He lamented for Nipsey's daughter, who's traumatized, he said. He also wept for his community, in and out the gang.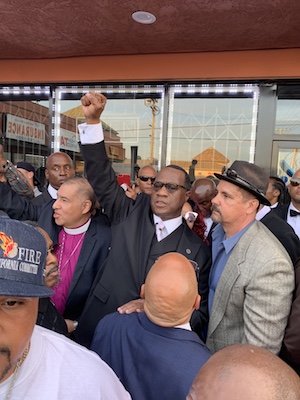 "It's over," he said, as he showed The Final Call footage from the scene. "Shot him out of his shoes, man. His shoes! … It's sad, man, like, you're sad, because then it's like you can't even take your anger out on nobody! Who are you gonna go and get for that? You know what I'm saying? In the gang culture, you could say, 'okay, we're going to go over here and do this!' You can't even do nothing, because it's one of our own that took the life out of the hood. That took the life out of the hood," he said.
"Not even just the 60s, not just Crenshaw and Slauson, that took the life out of L.A., like the Mexicans is calling–they calling! The Hispanics is calling. Like man, people in Atlanta, people in Chicago, they calling. Nipsey connected a lot of dots, as far as the hood life, the entertainment world, stuff that really couldn't get connected. Nipsey was like the one that introduced the connection."
Nipsey's songs, like "Hussle and Motivate" blasted from loud speakers as young and old mourners, male, female, rap and hip hop fans, and those who admired his business acumen flooded the plaza that he owned for impromptu, non-stop vigils.
The mourners paid their respects in the parking lot until approximately 2 a.m. on April 1. By 10 a.m., more people came to honor the passionate music maker born August 15, 1985.
Late night April 1, vigils that had been uneventful took a turn, with confusion, questions about fighting and a stampede where people were hurt. There were reports of injuries but most were linked to a panicked stampede, according to the authorities.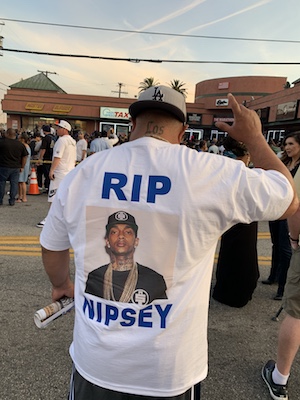 "Our people are on scene making every effort 2 protect everyone in attendance at the Nipsey Hussle vigil," LAPD Chief Michel Moore said on Twitter. "Reports of shots fired at the vigil do not appear to be accurate. We do have injured in the chaos and are attempting to restore order."
"Our appreciation to those from our community actively working with members at the vigil to quell violence. Their work is vital," he said.
Nipsey grew up in difficult circumstances, turned to gang culture to survive, and then tried to use his gifts and his connections to change, to improve the place he came from.
Tears poured out from grown men's bloodshot eyes. Many hung their heads low and others stared straight ahead in a daze. "Oh Jesus!" shrieked one woman as she arrived at the vigil in the heart of the parking lot, in front of his store.
Grown men, like local resident Big Thundercat, cried openly. Their eyes red as they fought to contain their grief.
"Nipsey was my lil homie. I came home from prison in 2003 and I didn't want my lil homies to go back to jail," he said. "Cuz wanted to gang bang. He wasn't from the hood," said Big Thundercat, so he encouraged him to focus on his music.
"Through your music you could save niggas like us! Cuz wasn't supposed to die like this. Cuz died senselessly over jealousy, envy, another rapper from over here," he told The Final Call.
"Cuz ain't got his guard down for no enemy. It was another nigger from right over here that killed cuz! Just shook our hands and left and came back and gunned cuz down," he said. He cried more tears.
Big Thundercat believes the accused killer was jealous and envious of Nipsey's talent. "That's all this was about. It was a senseless killing. Cuz died for no reason. He touched the world! He died for no reason. No reason! … He was ahead of his time … Cuz chose the positive. He chose the right path and he still died! He might as well have just been gang banging and died. You feel me? He chose the right path and died senselessly and it's sad because cuz had a bright future. It's crazy," he said.
Makeshift memorials filled with balloons, blue, red and purple candles, teddy bears, floral bouquets, and signature blue, white and black baseball caps with "L.A." monikers were stacked over the blood stained concrete where the beloved son of South L.A. had fallen.
People parked and walked from over a mile away and around the lot and surrounding sidewalks slowly. Drivers caught in the traffic jams honked horns in support of those already gathered as police directed traffic.
Approaching the area, a billboard celebrated the rapper's album "Victory Lap" released with Atlantic Records last February. This year, he was nominated for a Grammy award for best rap album of the year. It debuted at No. 4 on Billboard's 200 albums charts.
Self-made success in hip hop, with an international reach
In October 2013 as an unsigned rapper, Mr. Hussle made $100,000 by selling 1,000 copies of his mixtape, Crenshaw, for $100 each. Forbes online took note of how he "shifted every single CD in less than 24 hours at a pop-up store in his hometown of L.A."
Rap icon Jay Z bought 100 copies, a fact Nipsey recounted in several interviews.
The West Coast legend grew larger than life in L.A., his reach spanning the globe. "Extremely saddened to hear the news of the tragic and untimely death of iconic recording artist/entrepreneur Ermias Asgedom (Nipsey Hussle)," tweeted Yemane G. Meskel, minister of information for the East African country of Eritrea. Nipsey's mother is Black, and father Eritrean.
According to www.okayafrica.com, Nipsey reflected on meeting his Eritrean family for the first time in an interview with Dallas-based radio station 97.9 The Beat:
"I went out there for three months in 2003–met my granny for the first time, met my cousins, so it definitely had a major impact. I was raised in L.A. by my mom, my mom's family is Black American, but I always knew my heritage from my dad, but I never met my family. My dad was the only one in America–everybody else is back home. So when I went out there, it educated me to the other side … it just gave me an understanding of what my dad's life was like growing up, what his family was like. I got embraced and they loved me and I became aware of the culture. I'm half American and half Eritrean–as much as I am a Black person from America, I am a Black person from Africa too. I embraced both sides of that after I went out there."
A loving memory fuels peace work
The loving father, family man's death will not be in vain, those who loved him have vowed.
People are seeking hope and the time is ripe for peace, said Min. Muhammad, who along with United in Peace/United Hood Nation coordinated an April 1 prayer vigil. The aim was to bring healing to the community.
An upcoming Peace Ride scheduled for June will be in Nipsey's honor as will a call for an all-out end to violence, Mr. Muhammad stated.
Friends remember Nipsey as someone who was simply down to earth, never caught up in fortune and fame. He never switched up, and he acted like a regular person, they said.
But there was another side to him that was special: Many marveled and took pride in how Nipsey had stopped "banging" and turned not only his life around, but was uplifting the streets, particularly young men caught trying to survive in South Central.
The plaza he purchased at the popular Crenshaw and Slauson intersection is but one piece of evidence of his work and impact.
At the plaza, were fans in red, black or blue "Crenshaw" t-shirts, suits and ties, dresses, showing the cross-section of people he influenced and inspired. Others peered out of the window of Master Burger, a place that in a way inspired Nipsey to grow up and begin to buy up his 'hood to make it better.
In an interview posted online, Nipsey spoke of the pain of remembering how, when he was very young, the owner removed the seats in the burger stand so the youth couldn't sit and enjoy food they'd purchased. "How dare he?" young Nipsey asked. He felt incensed, and he never forgot. "… Now he's my tenant," he said in the interview.
"First, man, this young brother, he's a very good, young, Black entrepreneur that wanted to change the dynamics of his community. And he said to me, I mean he really … he loves Minister (Louis) Farrakhan and the Nation. In fact, he was a young boy, a teenager when the incident happened with me, right in his neighborhood, in front of his home," stated Tony Muhammad, referring to his arrest and beating suffered at the hands of the Los Angeles Police Department. That was August 25, 2005.
An eyewitness to that incident told The Final Call, "Brother Nipsey was a youngster throwing rocks at the police. He was throwing rocks when they attacked Brother Tony."
He said a young Nipsey Hussle wanted to do something positive for his community and he did. He opened several businesses in Los Angeles, and was getting ready to do the same in other cities.
"I want to send my condolences out to his family and it's a tragic loss any time that you have a person of any magnitude to lose his life to senseless gun violence. But, definitely, when it impacts our communities for someone who's involved in the community, doing good things in the community. It's sad … just another sad day in our community," said Tracy Martin, the father of Trayvon Martin, slain by vigilante George Zimmerman in Florida.
"We definitely need help in our communities and it's just a sad day. I met Brother Nipsey, we had an event out in L.A., actually in Crenshaw, and he came out and he supported the Trayvon Martin Foundation, just being there for us in our family meeting. I think it's our time to be there for his family in his time of need, their time of need," Mr. Martin told The Final Call.
He added, "We have to come together and realize the importance of saving the lives in our communities. I think that we're committing genocide of our own people and at this stage, if we don't love and respect our own lives, no one else will."
An example of good in the 'hood
"I'm so disappointed and devastated that someone could actually take the life of a young brother who was, who has transformed his own life, has become one of the most successful voices out of the West Coast hip hop community, and who is also, most importantly, establishing himself as an entrepreneur and a businessman and creating jobs and economic opportunities–not for people in Beverly Hills, not for people in Westwood, but for people in the Slauson-Crenshaw community," said Alex Alonzo, a gang expert and historian based in Los Angeles.
He said he had recently interviewed Nipsey as an example of how gangs and gang members' mindsets are changing. "Gang members don't have to indulge in criminal activities to become successful. We see gang members opening up car washes, clothing companies, becoming rappers and I think Nipsey represented one of the most successful dudes, not just as a rapper, but as a business person and as time progresses, more 'Nipseys' would develop and form in different parts of L.A.," Mr. Alonzo told The Final Call.
"I was just telling someone the other day, imagine if there were 10 Nipsey Hussles in L.A. or 100 Nipsey Hussles? In 20 years from now, that's what gang members are going to be doing. They are going to be entrepreneurs. They are going to be businessmen. They are not going to be out here trying to gang bang and sell dope. They are going to be trying to rap, start businesses, start coffee shops, start restaurants, and Nipsey is the icon for that path and unfortunately, man, he is no longer with us," lamented Mr. Alonzo.
In addition to buying the block where he hung out as a child, Mr. Hussle and a partner launched Too Big to Fail, a STEM (Science, Technology, Engineering and Math) program in his Crenshaw neighborhood. He planned to duplicate the effort in inner city schools across the country.
The venture was coined "Too Big To Fail" "to reflect the idea that certain institutions in our society are so large and interconnected that their failure would be catastrophic for the entire economy, and therefore must be supported by the broader public when facing potential failure. "Our inner-cities are 'Too Big To Fail,' but despite their size and potential, have yet to receive the necessary support," reads the mission on its website.
"I mean, to me, that's the way you're supposed to do it. We've seen rappers from L.A. open up stores on Melrose, in Hollywood and we've seen some of those businesses actually fail, because people think that they've got to go to a 'exclusive' area of L.A. to become a successful businessman, but you don't," said Mr. Alonzo.
"You can do it right there where you grew up. You can do it right there in your own community, and I hope this doesn't discourage people of thinking that they don't want to work and start businesses in their own community because of what happened to him. I know there's going to be a lot of people nervous and concerned about working in these types of neighborhoods, but I think that as time progresses, we are going to learn more about this shooting; we are going to learn more about why it happened; and hopefully it doesn't discourage future Nipsey Hussles from continuing the entrepreneurial spirit of working in your own community."