By Charlene Muhammad CHARLENEM

Along with Louisiana, a recent report ranks Texas, New Mexico, Idaho, West Virginia, Oklahoma, Alabama, Arkansas, South Carolina, and Mississippi as the worst places for women to live and with Minnesota, Massachusetts, North Dakota, District of Columbia, New York, Connecticut, Maine, Colorado, Hawaii, and Vermont called the best.
Researchers for the "Best and Worst States for Women" report analyzed statistics for 50 states and the District of Columbia. They looked at nine categories: median earnings, unemployment, poverty, women-owned businesses, high school graduation rates, the percentage of women who voted in the 2016 presidential elections, uninsured rates, life expectancy at birth, and homicide rates.
In terms of income, New York, Maine, Hawaii, Utah, and California had the lowest median earnings for women, adjusted for the cost of living. D.C., Delaware, Minnesota, Virginia and Maryland had the highest.
In unemployment, California, Mississippi, Arizona, New Mexico, Alaska, and D.C. had the highest unemployment rates, while Hawaii, Nebraska, North Dakota, Colorado, Minnesota, and Iowa, had the lowest rates.
"When we begin to talk about how 'women' fare when it comes to the states they live in, it is essential we talk about which women," observed Prof. Jo Reger, Sociology Department chair at Oakland University in California. "While the temptation of some research is to make 'women' a universal category, women of different races, ethnicities, religions, education level and sexual and gender identities fare very differently depending on the environment around them."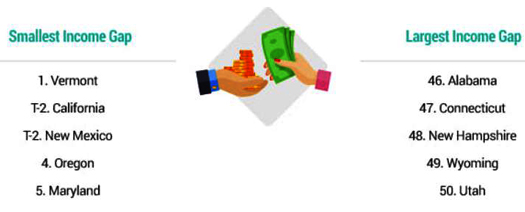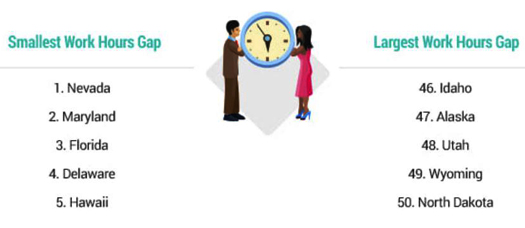 Prof. Reger said the United States has never been a place where all regions, and states within those regions, were uniform in their treatment of women. "All we need to do is turn to history to see how this is true. In 1920, women won the right to vote. Yet history tells us that Black women in the South were essentially disenfranchised until the 1960s, and today, remnants of that disenfranchisement continue. Indeed, that history is even more complicated when we remember that Wyoming, then a territory, granted women the right to vote in 1869 but that was limited to White women and not indigenous or women of color."The "Best and Worst States for Women" report did not look into racial or ethnic disparities among women, and their data was not categorized by race or ethnicity, according to Diana Polk, communications manager for WalletHub, a Washington, D.C.-based personal finance website which released the report on March 4. The scope of the report was to determine the best states for women overall, Ms. Polk told The Final Call.
In Louisiana, median annual pay for a woman who holds a full-time, year-round job is $33,832 while median annual pay for a man who holds a full-time, year-round job is $49,730. This means that women in Louisiana are paid 68 cents for every dollar paid to men, amounting to an annual wage gap of $15,898. The five worst states economically were Louisiana, Mississippi, South Carolina, Arkansas, and Alabama as researchers ranked job security, friendliness toward working moms and equality on the job:
Mississippi, women's pay was $31,110, but $41,092 for a man;
South Carolina, women's pay was $33,719, but $41,991 for a man;
Arkansas, women's pay was $31,161, compared to $39,916 for a man;
Alabama, women's pay was $32,136, compared to $44,245 for a man.
Chandra Childers, Ph.D., a senior research scientist, said race is always going to be just as much an issue as gender for Black women. "When we look at, and this is true across states as well as nationally, the gender wage gap, for example, and how women earn 80 percent of what men earn, what we know is that most of that gap is not all women. White women earn closer to what White men earn," said Dr. Childers, who co-authored a 2017 report released by the Institute for Women's Policy Research, which focused on the plight of Black women.
According to "Status of Black Women," Black women earn 63 cents for every dollar a White male earns, whereas Hispanic women earn 54 cents for every dollar a White male earns, according to Dr. Childers. She recommends raising Black women's wages and creating more opportunities for them to attend public universities, especially those who are parents.
"We see that, for example, Black women parents who are returning to school, they often wound up in private for-profit schools, and those schools, the costs are higher. Sometimes the quality is really questionable, so that Black women wound up with higher debt. That's something that needs to be addressed, the amount of debt. Getting wages up, and that includes things like raising the minimum wage, enforcing anti-discrimination laws, ensuring fair pay are all things that would be helpful," said Dr. Childers.
Black women are working hard across all categories, to no avail, she said. They are making progress, logging the highest labor force participation, have the highest rates of voting activity, the largest increases in business ownerships, and largest increases or improvements in higher education, still they had earnings that were lower than their White, female counterparts and definitely lower than White males, she argued.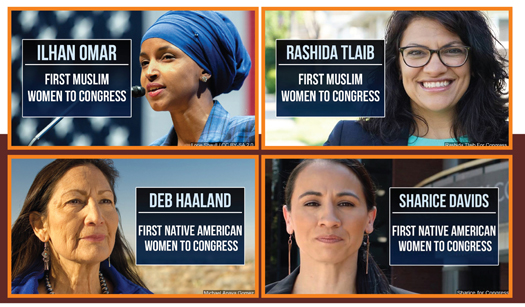 In addition, more Black women are running for political offices, yet are underrepresented despite their political involvement. In mid-term elections, voters sent 127 women to Congress, including two Muslim women (Ilhan Omar and Rashida Tlaib), the first two Native Americans (Deb Haaland and Sharice Davids), the youngest member (Alexandria Ocasio Cortez) and the youngest Black woman (Lauren Underwood). Despite this, the "Best and Worst States for Women" report notes that during this Women's History Month, women hold only 23.7 percent of the seats in Congress despite making up 51 percent of the U.S. population.White voters, particularly White women, propelled Donald Trump into the U.S. presidency and simultaneously ignited national protests of thousands across the country in 2016. He won 290 of the electoral votes and Democratic candidate Hillary Clinton, 228. According to exit polls, 52 percent of White women voted for Mr. Trump and 43 percent for Mrs. Clinton, while 94 percent of Black women voted for Mrs. Clinton, and four percent for Mr. Trump.
Janette Robinson Flint, executive director of the Los Angeles-based health advocacy and reproductive rights group Black Women for Wellness, expressed concern about the March 4 report's data on Black women's health.
Her state, California, ranked 16 overall, 6th in women's health and safety. Among the research categories in the report were the top five best states health-wise for women–Massachusetts, Connecticut, Minnesota, Hawaii, and New York–which included best hospitals for gynecology, percentages of women who were up-to-date on cervical and breast cancer screenings, physically active women, depression and suicide rates among other concerns.
Ms. Robinson Flint questioned how much cost, access to health care and implicit bias factored in the rankings. She pointed out two incidents where women chose to wait for relatives or friends rather than take emergency ambulances to the hospital. "They were afraid of the costs of riding in an ambulance in getting to the emergency room and they have every right to be. I have been looking at the cost of health care and the cost of the emergency room and ambulance care and the interesting part to me about it was both of these women worked for health organizations," she said.
According to the report, the District of Columbia had the highest median earnings for female workers, $34,417, which is about 1.5 times higher than in California. D.C. had the highest share of women who voted in the 2016 presidential election, 77.2 percent, which is 1.6 times higher than in Hawaii, which had the lowest voting rate at 49.3 percent. New Hampshire has the lowest share of women living in poverty, 8.9 percent, which is 2.6 times lower than in Mississippi, the highest at 23.5 percent.
Alaska has the highest share of women-owned businesses, 22.87 percent, which is 1.6 times higher than in South Dakota, the lowest at 14.04 percent. Massachusetts has the lowest female uninsured rate, 2.3 percent, which is 7.6 times lower than in Texas, the highest at 17.5 percent.