By Charlene Muhammad CHARLENEM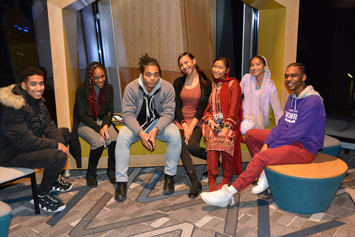 CHICAGO–The Nation of Islam's culture of unity, love and service saturated the atmosphere as Muslims and supporters flocked to its annual Saviours' Day convention from across the United States and overseas.
The Honorable Minister Louis Farrakhan's keynote address crowned the highly anticipated event, which took place Feb. 15-16. Thousands filled the United Center for his message, even more viewed online via webcast at NOI.org.
"We are meeting at the most troubled time in the history of our Nation to consider the subject, "A Saviour Is Born for the Whole of Humanity, not including Satan: No One Need Perish," said Minister Farrakhan in a convention welcome letter to the Believers, his followers, and friends of the Nation of Islam.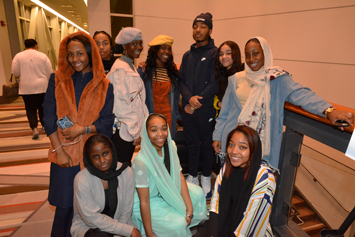 "If we believe and do good and enjoin one another to truth and enjoin one another to patience we will endure in this hour," said Minister Farrakhan. "I pray that each of us who attend will go away from the convention armed with the truth that will help us to survive the onslaught of Satan in this time of his complete unmasking."
Minister Farrakhan continued, "Our success is assured if we stand on Truth and stand with each other in Unity on the basis of Truth."
The exciting weekend kicked off with an opening plenary session entitled "Defending Farrakhan," featuring some of the Nation of Islam's top scholars on Feb. 15.
"We are a blessed and highly favored people, but because of one man's love, one man's faith, one man's sacrifice, I and you know Elijah Muhammad. You and I know the Saviour, Master Fard Muhammad, because of his anointed servant, the Honorable Minister Louis Farrakhan," stated Student Minister Ishmael Muhammad, Minister Farrakhan's national assistant.
"He is an extension of Elijah Muhammad to all of us, to Black people and the entire world of humanity," he continued as the audience erupted into a standing ovation. He and panelists opened the convention with a rousing defense of Min. Farrakhan and exposing those who have falsely called him a hater.
Excited Muslim men dressed in crisp suits, and blue and brown uniforms and the MGT & GCC was adorned garments of the same color, and pastels and white throughout the weekend. It was a power-packed three-day schedule, which included workshops on the Nine Ministries established to solve the problems of Black poverty and want.
"This year as in the previous years that I've attended, my expectation is to be motivated and rejuvenated by the word of the Honorable Minister Farrakhan," said Nicole Dennis Banks, also known as "Eagle Eye" Banks. She is Native American.
"I like to pray with those who believe in a higher power and that's why I'm here to support my Muslim brothers and sisters and stand in solidarity with them as we all share a similar historical history and similar historical traumas that we all face, so it's important to help the Minister to fulfill his initiative to bridge together the communities … the Red, the Black and the Yellow," said Ms. Banks.
After "Defending Farrakhan," the opening Friday conference workshops were devoted to agriculture, health, science and technology, marriage and family, and disaster preparedness were held after Jumu'ah, the weekly traditional Muslim prayer service.
Atty. Ava Muhammad, Minister Farrakhan's national spokesperson, a student minister, radio talk show personality and author, held a live online broadcast of her pre-conference, popular show "Elevated Places."
Youth enjoyed a "Teen Summit" with live entertainment and workshops focused on faith and healthy relationships.
The Saviours' Day Vending area helped to make the weekend great for many, like Sufiyah Asia Yasmine, aka Earth Saylove, author of "Hip Hop and the Art of Peace Education." It was her first Saviours' Day.
"All praise is due to Allah! I am very excited! To be honest, I feel like I've been here many times, just from tuning into the webcast and to see so many faces of people I know from all over, but actually being here in person is just such a great energy to come together with the family," said Ms. Yasmine.
A Nation of Islam historical film chronicling its rise in America and a play "Testimony," produced by Margaret Mahdi of the Mahdi Theatre Company, and an Old School Hip Hop Jam wrapped up day one.
Anthony Shahid Muhammad, a St. Louis-based activist and co-founder of the Taheed Youth Group, said, "What I see is the young people. That shows when children are in a room, you've got life in the room, and because I see so many children here, I see a lot of life."
After a powerful FOI Class, for men, and soul-stirring MGT Class, where Muslim women received convention gift bags from Student National MGT Captain Sandy Muhammad, the Nation welcomed new members during its National Graduation.
In fresh blue uniforms and white garments, the newly registered FOI and MGT, who completed their process to officially join the Nation, were led in the Skyline Ballroom at McCormick Place Convention Center by an NOI Honor Guard. The ballroom was full. Their biological and spiritual family cheered, applauded and cried as they marched in.
Student Supreme Captain Mustapha Farrakhan and Student National MGT Captain Sandy Muhammad offered words before Minister Farrakhan captivated the room with personal testimony, divine guidance and instructions.
"Long Live Muhammad!" the ballroom rang out as Minister Farrakhan took to the stage.
He spoke of his own induction into the classroom of God, when he vowed that his prayer, his sacrifice, his life, and his death are all for Allah, the Lord of the worlds. "When I said those words, evidently, I meant it. Have not you heard that your word is bond and bond is life and I will give my life before my word shall fail," said Minister Farrakhan. "You have made that oath, brothers and sisters. We have made that oath to God. Now the journey begins."
During Jumu'ah, National Student Imam Sultan Rahman Muhammad spoke from Quranic scripture and led the prayer service.
And on Saturday, Feb. 16, Final Call Editor-in-Chief Richard B. Muhammad hosted a lively workshop, announcing a commemoration of the newspaper's 40th year of publishing from Feb. 2019 to Feb. 2020. Past editors and workers were honored during the workshop.
Khadijah Farrakhan's Children's Village wowed youngsters once again. The annual event grew out of the Nation of Islam First Lady's love for children and the Muslims. Children and their parents were able to enjoy games and activities at a suburban fun center.
The evening National Drill Competition remained a convention favorite, with long lines, crisp uniforms, and righteous military drill competition.
Thomas Jehad, a Nation of Islam pioneer from Miami, looks forward to the convention every year. "Although there are many forces out there against us, we can't allow that to interfere with our Saviours' Day and our celebration of the one who came to save us, Master Fard Muhammad," he said. Minister Farrakhan's longtime friend and companion thanked Allah (God) for protecting and keeping Minister Farrakhan, 85 years old, youthful.
This was Desta Muhammad's second Saviours' Day since returning to the U.S. after becoming the first Nation of Islam graduate of the Latin American School of Medicine in Cuba.
"It's always great to be amongst the family here … I'm so excited and hopefully, I won't miss any more Saviours' Days. During residency and when I was away, it was hard for me to try to get out and make a lot of the events," said the young family medicine and urgent care physician from Compton, Calif.
"It just gives me so much warmth and energy to go back into my community where I am and practice medicine, to being around the Believers here. It's energetic," she said. She hadn't seen many Believers since she left for Cuba in 2002.
Women and girls formed long lines for official uniforms and other garments alongside jewelry from Mother Khadijah Farrakhan's clothing factory Newell Apparel. Many delighted at the return of the late Mother Tynnetta Muhammad's fashions via TAHA 2.0, formerly Fashaan. Her family relaunched the regulation 3-pleat uniform and the signature Dress 19. MGT Captain Sandy Muhammad released DeModest, that sells demure, active and leisure wear for the modest woman.