, Contributing Writer
Akron Police Officer James Anthony was recently fired for posting an online threat aimed at Nation of Islam Minister Louis Farrakhan.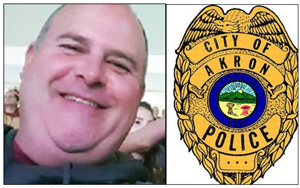 On February 9 he was fired by the Akron Police Department for his conduct. The 23-year veteran had been on paid administrative leave while the investigations into his actions took place. Mr. Anthony audaciously posted on his Facebook page asking "How is it that no one has offed that dipshit asshat, Farrakhan?" The October 30, 2018 comments followed the tragic Pittsburgh synagogue shooting that left 11 dead three days earlier.
Akron Police Chief Kenneth Ball issued the following statement regarding the firing:
"The mission of the Akron Police Department (APD) is to enhance quality of life through crime prevention, enforcement of laws, promotion of safety, and reduction of fear.
Actions by police officers that imply or demonstrate bias, work in direct opposition to this mission and will never be tolerated. Akron police officers are held to a high standard of conduct and integrity both on and off duty. Akron residents must have confidence that officers serving our community will treat all people with dignity and respect. Following a full investigation of certain Facebook posts by Officer James Anthony and in accordance with the recommendation of Chief Kenneth Ball, Mayor Horrigan determined that Officer Anthony's social media posts meaningfully impacted the efficient operation of the Police Department in the discharge of its public mission, and therefore, terminated his employment."
"I believe officer Anthony's termination was warranted and just. We have a group of fine Akron police officers, and it is unfortunate that the actions of one has put a cloud over many good officers," said Akron City Councilwoman Tara Samples, reported News 5 Cleveland.
In a telephone interview with The Final Call, Student Minister Steven Muhammad, Akron's Nation of Islam local representative stated, "We were in the process of drafting a letter to the mayor concerning the status of the investigation and lack of communication when the decision came down. We remain concerned."
Appearing before the Akron City Council on November 5, Student Min. Muhammad addressed the threats, telling council members that racism, hatred, and vitriol could lead to conduct unbecoming of an officer. There are many who work for the Akron Police Department who are sincere, determined to protect and serve, he told the council.
"We believe Mr. Anthony represents a thinking in APD and since they posted their statement today, it will give us a chance to request follow up with a third party more convincingly. We are asking for some sensitivity training for the department that will humanize the lives of young Black males in general as well as other poor and oppressed people in the city," said Student Min. Muhammad.
"We do want to thank the mayor and the police chief for their attention on this matter even though it was not the outcome we would have preferred. We do not want to dismiss what they have done and the steps they have taken," he added.