By Rhodesia Muhammad -Contributing Writer-
Parents have different reasons why they believe it's necessary to monitor what their children are watching, especially during the age of social media. However, few parents have probably wondered if their children could have an increased risk for diabetes from watching one of their favorite TV shows. Is that even possible?
According to a recent report, "Increasing disparities in unhealthy food advertising targeted to Hispanic and Black youth," children (2-11 years) or teens (12-17 years), are being exposed to junk food far more than White children, leading to a greater long-term risk of health problems, such as obesity, diabetes, and heart disease.
In the United States, food companies heavily target Black and Hispanic consumers with marketing for nutritionally poor products, including fast food, candy, sugary drinks, and snacks, said the report. It was a joint effort by the Rudd Center for Food Policy and Obesity at the University of Connecticut, the Council on Black Health at Drexel University, and Salud America! at UT Health San Antonio.
Targeted marketing is defined as designing strategies that appeal to a consumer group seen as especially attractive for business. It may be called "multicultural" marketing, which is designed to appeal to individuals of specific racial and/or ethnic groups, including Blacks and Hispanics, and more recently, Asian consumers.
Gina Williams says her son repeatedly asked for Taco Bell after watching programs on certain networks. "I'm not sure if SpongeBob SquarePants has anything to do with his appetite for fast food, but that's the cartoon he watches the most," she said.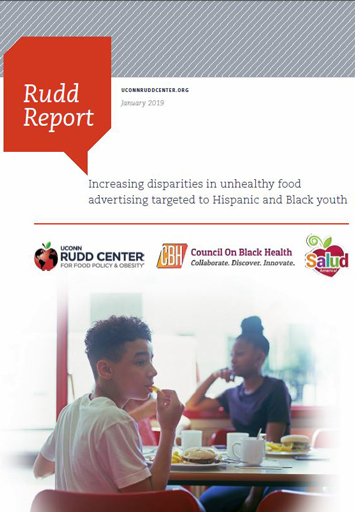 The study, released in January, reported three highly advertised brands, KFC, Pizza Hut, and Taco Bell, spend significant money to target to Black and/or Hispanic consumers. When researchers examined this topic in 2013, its initial finding was the disparity came from the fact that Black children watched more TV than White children.
The latest study suggests the gap is also linked to programs Black children watch.
Marketers know how to focus on networks that are youth-targeted as well as Black-targeted, such as BET, VH1, Nick-at-Nite, BET HER, and TV ONE.
Researchers found youth-oriented networks air most food advertisements.
Spanish-language TV is used to directly hit Hispanics. Spanish-language TV distributors include Azteca, Discovery en Español, Discovery Familia, ESPN Deportes, Estrella TV, FOX Deportes, Galavisión, GOL TV, Universo, MundoFox, MTV tr3s, Telemundo, UniMás, Univisión, and Univisión Deportes.
The director of marketing initiatives at the Rudd Center and co-author of the report, Jennifer L. Harris, Ph.D., MBA, said, it is a tool to increase awareness of what companies are doing and who they're targeting.
She also noted that the report is helping advocates push for healthier food policies.
"This is a topic we've been studying quite a few years now," Dr. Harris told The Final Call in a phone interview. "I studied food marketing because we've found over the years that the worst products are marketed to children, specifically adolescents–things like sodas, fast food, chips, and stuff like that," said Dr. Harris.
"The more data we looked at, the more we realized they're targeting Black and Hispanic kids even more with these horrible products."
Targeted brands spend significant amounts to advertise on television programming and on advertising that reaches more of the target audience.
The report identified 32 companies that offered 236 brands with TV advertising targeted at Black and Hispanic consumers.
Brands that spend $100,000 or more to advertise on Spanish-language TV are Hispanic-targeted.
Brands that spend $500,000 or more to advertise on Black-targeted TV are considered Black-targeted.
Approximately two-thirds of highly advertised brands targeted Black and/or Hispanic consumers; 58 percent qualified as Black-targeted, 36 percent qualified as Hispanic-targeted, and 28 percent targeted both audiences, said researchers.
The 32 companies are divided into four categories, restaurants (primarily fast food), candy (including gum and mints), sugary drinks (including regular soda), and sweet snacks (including desserts).
Restaurants include top brands such as McDonald's, Wendy's, Subway, Taco Bell, Dominoes, and Burger King. Candy includes top brands such as Snickers, M&M's, Extra gum, Kit Kat, and Jolly Rancher.
Sugary drinks include top brands such as Coca-Cola, Sprite, Pepsi, Dr. Pepper, and Lipton Iced Tea.
Sweet snacks include top brands such as Pop Tarts, Cheetos, Doritos, Lay's potato chips, and Lays Poppables.
According to the report: Total food-related advertising spending on Black-targeted TV increased by more than 50 percent from 2013 to 2017, $217 million to $333 million. Disparities between Black and White youth in exposure to all food related TV ads also increased. In 2013, Black children and teens viewed 70 percent more food ads than their White peers viewed.
In 2017, these disparities grew to 86 percent more ads viewed by Black children compared to White children and 119 percent more ads viewed by Black teens than by White teens, said the report. On average in 2017, Black children and teens saw 16.4 and 17.1 food-related TV ads per day, respectively. This increased disparity in ads viewed resulted from increased food-related spending on Black-targeted TV advertising, researchers found.
Dr. Harris expressed her disappointment at what she calls lip service by major companies. She had hoped to see a decrease in the money spent on advertising. Instead, companies increased their spending on Black-targeted TV since the first report in 2013, she said.
"The reason we do this study is to document how these companies are actually spending their money and how many kids of color are actually seeing these ads. These companies are saying how they want to be a part of the solution to childhood obesity and that they're developing a lot of healthier products and taking steps to encourage healthy eating and good choices," Dr. Harris observed.
"If you're listening to what they're saying, it sounds like they're doing a great job and they're really trying to improve health, but if you look at the numbers of what they're spending and how they're spending it, and what products they're advertising and where they're advertising–shows that they really are paying lip service to us because they're not putting their advertising behind their healthier products."
Dr. Harris said, companies may be developing, but they're not promoting healthier products and they're promoting them even less to communities of color.
Five of the highly advertised juice brands targeted Black consumers, and one yogurt brand targeted Hispanic consumers. However, no water, fruit, or nut brands targeted either Hispanic or Black consumers, said the report.
In addition, brands in healthier product categories placed their ads in TV programming where they were less likely to be seen by Black children and teens, it added.
Advocates are pushing for better policies to improve diet and health in low income communities. While the reports may not have much impact on companies, they have been very useful for advocates.
"There's a lot more media attention and people seem to be really shocked and outraged at the findings of this report," said Dr. Harris. "So, we're hoping that will channel itself into more pressure on the companies to change what they're doing. They don't listen to us, but they do listen to their customers and if their customers and the press really point out what they're doing and show the hypocrisy of what they're doing then that could help call for improvements," she added.
Dr. Akili Muhammad, who is based in Houston, says the condition Black and Brown children are in is disheartening. "They are in such bad shape. We're in an environment where most doctors have given up. I finished medical school in 1995 and began practicing in January of 1996. At that time, high blood pressure, diabetes, high cholesterol, and heart disease were considered 60-70 year old people problems," Dr. Muhammad explained.
"Now, you may have diagnosed people in their 50's, but of course a person has to have a medical problem for a certain amount of time before they start to have trouble with these medical problems," Dr. Muhammad continued.
"Here we are 24 years later and it's common to diagnose a child in the fifth or sixth grade, even more common in junior high school, with diabetes, high blood pressure, and cholesterol problems. This is in young people. This is a very harrowing sign of serious medical problems by the time these children are in their 30's and 40's. When we diagnose a person with a medical problem, like diabetes, high blood pressure, high cholesterol, and all the problems that that leads to–kidney failure, heart attacks, strokes, etc.–that problem sometimes has already been in that person brewing for 10, 15, sometimes 20 years."
"If we are diagnosing children today in fifth, sixth, seventh, and eighth grade, they already have the medical problem, then that child never had a chance for good health," he argued.
According to the Centers for Disease Control and Prevention, behaviors that influence excess weight gain include eating high calorie, low nutrient foods and beverages, not getting enough physical activity, sedentary activities such as watching television or other screen devices, medication use, and sleep routines. This leads to health problems. Black and Latino children are more likely to be more overweight or obese than their White counterparts. Data from the National Health and Nutrition Examination Survey noted, "Obesity rates are higher among Latino children (25.8 percent) and Black children (22 percent) than among White children (14.1 percent) and Asian children (11.0 percent). Latino boys (28.0 percent) and Black girls (25.1 percent) are most likely to have obesity," based on 2015-16 statistics.
Some proponents of the Rudd report disagree with what companies are doing, but say money-spending parents are the real targets and children are the pseudo-lobbyists.
"We have a generation of people, a great majority of the generation that have absolutely no knowledge of how to maintain good health at the basic levels," said Dr. Muhammad.
"We are extremely ignorant as a society and so these children winding up with these medical problems are a result of a generation of parents who have no clue, are being stressed out trying to keep a financial status, and working extra jobs," continued Dr. Muhammad. "But you're not taking the time to buy the proper foods and prepare them in the right way for that child. So that child is being raised on something quick, something fast, something thrown in the microwave or thrown in the oven for a few minutes. And we are watching that murder our children, and I do mean the word murder because it's not happening by mistake."
In his groundbreaking book "A Torchlight for America," Nation of Islam Minister Louis Farrakhan warned "fast food equals fast death." He warned against overconsumption of junk food, fast food and sedentary lifestyles. All are prescriptions for an early grave, he cautioned. The dietary law prescribed by the Most Honorable Elijah Muhammad found in How To Eat To Live, Books 1 and 2 is the prescription in the quest for good health, the Minister explained.
It's time for parents to take responsibility back, Dr. Akili Muhammad stressed. "If I'm a parent and I'm allowing my kids to watch these television commercials and the child is influenced by a commercial that we know was meant to tantalize them, then real responsibility of a child's health is in that parent's hands and in that parent's mind."
A copy of the report can be downloaded at www.uconnruddcenter.org.
(Final Call staff contributed to this report.)