, Contributing Writer

PHILADELPHIA–The fight for justice for Mumia Abu Jamal continued in Philadelphia during a packed press conference held by Mobilization4Mumia at the A-Space Community room located in the southwest part of the city.
The press conference brought together a broad coalition of community leaders who called for District Attorney Larry Krasner not to stand in the way of justice for the convicted activist journalist, by not appealing the recent major decision by Pennsylvania Common Pleas Court Judge Leon Tucker.
Judge Tucker's decision gives Mr. Abu Jamal the right to reopen his appeals. Attorney Krasner has a January 27 court deadline to decide whether or not he will appeal the order.
The press conference comes on the heels of a startling discovery by the district attorney's office of boxes of Mr. Abu Jamal's case files hidden in a storage room.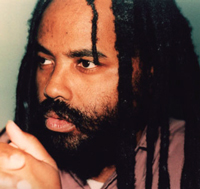 According to a letter sent to Judge Tucker by the district attorney's office, staff went to a remote storage room located in that office to look for office furniture on December 28 of last year one day after the judge made his decision.
They discovered six boxes of files on Mr. Abu Jamal that were not produced during the recent hearings.
Addressing this issue at the Jan. 15 press conference was Rachel Wolkenstein, co-counsel during Mr. Abu Jamal's post-conviction appeal proceedings from 1995-1999. "For two years Judge Leon Tucker has repeatedly ordered the DA's office to produce its files on Mr. Abu Jamal's case relevant to the new action challenging judicial bias and conflict of interest in the denials of his post-conviction appeals from 1998-2012," said Attorney Wolfenstein.
"As of December 1, the DA's office said that all files had been reviewed, and there was no further evidence found," she said.
"These hidden boxes are confirmation of what we've known for decades–the prosecution has hidden exculpatory evidence in Mumia's case. Evidence that is likely proof that the police and prosecution intentionally manufactured his guilt and the truth of his innocence suppressed," continued Atty. Wolkenstein.
Mr. Abu Jamal has been incarcerated since his conviction in the 1981 murder of Philadelphia police Officer Daniel Faulkner. Supporters of Mr. Abu Jamal who call him a political prisoner, argue he is innocent.
According to KYW News, Judge Tucker issued an order on January 14 saying he will review the case files. DA spokesman Ben Waxman said in an email that the district attorney's office would make the records available to Mr. Abu Jamal's attorneys.
Other speakers at the press conference included Pam Africa, spokesperson for International Family and Friends of Mumia Abu Jamal; Paula Pebbles of the National Action Network Philadelphia Chapter; Michael Africa, Jr., son of MOVE 9 members Debbie and Michael Africa, Sr. who was recently released from decades in prison; and Sister Empress Phile Chionesu, convener of the original 1997 Million Woman March.
Atty. Wolkenstein in concluding her remarks noted, "Mumia would be dead today had it not been for the international movement, the International Family and Friends of Mumia Abu Jamal who demanded that his life be saved."
The only reason his life was saved was because people were out there fighting and advocating for him, she explained. "Our voices must be heard in Philadelphia and throughout the country and the world that the charges should be dismissed," she added.
Atty. Wolkenstein also called for the files to be released to the public. "DA Krasner should see the hidden storage of these boxes as evidence of the total corruptness of the murder prosecution of Mr. Abu Jamal, who is an innocent man. The remedy is nothing less than dismissal of the charges against Mumia and his freedom from prison," she concluded.