By Richard B. Muhammad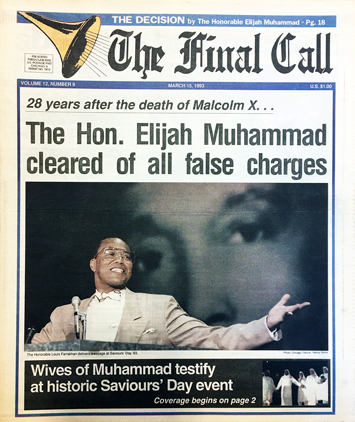 Film and media maker Dream Hampton touched many emotions in Black America with her series "Surviving R. Kelly," which aired to incredible numbers for the Lifetime network. It told the stories of women and families who say they have suffered because of the alleged sexual and other misdeeds of the R&B singer.
The series touches on pain, suffering, celebrity, sex crimes, victimization and disrespect of Black women, pedophilia, the music industry and important topics worthy of discussion. The series offers much to unpack from the allegations against R. Kelly to questions about possible enablers, pursuit of fame and the music industry's abuse of women, in general, and Black women in particular.
Sadly, in the midst of these serious and searing topics, Ms. Hampton injected an ugly lie and nefarious slander. It was a major falsehood and made no sense: "Malcolm X was assassinated because he lifted his voice to call out a predator. Malcolm X died fighting for adolescent Black girls who were being exploited by a man he once loved. Doing the right thing is never easy and may cost you your life. Long Live Malcolm. #MuteRKelly," she retweeted in January, rehashing a lie she had apparently spoken months earlier.
While today there is a repackaged version of Brother Malcolm alongside a U.S. commemorative postage stamp, and street namings, his contemporaries and most Negroes loved Malcolm from a "safe distance" as his eulogist Ossie Davis admitted from his own mouth. His "friend," Dr. John Henrik Clarke, in a documentary spoke of hearing about the loss of Brother Malcolm while at a Jewish home in Connecticut. Someone called Brother Malcolm an anti-Semite. Dr. Clarke said he went into a bathroom and cried for 15 minutes over the loss of his friend. Then he delivered a speech that night. So much for standing up for friendship.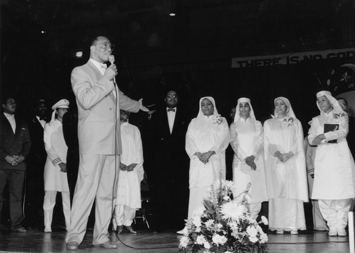 The homogenized Malcolm X offered to Black people today is far different from what he declared himself to be. While he left the Hon. Elijah Muhammad and the Nation of Islam, Brother Malcolm was a Muslim and a Black Nationalist. He would not have accepted the label of civil rights leader applied to him today. "You intellectuals who love Malcolm today, let's get away from this hypocrisy. You can hang his picture up now because he is not here to require anything of you. But when Malcolm was alive, most of these intellectuals–Black and White–were running from Malcolm. You would not want to be in the same room with Malcolm. You were afraid of Malcolm just like many of you are afraid of Farrakhan," the Minister observed during Saviours' Day 1993 in Chicago. The topic was "The Honorable Elijah Muhammad and Malcolm X Twenty-Eight Years Later: What Really Happened?"
Brother Malcolm, who misunderstood his Teacher and was targeted and worked on by the U.S. government determined to separate him from Elijah Muhammad, erred by slandering his teacher, saying the man who reformed him as an ex-con and put him before the world was "having sex with teenage secretaries."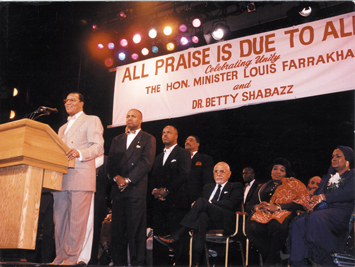 How do we know Brother Malcolm erred? The women who bore the Messenger's children spoke for themselves. What did these women say about the Hon. Elijah Muhammad? "In all the years I worked with the Honorable Elijah Muhammad before he asked me to be his wife, there was never any out of turn words, no sexual harassment. He treated us with the highest form of dignity and respect," declared Mother Evelyn Muhammad. They married after his longtime wife and companion Mother Clara Muhammad had died. She was speaking at Saviours' Day 1993 as controversy raged about the character and life of Messenger Muhammad with the release of Spike Lee's movie "Malcolm X." She is the mother of Marie, a daughter of the Hon. Elijah Muhammad.
"When he came to me and asked me to be his wife, he sat down as our beloved Brother Minister Farrakhan said, and opened the Holy Qur'an to the place where it dealt with the wives. He loved his wife, Sister Clara Muhammad and his children, but he said Allah was forcing him to do this for future generations. … I want you to know that he was an honorable man, he is an honorable man, and he stood for the respect of all the Black women around the world," said Mother Evelyn Muhammad.
During that historic moment in Chicago, it was the first time women who had been defamed and slandered spoke for themselves. Not one of the wives was a teenager when they married the Messenger. Mother June Muhammad, who bore the Hon. Elijah's Muhammad son Abdullah Yasin, described the Messenger "as a decent, upright man. He wasn't lustful," she said. "I don't know any immoral thing about that man."
"All of the women spoke highly of their husband, his prophetic mission and their beliefs that the marriages were divinely inspired unions with a great man," wrote then-editor in chief James G. Muhammad in Final Call coverage of their testimony.
These women, their children, the grandchildren of these unions are alive today on Twitter and other places and can see Ms. Hampton's hideous and odious words. Do they matter? Does truth matter? Does proof matter? Ms. Hampton have you any "receipts?" Do you have any witnesses?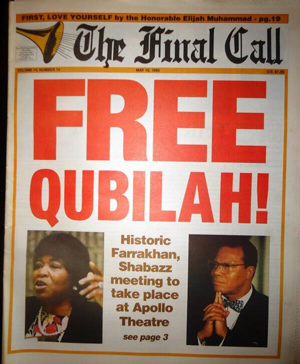 And, if Ms. Hampton adores Malcolm and believes he embraced Muslim orthodoxy, the Western world often charges the Prophet of Islam, who you say Malcolm decided to follow, was a voluptuary because of his marriage to his young wife Aishah. It is a charge no Muslim believes. It is another falsehood and vile slander. The Holy Qur'an vindicates her and Aishah is one of the most revered women in Islam. Are you saying that Brother Malcolm converted to follow a Prophet who was a "predator," according to the wicked White man? Are you saying Malcolm was following an honorable man in Prophet Muhammad of Arabia some 1,400 years ago? And, if Muhammad of Arabia was an honorable man, why could not Muhammad in America, who reformed and made Brother Malcolm and raised upstanding men and women known for their courage, integrity, sincerity be the same? The Honorable Elijah Muhammad popularized and demanded that Black women be protected and respected as other women of the earth are respected and protected. He told Black Men, you will never be respected among the nations until you respect and protect your woman.
Was his teaching successful? Yes. He took Malcolm from an abuser, pimp and beast who preyed on Black women to a man who respected, uplifted and protected Black women. Brother Malcolm was produced by the Most Honorable Elijah Muhammad and remains an example of a reformed and remade Black man and not the so-called American Negro, a product of the White man and his devilish, decadent way and world.
Ola Muhammad, whose son Kamal served as National Secretary of the Nation of Islam, bore witness to her husband and the divinity of his Teachings. It is Elijah's Teachings that we all need, she said.
When God chooses a man as a servant he chooses that man and his seed and these children of the Honorable Elijah Muhammad have embraced aspects of his work. Ishmael Muhammad is the student national assistant to Min. Farrakhan and assistant minister at Mosque Maryam. His brother, Rasul, served for years as minister of Muhammad Mosque No. 1 in Detroit and is a great minister in Islam. Ahmed Muhammad, their youngest brother, is student minister of information for the Nation of Islam. Their mother was the late sister and Islamic scholar Mother Tynnetta Muhammad. She continued her husband's work, traveling the world vindicating his Teachings and teaching women of their divinity.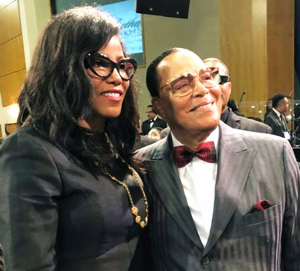 "The Honorable Elijah Muhammad is the most noble and virtuous and moral man that you will know if you live to be 1,000 or 2,000 years old," said Mother Tynnetta Muhammad. "We must know from this day on that the Honorable Elijah Muhammad is the Messenger of Allah, is a savior for you and I and he is the exalted Christ."
As for the fiction that the Nation killed Brother Malcolm, it's an old falsehood rejected. Scholar Manning Marable, who wrote "Malcolm X: A Life of Reinvention," and others, even John Henrik Clarke, who has spoken harshly about the Minister, admitted the killing of Brother Malcolm was much bigger than the Nation of Islam. Brother Malcolm in his book, "The Autobiography of Malcolm X," says any opposition he had was larger than the Nation.
We have called for the U.S. government to release all the files related to Brother Malcolm's death. It was the Minister who snatched Qubilah Shabazz, Brother Malcolm's daughter, from entrapment by the federal government in a purported murder plot against the Minister's life in 1995. Min. Farrakhan condemned federal government manipulation of the young woman and demanded that no harm come to the Shabazz family. It was the beginning of reconciliation and her mother, Dr. Betty Shabazz, spoke at the historic 1995 Million Man March in Washington.
Ilyasah Shabazz, Brother Malcolm's daughter, spoke of her father's death in an interview with Vlad TV about attempts on his life. "It wasn't because of something that was going between the Nation, it was because he had gained the support of 33 heads of African states and their agenda was to bring the issue of human rights violations to the supreme court of the United Nations, so he was killed shortly thereafter as were a few other people. It doesn't matter who pulled the trigger, what matters is who organized this assassination?" she said. My father's secretary said the killers were not in the Nation and worked for different agencies, she added.
We should never use the death of someone, especially Brother Malcolm, to achieve some personal point or goal. His death is still painful for Black America, we need the truth and we need to heal. We shouldn't destroy our people's hopes and dreams with conjecture, lies and delusions.