By Richard B. Muhammad

As the second Women's March looms, Jewish voices are pushing a drumbeat against its leaders, Tamika Mallory, Linda Sarsour and Carmen Perez, trying to discredit them and attack Nation of Islam Minister Louis Farrakhan.
The Women's March is scheduled for Jan. 19, 2019 in Washington D.C., and other cities around the globe. It is the third year for this mass protest against the ugly misogyny, sexism, racism and corruption of the administration of President Donald Trump and gender inequality.
The oxymoronic truth about the Women's March and its anti-Trump bent: The march would not have been necessary, except that White women put him in office. A majority of White female voters put the Groper in Chief in the White House. That led to tension from the inception of the march, along with its first organizers attempt to steal the name Million Woman March, a successful effort by Black women in 1997 in Philadelphia that followed the historic 1995 Million Man March in Washington, D.C.
Mallory, Sarsour, and Perez, who represent in their persons the majority of women who voted against Mr. Trump, stepped into the space. They challenged their White sisters to look in the mirror at their role in supporting toxic masculinity represented by the incoming president. They were also veteran activists with organizations, contacts and a track record for opposing injustice, sexism and racism. They helped make the march a tremendous success and give it an inclusive look and an inclusive orientation. Indeed, many non-White women were inclined not to participate in the march if it had lily White leadership.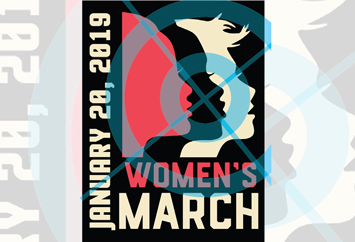 We should not be fooled however. White women have been the supporters, administrators and the architects of legal and social frameworks that oppressed Black people and led to our murder, over-incarceration, mass sterilization and degradation. Research shows the major beneficiaries of affirmative action were White women and from suffragette Susan B. Anthony to Planned Parenthood matriarch and advocate for Black sterilization, Margaret Sanger to Hillary, "Super Predators" Clinton, White women have not been allies in the Black struggle. They have stood by their men. And, they used any advantage a connection with Black struggle could bring to White women to give "Miss Anne" an advantage.
"We know that some white women march right alongside them in neo-Nazi rallies, drop racial slurs on social media, and push racist legislation in Congress. And we know this has been going on for a long, long time–well before Trump's Klansman father was born. However, viewing white women's involvement in perpetuating white supremacy solely through their relationships with men not only denies their agency, but assuages their culpability," observed an article published in Bitch magazine. The article referred to a book, "Mothers of Massive Resistance: White Women and the Politics of White Supremacy," that painstakingly documents how "white women have consciously worked to aid racial segregation in the Jim Crow South" and press for racial purity and White sanctify in the North. They worked in institutions that repressed and crushed Black people. They raised children on their knees that would destroy Black people.
Remember Hillary Clinton's infamous 1996 quote calling for the targeting of Black youth: "We need to take these people on, they are often connected to big drug cartels, they are not just gangs of kids anymore. They are often the kinds of kids that are called superpredators. No conscience. No empathy. We can talk about why they ended up that way but first we have to bring them to heel."
With "friends" like this, who needs enemies?
So the Women's March has suffered from deep divisions over its purpose, power and true possibility for an intersectional movement where every woman can find a place. And, it reflects the ongoing problem Black women have had with Miss Anne, and her inability to respect anything other than White folks in charge.
Into this environment have stepped Jewish enemies intent on destroying Min. Farrakhan, these three courageous women, and redirecting the Women's March back into the hands of the Miss Anne's of the world. These are White women who clutch their purses around Black men. They call police on Black girls selling water, Black folk having a barbeque, Black people enjoying a swimming pool and follow a Black man to his apartment, demanding proof he lives in the building. These same Miss Anne's refuse to use their power to promote progress for Black women.
Longtime liars Rabbi Abraham Cooper, of the Simon Wiesenthal Center, and Harold Brackman, of the Simon Wiesenthal Center and its Museum of Tolerance in Los Angeles, recently carried this campaign, which is backed by pro-Trump Jews, like Atty. Alan Dershowitz, to the pages of The Hill, a political publication which covers Congress and Capitol Hill.
In a falsehood-laden screed, these great Jewish fabricators concoct a narrative under which the march leaders have been tricked by the Minister and the world has ignored his "misdeeds." Please. The White power structure, police agencies, social media platforms and Jewish media clearly have the bold 85-year-old leader in their sights and are daily trying to destroy him. Whether their tools are false witnesses on TV programs, cackling pundits spouting old lies, Facebook removing his videos or Negroes cowed by their Jewish masters' demands, the Minister is under attack, relentless attack. The problem is those who hate the Minister don't just want him denounced, they want him dead–and many have said such openly on social media and in other rants.
Citing "a blockbuster piece in Tablet magazine," these elder misleaders insist the march leaders were swayed by "The Secret Relationship Between Blacks and Jews," published by the Nation of Islam's Historical Research Dept. Then the dynamic, demonic duo goes on to misstate facts, or lie: The Nation of Islam never said "Jewish rabbis invented racism," nor that Jews owned the majority of slaves. The book documents, using Jewish sources, the Jewish role in the slave trade. It came about because Jews had vehemently denied any role in the slave trade. With the truth in their faces, they have abandoned that lie.
Then Rabbi Cooper and Mr. Brackman declare, in a claim that may or may not be true, there are "no Jewish women on the Women's March executive board" and condemn "the hiring of Farrakhan's Nation of Islam to serve as security for the Washington March."
Must Jewish people have a hand and power in every institution in America? How many boards, organizations, institutions, corporations and entities lack Black representation? Should we conclude that all of these places are by default anti-Black?
There was no massive hiring of Nation of Islam Believers for security, while some individuals may have stepped in to help keep everyone safe. Should these women who have spoken out against police brutality, racism and sexism depended on cops and White males for their protection?
No. The true problem is Minister Farrakhan and the Nation of Islam, the non-White leaders of the Women's March and any free thinking and acting Black person is a threat to Jewish power in social and political movements and their ability to dominate such movements.
Attacking the women who lead the march is also a cowardly act. Why come for women when you can confront the man himself? Min. Farrakhan, in a major message in November, called for a showdown between himself, the Nation and those who claim we are liars and devoted to all manner of evil. Where are you Rabbi Cooper? Where are you Mr. Brackman?
Stop hiding behind attacks on women and pressuring Negroes to "denounce Farrakhan." If you have the facts, meet us for a public showdown. Cast your truth and we will cast ours. If you have truth bring it, or are you really such unprincipled, faint-of-heart reprobates that you know your dark lies cannot withstand the sunlight of truth?
Richard B. Muhammad, an award-winning writer, is editor in chief of the Final Call newspaper. Follow @RMfinalcall on Twitter. Learn more at www.richardmuhammad.com.