CHARLENEM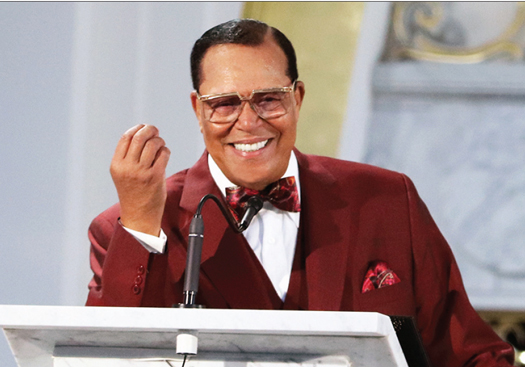 Wicked, Zionist so-called Jews have been attacking the Nation of Islam Minister Louis Farrakhan for nearly forty years and 2018 was a continuation of that assault. But as the year closed, Minister Farrakhan boldly called for a "showdown" with his Jewish critics and detractors during a major address at Mosque Maryam in Chicago.
The Anti-Defamation League, the Southern Poverty Law Center, and others falsely labeled the beloved leader anti-Semitic but have not proven their claims. Min. Farrakhan is challenging them to bring their proof:
"A showdown! Why not? We're ready to die for what we believe! So, come on out Mr. (Jonathan) Greenblatt of the ADL and bring Mr. (Abraham) Foxman with you. Come on out Alan Dershowitz. You that say we are haters and anti-Semites," he said.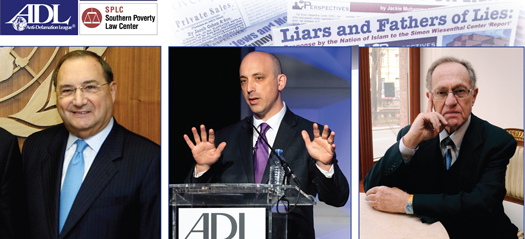 "Come on out from your hiding place. Leave your n—–s at home! Come on out! You think that the Nation is only Louis Farrakhan? You think that I'm the only one that can battle this enemy and beat him down? We've got stars here! Come on out, since you love to say we are the haters, come on out and prove it," Minister Farrakhan continued.Alan Dershowitz, a defender of President Trump and frequent Zionist commentator, declined Minister Farrakhan's invitation to publicly face Nation of Islam scholars and prove the charges he and other prominent Jewish leaders level at him and the Nation of Islam. Except for Mr. Dershowitz's public response, the silence has been deafening.
"That's what lets us know there is no interest in coming to any kind of agreement on the basis of the truth," said Student Minister Demetric Muhammad of Muhammad Mosque No. 55 and a member of the Nation of Islam Research Group.
"That also indicates that the labeling of the Minister as an anti-Semite is a political trick. It's a ruse, as already attested to by former education minister from Israel Shulamit Aloni," Demetric Muhammad said. She revealed that accusations of anti-Semitism are a political trick used to tar those who disagree with the policies of Israel or activity of the Jewish community.
The enemies' strategy has been a formal refusal to even allow Minister Farrakhan a platform to express his views, observed Demetric Muhammad. They cannot contend with the truth that he speaks so their goal is to eliminate and deny him any platform to speak the truth. That includes blocking him from speaking at universities, with calls to have his Twitter account, Facebook and YouTube pages taken down.
"We have a lot of work to do to beat back the charge of anti-Semitism, and this is why the Minister is calling for not just a show down, but a campaign for the defense of the truth and the defense of himself, because this 'no-platform' is essentially a blockade against the message of the Minister and to the degree that it has been effective, there are a lot of pockets in the American public who have never heard of Minister Farrakhan, so it does carry or have a great deal of effectiveness," stated Demetric Muhammad.
By the same token, he said, the Jews' "no platform strategy" is not as effective as they would like. "We know this because of the visceral reaction to the Minister's presence at the funeral of Aretha Franklin," Demetric Muhammad said.
Articles and comments asking "Why are we still dealing with Louis Farrakhan," sprang up, he said. Jews were outraged over Minister Farrakhan's mere presence at the August commemoration of the life and legacy of the great songbird Aretha Franklin, he said.
From Saviours' Day in February 2018, the Nation of Islam's commemoration of the birth of Master Fard Muhammad, the Great Madhi of the Muslims and the Messiah of the Christians, to the Holy Day of Atonement commemorating the 23rd anniversary of the Million March, these enemies have viciously defamed and attacked Minister Farrakhan. Yet, as his many supporters in and out of the Nation of Islam have noted, they not dare accept his challenge to prove one word he's taught from the Honorable Elijah Muhammad false.
"They don't have the courage to debate the Minister directly," a longtime activist told The Final Call. "They can have diplomacy with Kim Jong Un, Putin and MBS (Saudi Arabia's Muhammad Bin Salman) but somehow sitting down with the Minister who's never harmed a hair on anyone's head, is inconceivable."
The activist stated, Minister Farrakhan's enemies even normalize crimes of President Donald Trump and his cronies but refuse to debate the Minister, adult-to-adult, free person-to-free person? "They avoid him. Instead, they pick off African American leadership one by one, thus making a self-fulfilling prophecy of their worst fear: the Minister as the only African American leader left standing," the activist continued.
As the attacks against Minister Farrakhan intensified this year, so did an escalation of responses by his supporters and non-members of the Nation of Islam.
Demetric Muhammad saluted Dr. Boyce Watkins, author, economist, educator, and gives credit to activist and Women's March co-leader Tamika Mallory as well as Dr. Marc Lamont Hill and comedian Corey Holcomb, who said Minister Farrakhan saved his life.
Their words documented in Demetric Muhammad's book, "Who Do They Say I Am," are offered as vindication of the Minister in the court of public opinion, he said.
"They come from a whole wide diverse array of prominent people–some Black, some White, some gay, some straight, some Muslim, some Christian, some Jewish, but these are their candid, unrehearsed, unbought reactions to the leadership of Minister Louis Farrakhan and they're very eye-opening," Demetric Muhammad stated.
Ms. Mallory has said, "If your enemies are not the enemies of Jesus, then maybe you need to check yourself," and Dr. Lamont Hill has said he refused to throw away anybody that loves Black people. "The enemy has made it a very risky proposition to your career speaking up for Minister Farrakhan, so that they said these things is very commendable, because they're going to face some backlash," Mr. Muhammad added.
Earlier this year, a resolution seeking to condemn Minister Farrakhan was blasted by activists and analysts. They denounced congressional targeting of the Minister as driven by racial fears and double standards.
Republican Todd Rokita of Indiana introduced House Resolution 772 in March claiming Min. Farrakhan promotes ideas that create animosity and anger toward Jewish Americans and the Jewish religion.
"I think the attacks on Minister Farrakhan, obviously they're unfair, but all's fair in love and war, as they say and basically they're going to do everything they can to destroy this man, because his work has been so effective," said Dr. Watkins. "We can't think that we can run up the hill with our guns out and not expect the enemy to shoot back at us."
At this point, he said, the test is "do you continue to march forward despite the opposition." He isn't surprised by the attacks this year and feel they will continue for the rest of Minister Farrakhan's life and after his death.
"What we must have the ability to do is defend and even counter-attack, and the reason we have an advantage is because truth is on our side," Dr. Watkins said.
Part of the arsenal is the history of what the enemy has done to Blacks for 400 years, and they can run away from that, argued Dr. Watkins.
"Every time they come after Minister Farrakhan, we can respond with something that they've done to us that's 100 times worse than Minister Farrakhan could do, even if he wanted to attack others, and we know he's not a person who attacks anybody," Dr. Watkins told The Final Call.
"I think the Anti-Defamation League and the Zionists, they know they're in the wrong. They know what they're doing. They know the game that they're playing and it's important though at the same time that we educate our people so that our people know the game that they're playing too," he added.
During the year, Minister Farrakhan continued to warn of God's judgment on America through the weather. During his address in October from Detroit, he warned, "I've been telling you for three years. Now, watch the weather."
On Dec. 12, an earthquake that struck eastern Tennessee could be felt as far away as Atlanta, according to the U.S. Geological Survey. A year's worth of snowfall or more fell in some places in a little more than a day, reported North Carolina officials. More than 20 inches fell in parts of western North Carolina. And Northern and Southern California residents are barely recovering from fires that swept through communities in Malibu and decimated the entire town of Paradise, Calif.
The ongoing attacks waged in mainstream and mostly social media have been in response to viral clips and tweets by Minister Farrakhan, and only manifest the fact that they want him dead, said Jesse Muhammad, his social media director.
"We who say we follow the Honorable Minister Louis Farrakhan cannot forget that the Most Honorable Elijah Muhammad told us that the ultimate aim of this world is to not to shut down a Twitter account; not to block a Facebook page; not to impede an Instagram repost. No! He said the ultimate aim of this world is to kill the Messenger of God," Jesse Muhammad stated.
Minister Farrakhan's enemies begin by attempting to kill his character, smear his image, undermine his work, and kill the ideas he represents, but as scripture reveals, they cannot stop Allah's light from shining forth from Minister Farrakhan, he continued.
"So 2018 has been real hot! However, the Honorable Minister Louis Farrakhan has stated to me that the enemy is just getting warmed up. He said the scriptures will be fulfilled, that they will have to shut their mouths at God's man eventually," said Jesse Muhammad.
Minister Farrakhan himself expressed that he has never seen his name mentioned this much, his image posted on TV this much, and his being the center of controversy this much–since the 1980s when he stood with Reverend Jesse Jackson, according to Jesse Muhammad.
"That lets us know that we're at a serious heightened period for him to compare it to when a lot has taken place over these last 30 plus years," he continued.
Also consider, social media didn't exist back then, the spreading of information wasn't as rapid and the reach and impact of the Minister's word due to social media and modern technology has enabled responses and counter-moves to his enemies by those that follow and defend and love him, stated Jesse Muhammad.
In response to calls for Tamika Mallory and co-organizers of the Women's March to denounce Minister Farrakhan, Bishop Talbert Swan, II, of the Church of God in Christ, tweeted, "Instead of liberal white activists singling out Blacks to bully them into condemning Farrakhan, y'all should round up your brothers, sisters, aunts, uncles, spouses, boyfriends, girlfriends, mothers, fathers, cousins & convince them to forsake racism, bigotry & white supremacy."
King Reynolds tweeted, "I don't care how many people hate Louis Farrakhan I still believe (in) him. You will not manipulate me and get me to believe he is a sellout. I love the Minister, because he's the 1st person to get me to see the truth more accurately than anyone else."
"Social media and what's going on online is just giving us a picture of a protracted war that's still going on," said Jesse Muhammad.
Most people are not aware that the war dates back to Rev. Jackson's asking the Nation of Islam and Minister Farrakhan to support his 1984 presidential campaign, commented Abdul Arif Muhammad. The Minister's voice is a voice that should be heard, said Atty. Arif Muhammad, Nation of Islam general counsel, student minister, and member of the Nation of Islam Research Group.
"That intense attack against the Honorable Minister Louis Farrakhan started based on a lie that he called [Adolf] Hitler a great man and called Judaism a gutter religion," Atty. Arif Muhammad stated. "Those two were the twin towers of lies that were propagated primarily by the Jewish community through the Anti-Defamation League and other Jewish organizations."
They knowingly, willfully and maliciously misinterpreted what Minister Farrakhan said because the greatest weapon that the enemy fears is exposure, he said. However valid the criticism of Israel may be, for Zionists, no one has the right to criticize them no matter how wicked and evil the act or policy is.
"It (Israel) is evil and wicked and has been for 40 years, so when the Honorable Minister Louis Farrakhan said in 1984, 'Now that nation called Israel never has had any peace in 40 years and you will never have any peace because there can be no peace structured on injustice, thievery, lying and deceit using the name of God to shield your dirty religion under His holy and righteous name,' and they accused him of calling Judaism a gutter religion, nowhere did you ever hear the word Judaism, and nowhere do you hear the word gutter religion," argued Atty. Arif Muhammad.
During his Holy Day of Atonement address this October in Detroit, Minister Farrakhan addressed his critics, saying he's not anti-Semitic. He's anti-termite, referring to the 10 percent bloodsuckers of the poor. Afterward, a major Twitter attack came from Chelsea Clinton, daughter of former President Bill Clinton and former Secretary of State Hillary Rodham Clinton. She tweeted a clip of Minister Farrakhan's address to her 2.38 million Twitter followers, saying it was wrong, dangerous and anti-Semitic. Attacks also came from the usual suspects, the ADL, prominent Jewish leaders, activists and even actors like Alyssa Milano, who called on Ms. Mallory and Women's March leaders to denounce Minister Farrakhan in exchange for her appearance at the Woman's March.
Similarly to the 1984 lies against Minister Farrakhan that have followed him to this day, nowhere in Minister Farrakhan's October speech did he ever link the words Jew and termite.
"In my mind, we have to look at this from the standpoint of scriptures. The Honorable Minister Louis Farrakhan is a man as we read in the scriptures of Jesus and his ministry and you see the opposition that he faced from the Pharisees, the Sadducees and the Sanhedrin which were the Jewish, religious and political sects of that day, their greatest fear was that the people would hear his message," said Atty. Arif Muhammad.
"Of course, the poor gladly heard his message, but the fear was among the wealthy and for those who were fearful. Well, it's the same thing today. The Honorable Minister Farrakhan is loved by his people and by millions of the oppressed so in that sense they have not been successful which is why it's even more intense today, because they have not been successful in stopping him from delivering Allah (God's) words," said Abdul Arif Muhammad. "Victory is promised if we are willing to be obedient to God and his servant," he said.
Looking ahead, it is important to continue to be on the offensive, he continued. "We have to be on the offense in terms of our work in the mission of the resurrection of the dead. We have to fight harder with the truth and with unity. We have to work harder to get the revealed word of Allah (God) and His Christ and their Servant to the people," he continued.