and Richard B. Muhammad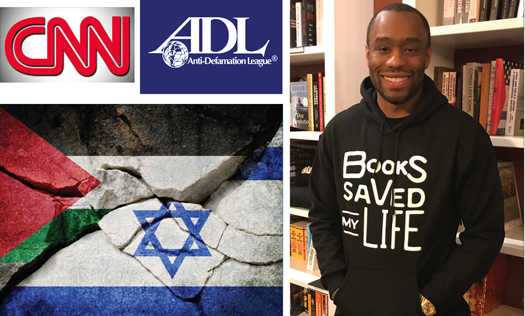 PHILADELPHIA–After remarks calling for justice for Palestinians and justice in Israel, Marc Lamont Hill, a noted academic, award-winning author and news analyst was attacked by Jewish groups, who forced his ouster from CNN.
The 39-year-old advocate for international justice, who happens to own a bookstore in the city, responded by saying his remarks were not anti-Semitic but came out of his desire to speak truth–not to injure anyone.
Despite his reasoned argument and willingness to engage with critics, the Jewish interpretation of his words not only cost the Philadelphia native his CNN position but also led to a push at Temple University to force him out of his position as a tenured professor.
In an op-ed published Dec. 1 in the Philadelphia Inquirer, Mr. Hill says he meant no malice towards Jews or the state of Israel. "First, I strongly believe that we must reject anti-Semitism in any form or fashion. This means not only preventing physical violence against Jews, but also ugly anti-Semitic images, stereotypes, conspiracy theories, and mythologies," he wrote.
"My use of 'river to the sea' was an invocation of a long history of political actors–liberal and radical, Palestinian and Israeli–who have called for their particular vision of justice in the area from the Jordan River to the Mediterranean Sea. For many, justice will come from a two-state solution. For some, like me, justice will come through a single bi-national democratic state that encompasses Israel, the West Bank, and Gaza."
His Oct. 29 remarks to the United Nations Committee on the Exercise of the Inalienable Rights of the Palestinian People included a call for "international action that will give us what justice requires, and that is a free Palestine from the river to the sea."
Jewish groups, including the ADL and others, pounced quickly. They denounced him as an anti-Semite, declaring his words echoed calls for destruction of the state of Israel issued by some Palestinian groups. Next came his firing from CNN and a Temple University board member and Jewish groups said he should be dismissed from the school.
Gideon Levy, writing in the Jewish newspaper Haaretz, said, "In a matter of hours, the skies collapsed into well-orchestrated hysteria. Seth Mandel, an editor of the Washington Examiner, accused Hill of having called for Jewish genocide; Ben Shapiro, an analyst on Fox News, called it an anti-Semitic speech; Consul Dani Dayan tweeted that Hill's remarks were like a 'swastika painted in red,' the Anti-Defamation League said they were tantamount to calling for Israel to be wiped off the map. The inevitable outcome was not long in coming, and CNN fired the rebel analyst on the very same day."
According to Electronic Intifada, a pro-Palestinian group, the words spoken by the professor point to simple recognition of reality: Historical Palestine, what is today Israel, the occupied West Bank, and Gaza Strip, is not free between the Jordan River and the Mediterranean Sea.
Philadelphia writer and Final Call contributor Jehron Muhammad noted on Facebook.com that "if you look historically, on both sides of this issue, people have used the phrase, 'from the river to the sea.' Marc in his defense, if given a chance to defend himself, said in words … was no different if he said from 'sea to shining sea.' "
The ADL and other blind supporters of Israel were apparently looking for the right opportunity to attack Mr. Hill and misinterpreted and blew his words up out of proportion.
Why now? The question was answered in a Jewish Forward article headlined, "Marc Lamont Hill's Problem didn't start with Jewish Bashing." The article says, "the U.N. speech may just have been the straw that broke the camel's back. It was only a month ago that Hill came under fire for his close ties to Nation of Islam leader Louis Farrakhan."
"Hill has been reluctant to acknowledge the notorious bigotry of NOI and its leader. In 2010, he made clear that he was 'excited' to hear a talk by Farrakhan, even though he felt that Farrakhan had been 'a little too pro-Obama lately.' In the summer of 2016, Hill once again advertised his admiration for Farrakhan when he posted a photo of himself and the NOI leader with the text, 'Been blessed to spend the last day with Minister Louis Farrakhan. An amazing time of learning, listening, laughing, and even head nodding to music. God is Great.' "
Supporters charged Jewish groups targeted Mr. Hill as part of an effort to punish and isolate anyone who comes near Min. Farrakhan. Final Call senior editor Askia Muhammad referred to these attacks in a Washington Informer column called "How to Pass the 'Farrakhan Litmus Test.'" "Here is how the hustle works," he wrote. "If the minutest of associations with Minister Farrakhan can be found with any prominent Black personality, that person must, sooner rather than later, conspicuously denounce the Muslim leader or their career or their organization will be ruined. It's called the 'Farrakhan Litmus Test.' "
But even some Jewish groups and writers joined the chorus in defense of Mr. Hill.
"In the heavy-handed reality that has seized control over dialogue in the United States, there's no room for expressions that may offend the Israeli occupation. On a liberal day it's permissible to say "two states" as long as you do it in a whisper," wrote Gideon Levy, a Haaretz columnist and a member of the newspaper's editorial board. His piece was headlined, "In U.S. Media, Israel Is Untouchable. You can attack the Palestinians in America uninterrupted, call to expel them and deny their existence. Just don't dare say a bad word about Israel, the holy of holies."
"What would have happened if Hill had called for the establishment of a Jewish state between the Jordan and the sea? He would have safely continued holding down his job. Rick Santorum, the former senator, said in 2012 that 'no Palestinian' lives in the West Bank," observed Mr. Levy. "Nobody thought of firing him. Even Hill's critic, Shapiro, has called in the past for ethnic cleansing of Palestinians in the territories (he backtracked on it a few years later) and nothing happened to him."
"Israel and the Jewish establishment keep on accusing the media, including CNN, of being slanderers of Israel. There's no worse joke than that. Try to publish a critical article about Israel in a mainstream newspaper in the West–it's getting more and more difficult, more often than not, impossible," continued Mr. Levy.
"The key word of course is anti-Semitism. A lot has been written about the use Israel and its supporters make of anti-Semitism. And it works wondrously, it's a magic word that silences people. There has not yet been a single critique of occupation that isn't tagged as anti-Semitism. Everything is anti-Semitism: Hill is anti-Semitic because he favors a one-state solution, Roger Waters is an anti-Semite because that's how Gilad Erdan described him at a conference … about propaganda in Germany, UNRWA is anti-Semitic, and of course, BDS. The whole world is against us."
Mr. Levy added, "It turns out that the Jews are not as hated as Israel would like: Only 10 percent said they had any negative feelings about them. Nearly four times as many people said they don't like Muslims. Along with its worrisome aspects, the survey points up more than a few truths you can't deny. Twenty-eight percent of those questioned said that anti-Semitism in their countries is a result of Israeli policy. A third believe that Israel takes advantage of the Holocaust to advance its positions. One in five thought the Jews have too much influence in the media.
"Fire more analysts who dare to criticize Israel or suggest just solutions to the occupation–and more people surveyed will say what everyone knows: The Jews and Israel have an incredible degree of influence in Western media. Now you can call me an anti-Semite, as well," he concluded.
Social critic, author, and intellectual Cornel West said, "The important thing is that we've got to stand with our dear brother Marc." "All he is saying is that a Palestinian baby has the same value as a Jewish baby," Mr. West told therealnews.com.
Congresswoman-elect Rashida Talib (D-Mich.), one of the first two Muslim American women elected to Congress, urged support for Mr. Hill. "Calling out the oppressive policies in Israel, advocating for Palestinians to be respected, and for Israelis and Palestinians alike to have peace and freedom is not anti-Semitic. @CNN, we all have a right to speak up about injustice any and everywhere," she tweeted.