By Charlene Muhammad CHARLENEM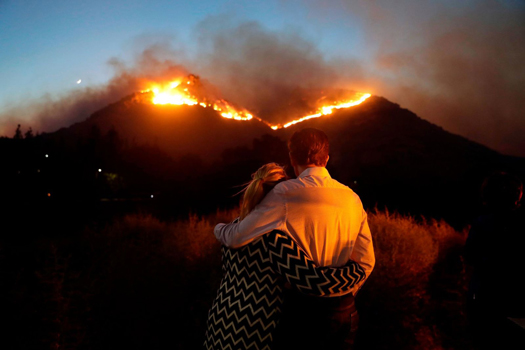 LOS ANGELES–Part of California is in a state of emergency as investigators are still working to determine the origins of two major fires, one that has claimed 77 lives to date, with 993 people reported missing.
The White House approved Governor Edmund G. Brown, Jr.'s request for a Presidential Major Disaster Declaration to bolster the ongoing emergency response and help residents recover from the devastating fires burning in Butte, Los Angeles and Ventura counties.
That means support including crisis counseling, housing and unemployment assistance and legal services, and public assistance to help state, tribal and local governments with ongoing emergency response and recovery.
"We have a real challenge here, threatening our whole way of life," said Gov. Brown during a November 11 briefing. "It is a time of sadness, but also one to reflect on where we are and resolve to pull together and do everything we can to help those in need," he stated.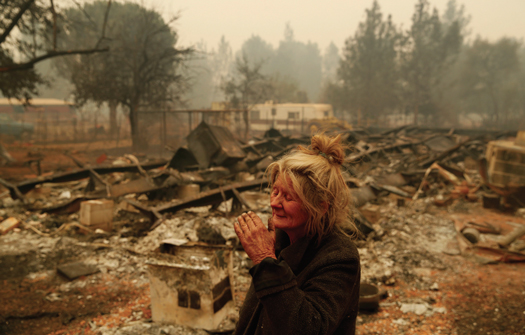 The disasters do not yet rank in the state's top 20 biggest in size, yet the Camp Fire in Northern California approximately 80 miles north of the state capital Sacramento and the Woolsey Fire in Southern California's Ventura and L.A. Counties, comprised of towering "firenados" and golf ball-sized embers, have been the most destructive."The Camp Fire started about 6:30 a.m. and I believe by the afternoon, it was at 75,000 acres. So that's less than 12 hours, and the majority of the damage was done in that time period," stated Kathleen Schori, assistant division chief with the California Department of Forestry and Fire Protection (CAL FIRE).
It is the most destructive and deadliest in California history, according to officials. Since November 8, it has burned 113,000 acres and devoured the Town of Paradise, once populated at over 26,000. Some 52,000 people evacuated from Butte County overall and many of those missing are from Magalia, a forested town of about 11,000.
Scott Witt, CAL FIRE Deputy Chief, noted Paradise hasn't had significant, measurable rains in 220 plus days.
"You're dealing with a 50-mph wind, maybe more, maybe less. You're dealing with spots, embers that are traveling by half a mile or a mile and then landing in dry vegetation or landing in needles on the roof of a house. That's an extremely difficult event for any single fuel break, any prevention activity," Deputy Chief Witt told The Final Call. "At that point, it's close to being at the mercy of mother nature," he said.
Actually, the fires are part of extreme weather patterns sweeping America as part of God's "Four Great Judgments" of rain, hail, snow and earthquake, warned the Most Honorable Elijah Muhammad in his book "The Fall of America".
"Rain, hail, snow and earthquakes–these weapons all belong to God. America, how do you fight an army like this?" asks the Nation of Islam patriarch.
Mr. Muhammad's National Representative, the Honorable Minister Louis Farrakhan has repeatedly re-issued that warning, including in his 52-week lecture series "The Time and What Must Be Done," and in a recent message to President Donald Trump, the United States, and the world.
"Let me tell you something: If you don't give justice to us, you will lose everything you've got, including your life, because God, now, said He is ready to fight you for our deliverance. And he told me to tell you: You don't have no fight against the forces of nature," Min. Farrakhan cautioned President Trump during a mid-November 2017 press conference at the Watergate Hotel in Washington, D.C.
The Minister has consistently warned disasters striking America are not happenstance but is the result of the divine Supreme Being's direct intervention and chastisement. "The God is after America for her evils done to His people: You have a chance to relieve yourself of some of the heaviness of the judgment that's against you by letting my people go," said the Minister in an address earlier this year from Mosque Maryam in Chicago. He also said natural disasters and extreme weather would continue to plague America as punishment for her domestic evils.
Assistant Division Chief Schori said the devastation struck her particularly because they don't usually see it with whole communities.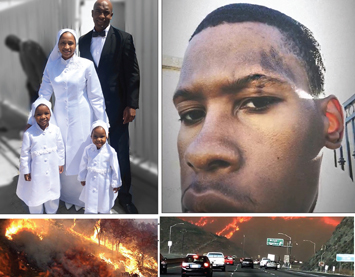 "There's been other fires in that area, and the set of circumstances that resulted in this fire didn't occur during other fires. … It was the alignment of the winds and the dry conditions. The speed at which this fire traveled was tremendous," she told The Final Call.
Any return to "normal" conditions depends on a return to normal rainfall over extended periods of time, especially where trees are the primary vegetation, according to the assistant division chief.
In Southern California, the Woolsey Fire started at 2:24 p.m. on November 8. It claimed three civilian lives and injured three firefighters and was 69 percent contained, but not before it scorched 98,362 acres in the hills south of Simi Valley.
The suburb about 43 miles northwest of Los Angeles is where a jury acquitted in 1992 four police officers charged in the mob beating of now-deceased Black motorist Rodney King.
One fire not under CAL FIRE's jurisdiction broke out near the San Bernardino home of Marcus and Angie Muhammad about 61 miles south of Los Angeles. Firefighters are still investigating the cause.
Marcus Muhammad said he noticed the fire and sprang into action with his nephew Yusef Muhammad. They evacuated his wife and children, along with their niece and great-niece.
While Yusef Muhammad knocked on doors to alert neighbors of the blazes rapidly approaching their homes, his uncle saturated the properties and sprayed flames as much as he could until fire crews arrived.
"Everybody else had evacuated and it was just us two. There was really nowhere we could go or nothing we could do," Yusef Muhammad stated.
Firefighters arrived and a couple of neighbors came out to help, and just when he felt it was under control, a gust of wind kicked flames into his face, Yusef Muhammad told The Final Call.
"If I were to put my arm out, I couldn't see my hand. That's how much smoke it was! It got in my eyes, and I had to hold my breath because it about knocked me out," he continued.
"Allah is the greatest, because it had the potential to be very catastrophic looking in hindsight and even looking at the aftermath and the way the burns, the field that was scorched, was in the shape of a crescent," said Marcus Muhammad. Their home was spared.
"It had us flanked all the way around, but it stopped exactly where we were at, in the shape of a crescent moon. We would be sitting where the star would be and everything around it was burned," he said.
According to Marcus Muhammad, the fire was bolstered by sporadic, 30-40 mph winds and golf-ball sized embers that pounded neighbors' trees. At one point they battled towering flames just 10 feet away, he stated. (Associated Press contributed to this report.)