and Nisa Islam Muhammad The Final Call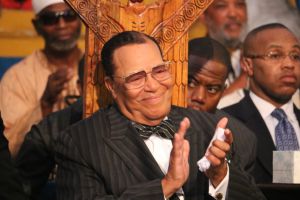 WASHINGTON–During a Men's Day program at Union Temple Baptist Church honoring Minister Louis Farrakhan's 60-plus years in service to Black people and the spirit of the Million Man March, speaker after speaker confirmed despite condemnation from the highest halls of White government and society: Minister Farrakhan is loved and welcome in Washington, D.C.
The Reverend Willie Wilson in opening his remarks stated he had "no proclivity for the use of foul language" but: "We don't give a damn about what anyone says about Minister Farrakhan coming to Washington, D.C. They can go to hell."
In April, Jewish city councilwoman Elissa Silverman declared Min. Farrakhan "cannot be welcomed in our city in any venue" following uproar over a small donation made to the Nation of Islam by a young Black city councilman.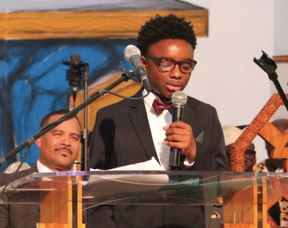 "I love Minister Farrakhan because he stands up for Black people when others get scared and shy away. He's a great example for my sons. I want them to be strong like him," said Arisha Langston, a cosmetologist in District Heights, Md.
"He doesn't mess around. He doesn't try to sugarcoat the truth to make it easier to swallow, he just tells it like it is and that's the way I like to hear it," she said. "I was concerned when he had to sit down. Get some rest Minister! We love you too much to lose you now. We need you now more than ever."
"This was the first time my sons got to hear the Minister and they were mesmerized. I've warned them not to believe all the junk they see in the media about him," said Jameel Olu Shango, who attended the Million Man March. He lives in D.C. and owns a small business. He brought his family and grandmother to hear the Minister at Union Temple.
"I was at the Million Man March and remember fondly the entire experience. I came with a group of friends and we loved it, we loved every minute of it. As we said the pledge today, I thought back to make sure I had kept my word and I had," he said.
Rachel Miller, a stay at home mother of four, came to Union Temple with her husband and family. They all applauded the Minister's words.


"My husband and I have heard him before in D.C. This was the first time the children were old enough to hear him and really understand what he was talking about," she said. "My 16 year-old plans to do a paper on him for class. I was glad to hear that. We love the Minister and support him."Mustapha Farrakhan, student Supreme Captain of the Nation of Islam, thanked Rev. Wilson and his wife for hosting and embracing his father. Rev. Wilson asked Min. Farrakhan's son to introduce his father as he had at the Million Man March.
"Twenty-three years ago, Allah was showing the world his choice and whether you like it or not, he chose us as a people but every body needs a head," said Mustapha Farrakhan.
Minister Farrakhan has been teaching for six decades and no one knows the enemy better than him, he added.
The enemy always skews his representation of the Minister, Mustapha Farrakhan noted. But today, he said, "We don't give a damn what they think about our man. And any one of you that do not do the research before you condemn this man, you will be dealt with by our people because when you deny this man you are denying the very liberation and salvation of us as a people," he said. "All of us have held our piece because of this man. … I want him to know the movement is safe. We have to be the strong link in the chain from ancestor to ancestor. What are you going to do with the time that you have?" he asked.
The day was long but good, commented LaMonte Banks, a high school student who is homeschooled. It was his first time hearing the Minister in person after watching him on YouTube.com.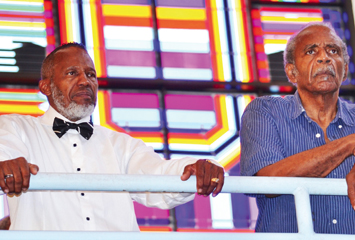 "I was not disappointed," said the young Black man.
"I'm glad I got to see so many Black people working together from so many different walks of life. Muslims don't come to my church. I was really shocked to hear he was coming. I was even more shocked to hear Rev. Wilson talking about Islam and Prophet Muhammad. That made me want to learn more about him."
Rev. Ronnie Jones, who attended the event, told The Final Call joining with Minister Farrakhan shows the growth of Black men and youth. "It's a great opportunity with Christians and Muslims coming together as one demonstrating unity."
Agreeing with this assertion was Kevin Tucker from Washington, D.C. "This event is historic because what we have gone through and the time at hand. We need to learn to come together as we have in the past. We need to revive the spirit of the Million Man March," he said.
Dr. Linda Wharton Boyd, a public relations and government relations guru, was active in organizing the Million Man March in 1995 assisting the renowned leader Dorothy Height. She came under extreme pressure not to join with Minister Farrakhan. "I came to assist despite the pressure. For me, the risk was greater on the other end. We came together with authority, a common cause. As my mentor, Dorothy Height said, 'I am here because you are here.' "
Melanie Campbell, a nationally recognized expert in civic engagement, said during remarks that her involvement in the Million Man March changed her life. "I watched it unfold. Women were very much involved. Signing Black men up to vote was a goal of the march and over 200,000 registered."

She noted that in 1996, for the first time, Black men outvoted Black women.Cora Masters Barry, former D.C. first lady echoed these remarks. The women acknowledged other women who took part or spoke at the march including National Council of Negro Women president Dr. Dorothy Height; Malcolm X widow Dr. Betty Shabazz; civil rights icon Rosa Parks; Tynnetta Muhammad, Nation of Islam teacher and wife of the Hon. Elijah Muhammad; Claudette Muhammad of the Nation of Islam, and political activist E. Faye Williams.
A surprise at the event was a magnificent sculpture of Minister Farrakhan by artist Kennard Copeland. Mr. Copeland, a native of Guyana, told the audience that as a youth in his homeland he listened to cassette tapes of Minister Farrakhan which inspired him greatly. "He influenced me to use and develop my talents for the good of the community," he said. He was honored to create the sculpture.
Another presenter Edwin Advent, a member of the Baltimore Local Organizing Committee for the Million Man March and founder of Black Professional Men, stated Minister Farrakhan had changed his life forever through the Million Man March.
As a result, he has opened and run businesses, a school, a magazine and a TV network. His group has mentored over 3,500 boys. He is in the process of completing a documentary entitled "The Men of the March."
Rev. Wilson, following the program, said divine inspiration led him to develop the program. "We originally started with our regular Men's Day with the theme taken out of Exodus about righteous men, and then a vision came to me to try to revive the spirit that was so evident and prevalent during the Million Man March in 1995. I thought the best way to do that was to bring some of the people who were part of it. People who would engender that spirit so that indeed we could light a fire across this nation."
Ajna Surah, who came from Indianapolis for the event, heard the Minister in person for the first time. "He was outstanding," she said. "The confirmations that I received being in his physical presence today will allow me to walk in my truth and assist my people. What impacted me the most was when he said the women's base is in her home, but her place is wherever her destiny or mission takes her."