ASKIAM and Katrina Muhammad The Final Call @TheFinalCall
A call for Operational Unity amid today's challenges and remembrances of yesterday's victories, collective action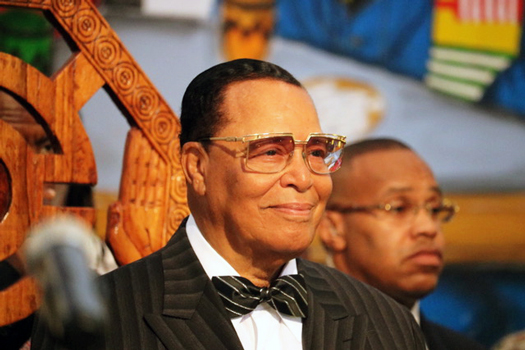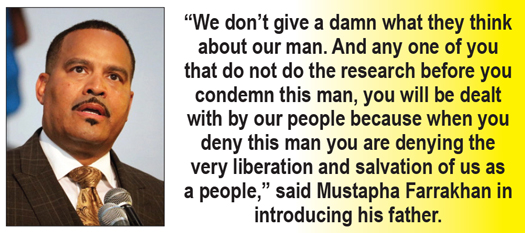 WASHINGTON–At Union Temple Baptist Church, men and women virtually relived the entire Million Man March in celebration of the church's annual Men's Day, and as a salute to the Honorable Minister Louis Farrakhan, the march convener.
Those in the standing-room-only sanctuary honored Minister Farrakhan, and a bronze bust of his likeness was given to him by the church pastor, the Rev. Willie Wilson, who challenged a city official who dared to say that after 40 years of appearances at Union Temple, in particular, and throughout the city, the Muslim leader was not welcome in the city.
"Go to hell," Rev. Wilson told such opponents.
The Rev. Steve Young, pastor of The House of Praise in Washington was equally indignant. "If I have to be a Muslim for an hour, I am going to stand with Farrakhan! I won't let no White woman" come between us, he declared.
"Let me stop here and just say thank you. I cannot accept the honor; I certainly cannot accept praise for the Million Man March. I would be one of those arrogant, self-aggrandizing, nincompoops, if I tried to steal (the) credit from God," Minister Farrakhan said Sept. 16 of the adulation.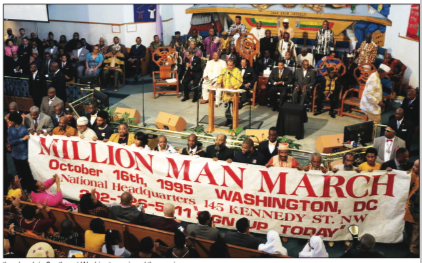 "A warrior spirit is the spirit of Jesus, the Christ. Jesus don't come back to play with you. And he's not coming back to teach you. He did that already. The Bible I read, he came back with a sword in his hand, a sword in his hand, dripping with blood," said Minister Farrakhan, as he taught of White opposition to justice and genocide meted out on Native Americans slaughtered by White settlers, the horror of the transatlantic slave trade and hundreds of years of evil, suffering and death inflicted on Blacks and the indigenous people of this nation.
Black Christians are "catching hell from the same White man you say is your brother. You gave them no conditions, except that they accept you as a brother, which they never have done."
Dozens of distinguished guests and clergy were in attendance, including Trayon White, Ward 8 member of the District City Council; Dr. Julius Garvey, the son of the Honorable Marcus Mosiah Garvey, the great 20th century Black nationalist leader; Archbishop George Stallings of the African American Catholic Congregation; the Rev. Graylan Hagler, senior pastor of Plymouth United Church of Christ; Mrs. Cora Masters Barry, widow of former D.C. Mayor Marion Barry; as well as Melanie Campbell, executive director of the National Coalition On Black Civic Participation. Congressional Black Caucus conference dinner keynote speaker Rev. William Barber sent regrets because his 86-year-old mother was home in N.C. near the hurricane and he had to go back.
Rev. Barber is the president and senior lecturer at Repairers of the Breach in N.C.
Singer Ayanna Gregory, daughter of the late famed comedian and activist Dick Gregory, performed.
Bishop O.C. Allen, founder of Vision Church and Cathedral in Atlanta; Nation of Islam Student Ministers Abdul Khadir Muhammad of Washington, Nuri Muhammad of Indianapolis, and Carlos Muhammad of Baltimore; Al-Malik Farrakhan, of Cease Fire Don't Smoke the Brothers and Sisters; and original Million Man March organizers Ellwood Yango Sawyer and Rahim Jenkins, creator of the D.C. Covenant of Peace, were all among the guests.
Also in attendance were men from the Prince Hall Masons as well as women representing their Eastern Star auxiliary. Howard University Hospital psychiatrist, Dr. Alice Gullattee was in attendance.
A member of the legendary Quander family, the oldest known Black family in this country, tracing relatives back to 1684 was present, and among those presenting a 30-foot-long banner which was saved after the 1995 Million Man March at the U.S. Capitol.
Several members of the march Local Organizing Committee who declared they are also part of the LGBT community were among activists, leaders and students holding the historic banner.
"Christ is God in the person of man. Christ was a living human being, Jesus. He was born of a woman," Minister Farrakhan said. "So, we can have men that are 'Righteous Men, Ready to Rule,' but where did they come from? Ain't none of us that are ready, that came here without the agency of man, and a woman.

"So the time is not for men to rule. Men been messing up rulership for thousands of years, saying that a woman's place is in the home. No, her base, is the home, but her place is wherever her gifts will take her, if she's free to be who she really is," Minister Farrakhan said. Women, the Muslim leader said, "are the strongest force for change" in society today.Minister Farrakhan also explained his silence at the funeral of Aretha Franklin, saying he did not need to speak to make a powerful statement by simply being among the mourners.
"Sometimes, you can speak more powerful, by being quiet. I didn't have to say nothing. I love my Aretha, and I said I just wanted to be one of the mourners of our great loss," he told the audience.
"Tears fell out of my eyes when I saw my cousin, Cicely Tyson, and Rev. Jackson at the casket, and they were lowering the lid. I felt something for Aretha that I had not felt before. Everyone that sang, God, I felt so good, watching the soul of Black people. I felt so at home and comfortable, listening to people preach. I did not wish to speak. We took pictures. The enemy tried to crop me out of them.
"T.D. Jakes. I love that man, and I told him. I said 'Brother, you are one of the greatest gospel preachers in this nation and in the world.' He said, 'Coming from you, I accept that.' I tapped him in his chest, I hugged him around his arms, and I kissed him on his cheek. 'Why you do that? You sissy? No, but I'm in love. I'm in love with you.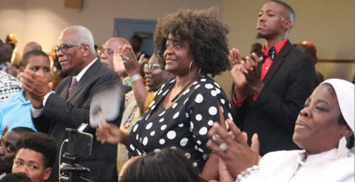 "I'm in love with the people that you would think are the worst of our people, but I bow to them in love, because I know who they really are. You say he's a homophobic man. Stop it. I have people in my family that are lesbian and gay. Wha-a-a-at? I love them. That's my family. I wasn't sent to judge them. I was sent to look beyond their faults, and see their need!
"There was one great singer. I went backstage to his dressing room, and he said, 'Uh, Farrakhan, I'm gay.' That don't stop me from loving my brother," the Muslim leader explained.
"They say I'm a hater. You have never been loved, till you've been loved by Christ. And if I follow Jesus, I could never turn my back on a gay person, a lesbian, transgender, whatever you call them.
"We like to look at someone who is doing something we're not doing, and point them out as the sinful person, while you blind yourself to your own evil. The Jesus I know, he said, came into this world to save his people from their sins."
"That's why Jesus is so special. Because he's not like Moses, bringing a law, if you violate the law, stone them to death," said Min. Farrakhan.
Reviving spirit, inspiring renewed action, commitment
But the day was about more than nostalgia as Rev. Wilson noted. "The spirit that we feel, hopefully will be a catalyst for reigniting that kind of unity across all lines, denominational, religious, whatever, so that we can come together in the same spirit that we did in 1995," he explained.
"Should that happen, the take away will be newfound togetherness and working together as a community of Black people to make a difference."
Rev. Wilson surprised Minister Farrakhan by presenting him with the bust made in his likeness.
He wanted to deliberately show honor to Minister Farrakhan, his longtime friend and comrade in struggle.
"We have been together so long, and because I know of his great work, and given the fact that there were those who said he should not be invited to come to the city, this is something that will be lasting and people can have this image," said Rev. Wilson.
"This is what the people really think about this great man of God."
There was also a call for voter registration, which the Minister supported but with clear guidance: Engage in politics, but it must be new clean politics, not corrupted by money and not selling out Black interests. Blacks must also make sure their elected representatives are kept clean in a corrupt and dirty political system, he added.
Many women assisted in helping to organize the Million Man March, such as Claudette Marie Muhammad, former Nation of Islam protocol director. "What Brother Wilson was showing us is that we are all one, Christian community, Islamic community, we are all one serving the same God so we have to come together and be as one," said Claudette Muhammad.
"The ceremony of honoring the women was very, very beautiful," she said as part of Men's Day saluted women who worked on the 1995 march.
"I thought it was wonderful. Yes, like they say it's the Million Man March, but it was the women that were behind the men," she continued. "Look at Melanie Campbell, look what she did in getting that voter registration, and getting the people out not only in Washington, D.C., but all over the country.
"That put President Clinton in office, all those Black votes he got. And, the survey of the results of the Million Man March of the men that went back and did what they were supposed to do."
"We are all coming together as one and working together as a body of one. And people really seeing Min. Farrakhan for what he is or who he is, he is not anti-Semitic. He is not any of those things that they claim he is. I went to the Congressional Black Caucus (conference) and there was an outpouring of love, gratitude and respect for the Honorable Minister Farrakhan. I could feel the sincerity of many of the congressman who said 'tell Minister Farrakhan that we love him.' "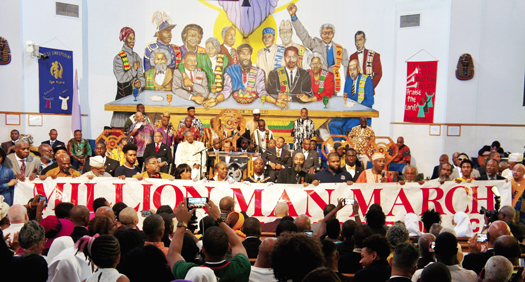 The First Lady of Union Temple Baptist Church, Rev. Mary Wilson stated, "It was so imperative to be able to not just include the women but to acknowledge the women's presence. I appreciate the opportunity to witness something like this, to be here and witness all the love and interactions here. It was beautiful. We are one!" "This church over the years has played such a large role either as a launch pad for something major that the Minister has done or receiving him back from a major situation that has happened outside of the country," observed Student Minister Carlos Muhammad of Nation of Islam Muhammad Mosque No. 6 in Baltimore.
"We can see that the Minister's ability to link our family, our Christian family, our Muslim family, our Hebrew family, and the human family is so key in an hour like this where we are in a country where division is the order of the day from the White House down to the locals."
Carlos Muhammad recalled how as a 22 year old, who had been put over the Baltimore mosque two years earlier, the Minister gave him a platform and mentors who taught him as he gained greater organizational skill.
Some 250,000 men came to the Million Man March from Baltimore and statewide, he added.
"But it's even greater to still be here and to be with the man that God used to call it and still be here to continue to do a great work by Allah's grace," said Carlos Muhammad.
It is essential to work with young people, he added. "We are raising people to spiritual life. We can guarantee people will be raised when we bring the youth into action and allow them to continue to do our work."
Ayanna Gregory was deeply touched by the gathering. "I haven't felt this feeling in a long time. What we felt inside this church, there are just no words, it's a spirit thing," she said. "It's a vibrational thing, a shifting of frequencies. If we can hold on to this and not be confused or distracted by the illusions, if we can hold on to this, which is the only truth, we are going to be just fine," she said.
She feels men often aren't told they are loved and appreciated. "I think that so often the Minister's message gets twisted and the NOI, I think people don't recognize that. I was just looking at the brothers standing post, at the FOI, you are looking at some of the calmest, focused human beings on the planet. They are not in a stance ready for war, they are so comfortable with knowing that they are firmly rooted and that's love. That's not an offensive move. That is, 'we are standing post protecting our leaders, our visionaries and keepers of peace,' " she said.
She was asked to do a tribute to her father, Dick Gregory, and Mayor Marion Barry, who played an integral role in the success of the men's march. "I most want people to remember that my dad was a truth teller and that he did not sacrifice the truth for anything," she said.
Samantha El-Amin of Muhammad Mosque No. 24 in Richmond, Va., commented, "When I look at Minister Farrakhan, I'm looking at Jesus. When he says that he is walking in those same footsteps as Jesus, it's just all over his face. It was cloudy all day long, but when the Minister got up, I looked over to the window, the sun beamed, that was Allah showing us that sunlight was him, radiating through us all. Tears came to my eyes."
"The most important thing that I heard was the love and respect of the Black woman, and I guess because that resonates with me," said Zatima X, also of the Nation of Islam mosque in Richmond, where she oversees the Muhammad University of Islam.
"When the Minister said to us today that the spirit of the Million Man March 1995 was God's spirit then–definitely today it is God's spirit that is going to carry us further and into the future."
A co-chair of the D.C. Local Organizing Committee for the Million Man March, Ertha Harris, started the "Tight Knit Movement." Every year they meet at a local park to say a prayer, bond and connect with original marchers and introduce those who weren't there to the spirit of the Million Man March.
She is currently in partnership with a Black paper company, Freedom Paper Company, developed after the Million Man March, to film and produce a march documentary. It will be released in 2019.
She partnered with men who started a school and wrote children books after attending the march. "There are so many stories out there of great men that have done great things coming out of the march, and now it's 23 years later, we need to hear these stories," she said. "So the story tells us before, during and after the march."
The documentary is called "The Men of the March."
The day two million Black men showed up in Washington, D.C. for the Million Man March changed lives forever and strengthened the bonds of brotherhood between many Black men and increased sisterhood among many Black women. Violence fell and the city of Washington, D.C., saw no violence and virtually no crime on October 16, 1995.
"Today was just unbelievable," said James Monroe, a D.C. government employee. "First I waited to get in. Then I had to wait to hear the Minister for almost three hours. I was a little upset about that but what I saw I've never seen anywhere else. The man called it Operational Unity."
"Black people putting aside their differences for a common goal of working together, that's what's so unbelievable. I heard about the Million Man March. That was before my time. I heard how great it was but I wasn't there. Listening to the Minister made me really wish I had been there. He was so wonderful and told the truth from start to finish. I want Operational Unity from now," he said.
(Nisa Islam Muhammad contributed to this report.)