By Charlene Muhammad CHARLENEM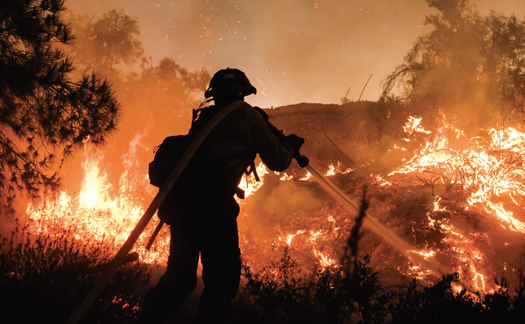 California Governor Edmund Brown, Jr. declared a state of emergency in Southern California's Orange and Riverside counties due to the effects of the "Holy Fire," which has threatened critical infrastructure, thousands of homes and other structures and has caused the evacuation of 20,000 residents so far.
Forest Clark was set to be arraigned on August 17 on charges he set the Holy Fire in Trabuco Canyon on August 6. The fire has damaged or destroyed at least 14 structures, according to officials.
The 51 year old for was charged with one felony count each of aggravated arson of five or more inhabited structures, arson of inhabited property, arson of forest, criminal threats, two felony counts of resisting and deterring an executive officer, and a sentencing enhancement for arson burning multiple structures, according to Orange County District Attorneys. The maximum sentence is life in state prison. According to media reports, Volunteer Fire Chief Mike Milligan alleged he had received threatening emails from Mr. Clark, saying the place "would burn."
At presstime, the Holy Fire burned nearly 23,000 acres and was 52 percent contained and was one of several wildfires blazing throughout California since July.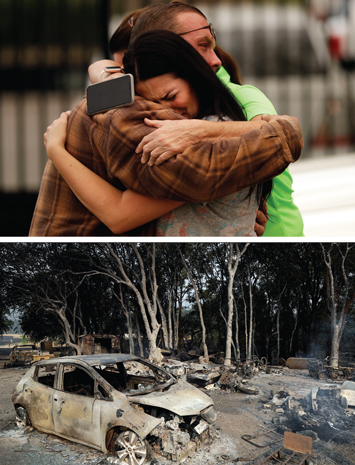 The River Fire is now nearly fully contained having burned 48,920 acres. The Ranch Fire is 59 percent contained and had burned 295,970 acres at press time. Both fires joined together forming the Mendocino Complex fire. "Last week, when they were reporting the Mendocino Complex Fire as the largest in state history with 300,000 (acres burned), that was both fires together. Since last week, the Ranch Fire in and of itself is larger than the Thomas Fire," said Ian MacDonald, a spokesperson for the Mendocino Complex Fire on Aug. 13.
A few days prior, Heather Williams, information officer with the California Department of Forestry and Fire Protection (CAL FIRE) said there were 10,000 structures threatened and 15,000 people had been evacuated.
The fires, which shut down national parks, including Yosemite, have been fueled by five years of drought vegetation on top of two years increased growth that will dry out. "These fires are just able to rip right through these areas, especially when there's some wind and low humidity mixed in," Ms. Williams stated.
The Carr Fire, which started on July 23 in Shasta County, has killed eight people, including two firefighters, destroyed 1,077 homes, 22 commercial buildings. So far over 181,000 acres have burned with only 51 percent of the fire contained as of August 10. Costs of the Carr Fire exceeded $60 million on August 6, according to the U.S. Forest Service.
Though the root causes of these destructive fires vary–whether sparked by arson or drought–the devastation left in the wake of these blazes is unmistakable.
Mother nature or something else?
"The Honorable Minister Louis Farrakhan has warned us that the forces of nature are controlled by Allah and by His right hand, the Most Honorable Elijah Muhammad," said Dr. Ava Muhammad, national spokesperson for Min. Farrakhan and the Nation of Islam.
"Wind with rain can bring destruction to towns and cities, bringing various germs, causing sickness to the people. It produces unclean water by the swelling of streams and destroying reservoirs of pure drinking water used for the health of the people. Rain is a destructive army within itself. … The Holy Qur'an also teaches us that God used snow, rain, wind, hail, earthquakes and fire against former wicked people. Is America any better than the people we read about in the history that God destroyed? No, she is not as good," warned the Hon. Elijah Muhammad in "Four Great Judgments" from The Fall of America, published in 1973.
Min. Farrakhan, his national representative, has been consistently warning the same from his teacher. The Minister has cautioned God is using the forces of nature to humble America.
"He has been very forceful, very clear, unequivocal in that statement, and I think that what's very significant that we all want to remember, is that he told us when Allah unleashes His punishment on America, it is not only on what America has done and is doing, but what really triggers His wrath is what she plans to do," said Dr. Muhammad, a student minister, attorney, author, and radio talk show host.
America's active planning against her former slaves will always create an overpowering response from the Lord of the Worlds, Dr. Muhammad elaborated.
"This incredible fire or series of fires that are taking place in California and breaking records is undoubtedly a response to, number one, the horrific mistreatment of Black people that has never ceased, but the uptick in the police murders of our people," Dr. Muhammad stated.
White America has not responded to people's protest nor their pointing out the injustice of just gunning down Black people in cold blood, she noted.
It appears the more these incidents occur with no accountability or punishment against the perpetrators, the more America blood lusts, she added.
"The God is literally burning their world to the ground. We know that the West Coast and the East Coast represent power centers of America and power centers of the Jewish-controlled media. So it is no coincidence, and we are taught that there is no such thing as a coincidence, that these out of control fires are taking place," Dr. Muhammad stated.
She said it's interesting that God sets up drought and dryness for a major fire to flourish.
According to the National Weather Service, the smoke from fires burning in California made its way across the country to New York.
While fire and forestry officials issued more red flag warnings and fire weather watches on the West Coast, extreme flooding wrecked homes, cars, and businesses in the East. National Weather Service flash flood warnings continued in New Jersey and Pennsylvania through August 13 after storms caused major flooding with one-fourth to two inches of rain. Down South, numerous showers and thunderstorms producing heavy rainfall and flash flooding from Arizona to Texas were expected over last weekend.
Earlier in the summer on June 18, according to the National Weather Service, several severe thunderstorms moved across northern areas of the Southern Rocky Mountains, producing hail sizes ranging from golf balls to baseballs.
During the afternoon of June 29, two major storms moved across northeastern Wyoming and western South Dakota. In addition to producing very large hail, South Dakota storms spawned a tornado, mostly damaging wooded areas and snapping trees with 105 mph winds.
The key to having a proper understanding and appreciation for what's going on, one has to believe in and study scripture, said Dr. Muhammad.
"If we claim to be especially Christians as well as Muslims, then we should be expecting this, and we should have the greatest level of respect and awe and reverence for the Lord of the Worlds who is bringing this about as He promised He would do," Dr. Muhammad stated.
She reminded, Min. Farrakhan stated just before the mass murders of nine Black worshippers at Mother Emmanuel AME Church in South Carolina by White Supremacist Dylan Roof, "We are under chastisement, Black people are under chastisement, because we disobeyed and disregarded God's plan for our salvation, which He gave us through his Messenger, the Honorable Elijah Muhammad and we rejected it!"
"The plan is separation; to go into a territory of our own; to demand that territory and then to go there, whether our demand is exceeded to or not. He said that we would be protected," Dr. Muhammad stated.
She shared that during her radio show, "Elevated Places," heard on WVON as well as Blog Talk, that she hears from callers like one woman who said she is worried about Blacks' vulnerability.
"I said to her and I would say to Black people, the vulnerability exists now in our state of rebellion against God's will. This is why we are being murdered wholesale," she said.
"If we go for self, if we unite, and develop our own territory, and live in accord with what we are, which is a nation within a nation, we will be better able to protect ourselves, and we will have the backing of the Lord of the Worlds because we will be acting in accord with His commandments."