By Charlene Muhammad CHARLENEM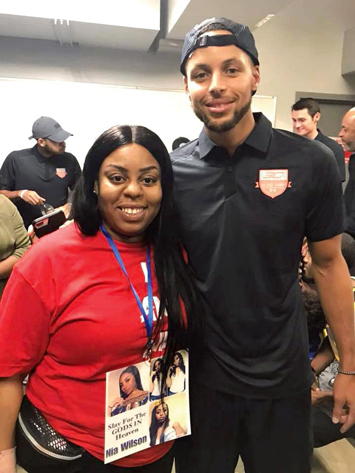 Attorneys for the family of 18-year-old Nia Wilson killed at knife-point in Oakland are preparing to file a lawsuit against BART (Bay Area Rapid Transit) for failing to protect its riders. The Arns Law Firm also represents Nia's sisters, Letifah, also a victim of the attack, and Tashiya.
According to reports, Nia and her two sisters were boarding a train car at the MacArthur BART Station when John Cowell, an apparent fare jumping transient, slashed Nia across the neck, and stabbed her sister, Letifah, before fleeing. Nia's wounds were fatal while Letifah survived. The third sister, Tashiya, witnessed the July 22 attack.
"Mr. Cowell was found riding BART the day after the incident. The lawsuit will allege he should never have been permitted to enter the BART system, he should have been stopped at the turnstile on Sunday and on Monday, and his crime was foreseeable and preventable," stated Attorneys Robert Arns and Jonathan Davis in a press release.
"BART has a legal duty to provide the highest care to protect its passengers from assault," continued the attorneys of the San Francisco-based Arns Law Firm.
Meanwhile, basketball champion Stephen Curry of the Golden State Warriors held his Select Camp All Star Game in honor of Nia Wilson at Kezar Pavilion in San Francisco on August 7. He raised money during the live streamed event via the National Basketball Player's Association Foundation. All donations, $21,395, will benefit the family, he stated.
The exhibition game concluded a week-long camp featuring some of the best of high school players across the country and was coached by Mr. Curry and his brother, Seth who recently signed with the NBA's Portland Trailblazers.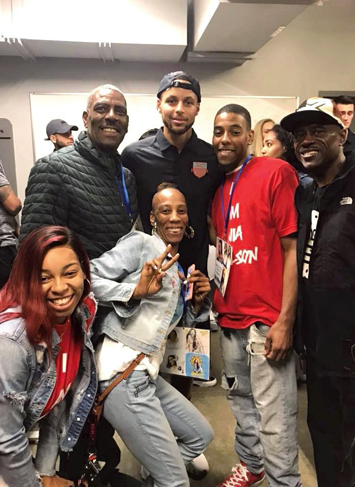 "It was a senseless tragedy that should not have happened, and we want to use this game to dedicate to your family to show how much we appreciate you guys for fighting through this loss," Mr. Curry stated as he presented Nia's family.
"I've seen better days, but I'm holding. Slowly but surely recovering, taking one day at a time," Letifah Wilson told The Final Call in a phone interview shortly after the event and their meeting with Mr. Curry.
He reached out for them through Cephus "Uncle Bobby" X Johnson (uncle of Oscar Grant, III who was killed by at BART officer in 2009) and his wife, Beatrice X of the Love Not Blood Campaign.
"It went great. I got to spend time with my family, and my lovely Aunt B and Uncle Bobby and my new cousins and my attorney and I just had a ball, just to feel the love and support from everybody. It's overwhelming, but, oh my goodness, I just had a ball tonight," said Ms. Wilson.
Mr. Curry wanted to make sure they were comfortable and let them know they have his love and support, she said. She also got to meet Adrian Marcel, a favorite local R&B artist she looks up to because she also likes to sing, Ms. Wilson shared.
Meanwhile, her baby sister Tashiya is holding, she said. "She's young and she takes things more emotionally to heart than I do, because I'm the strongest one out of everybody, but she's coming around."
Letifah Wilson said she just has a lot of questions about what happened, first and foremost, "Why? What was your intentions? Why us? Why me and my lil' sister? Why African American people? … It's a whole bunch of questions that's floating around in my head," she said.
"He stood back there and acted like he didn't do anything. The only thing she said when it first happened was we screamed each other's names and looked at one another. And that was about it."
"I believe looking at the family and seeing their smiles that they really enjoyed themselves, and they shared that they really, really appreciated having that opportunity– not just to meet Steph, but to be able to go out and just smile," said Mr. Johnson.
"We know as family members that this pain is forever, and so when a family can smile for a couple of minutes, for a couple of hours, or even a day, it's a good thing," he told The Final Call.
He witnessed Stephen Curry share love with Nia's family that made them feel embraced. "He made them feel as though people haven't forgotten about them and that people care. … It was all positive," he added.