By Charlene Muhammad CHARLENEM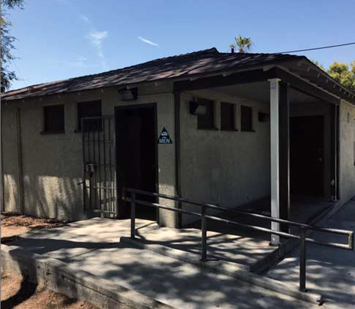 LONG BEACH, Calif.–Family and friends of a beloved grandfather are grappling with his brutal death in a park bathroom during a family outing at Pan American Park.
Frederick Taft, 57, was in the park restroom when a White male in his 50's shot him in the upper torso then fled on foot, according to police.
"It's impacted us quite a lot. Never in a million years I thought I would lose my father this way," said 21-year-old Corie Taft. "It's still, like, unbelievable to me. I don't want to believe it, but every day I have to wake up to realize that this is reality."
At press time no funeral arrangements were set, because the coroner had yet to release his body, Ms. Taft said. "I was my dad's only child. My mom had me and my brother, but he's deceased," she said.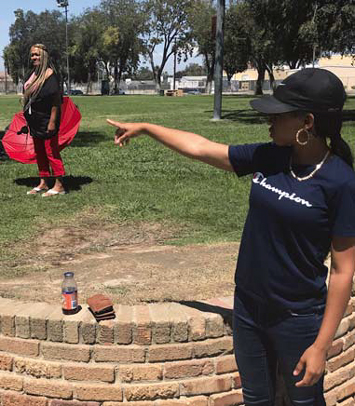 Police say the motive is unknown and the investigation is ongoing. But Mr. Taft's family, activists, and their community insist the July 21 shooting was racially motivated. Ms. Taft told The Final Call the police really have not been sharing much, but her observations and conversations with neighbors signal racial hate crimes are occurring in the area.
She has seen White Power stickers while she and her mother Mareatha Moore passed out flyers about the shooting and she was told somebody painted a swastika on a wall, Ms. Taft said.
"KKK" was part of derogatory graffiti found scratched into a bench across from the bathroom the day Mr. Taft was brutally gunned down.
"That day from the crime scene, when I was here, I witnessed a guy in a Prius stop in his vehicle, rolling down his window, yelling, '187 at the park. Ha-ha-ha,' then driving off," Ms. Taft stated.
Police released the suspect's race and other characteristics in a press release obtained by The Final Call on Aug. 2.
"If this would have happened in a White community that kind of drawing would have been up by now, particularly if the suspect was Latino or Black?" asked Student Minister Tony Muhammad, Nation of Islam Western Region representative. Why didn't police issue a full ID or composite drawing of the suspect early on? he asked.
Investigations Deputy Chief Richard Conant and East Division Commander Erik Herzog met with the Ministers Alliance July 26 regarding unsubstantiated claims that the murder was racially motivated, said Nancy Pratt, public information officer for the Long Beach Police Department.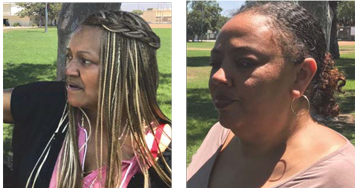 "The Police Department will not classify a criminal act as a hate crime unless there is evidence present that meets this legal standard. We are respectful of the elevated community concerns after such a violent incident," the statement said.
In an email sent to The Final Call, she said the motive of the murder remains under investigation. On July 28, Patrol Deputy Chief Wally Hebeish and Commander Herzog attended a Lakewood Village Neighborhood Association meeting on July 28 over the community's concerns regarding the murder and safety of the neighborhood.
But they learned little and the police appeared defensive and disrespectful, said family and activists interviewed by The Final Call.
The killer has stripped Ms. Taft and his grandchildren of a hardworking father who was one-of-a-kind, his daughter said. "He had a big heart. He loved me. He loved his grandchildren."
She smiled a bit as she recalled their plans to attend a local county fair and to take his three-year-old granddaughter horseback riding. She has a son who is 10.
Ms. Taft feels if the killer had just heard her father speak for a moment, he would not have killed him. But her dad was ambushed and had no chance, she said.
The young mother of two stared at the bathroom but also scanned the park as she showed The Final Call the scene during her third visit since her father was killed. The family held a candlelight vigil at the park on July 30 and participated in a rally on July 28.
Of being there again, Ms. Taft said, "It was devastating. Scared, constantly having to look over my shoulder, not knowing who this guy is and being in the area where my father was murdered is hard."
According to Ms. Moore, an eyewitness told them she was near a corner of the women's bathroom when Mr. Taft was shot in the men's bathroom.
"She came out. The man had a hat on covering his face that blended into the foliage of the park. He jogged right down this walk path," Ms. Moore said, as she pointed toward the bathroom.
Mr. Taft's family is upset over police handling of the crime scene, saying they only taped off the area immediately next to the bathroom.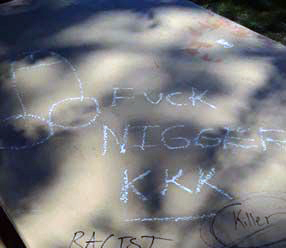 "I watched a man lift the tape up and jog down the pathway, and it spooked me. I said, do you not see this! … We were standing here, people walking up behind us … . After our loved one had been killed by a White person, they were walking up. It was very traumatizing, because we don't know them. We don't know if you're a good one or a bad one," Ms. Moore said.
"Other White men who fit the shooter's description were able to just come walk up the same path that the killer had just ran off from when you would think that this entire section would be cordoned off in order to protect the investigation and protect the family. We don't know if this person's coming back or not," said Dawn Modkins of Black Lives Matter Long Beach.
Ms. Moore said she and Mr. Taft had a great friendship; he was a great father, and she has been affected greatly. "What we have to understand is that Frederick's death is going to matter and it's not going to be in vain. We're not going to let this go," Ms. Moore said.
"This is a cruel, senseless, hateful, malicious, heinous crime, and this man, whoever he is, this White Supremacist, Neo Nazi, Aryan Brotherhood, peckerwood, excuse my language, but I mean it, was in that bathroom right there, in that stall, waiting," Ms. Moore said.
Ms. Modkins is concerned that some may view Mr. Taft's killer as a hero and that folks are becoming more bold with expressing their hatred. "I'm uncomfortable that we live in a society where these acts of White supremacy aren't being checked by our city, by those in positions of power, by law enforcement," Ms. Modkins said.