JABRIL.MUHAMMAD
There are many religious scholars that study the Bible that are very intelligent and learned. They are well-acquainted with much concerning the Bible. Some surely know that this book contains God's plan of salvation, which was written in advance. Some well know that the writers of the Bible also wrote that God's plans include the need for a period of time during which He would judge the world of the wicked. Some are well aware that during this specific period of time, when God judges the world of the wicked, a total change will transpire. Nothing that exists now will eventually be in God's Kingdom. Rulers will lose their power. Governments will crumble and disappear.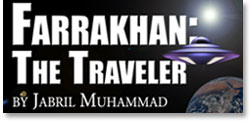 Some scholars also know that in the midst of all of these momentous events, a people who have suffered like no other will be treated with the greatest favor by the Lord of the worlds. I don't see how they can honestly disagree that this particular people are the Black man and woman of America.
Many, who read the Bible, believe that at least 200 million people will die during the great War of Armageddon. There are those that think the figure will go well over a billion. And there are those, who are wiser, such as the Honorable Elijah Muhammad, who know that God's threat is that the number could be even much greater than that due to the fact that there are really very few people who really want to do God's will–at present. So this tells us that time of upheaval, trouble, stress and distress will be unique in the history of God and man.
One of the unique aspects of that time will be man's ability to destroy himself. I've heard some speak as though they realize we are in that time now.
Or perhaps, I should state outright that the Pope is far too intelligent a man not to know that we are in that critical time and it is now.
The Honorable Minister Louis Farrakhan, of course, states that we are at the end of this world's time now. He expects the return of the Christ, whom he represents. Does the Pope expect the return of the Christ of whom it is written that he will have a large part of the judgment and destruction of this world?
There is no way to deal honestly with all that I have been writing in this series of articles about the Honorable Minister Louis Farrakhan without touching the Pope's claim to represent the Christ.
The Honorable Elijah Muhammad warns, in The Fall of America, that since so very few on earth want to do God's will that very few may be left after Armageddon is over. Only Allah's truth and mercy will change this.
A Brother wrote me a letter a few months ago asking about "homily." I don't have the letter in front of me but he wanted to know more about it and what it is.
A homily is intended to edify a group, or enlighten and encourage, especially in spiritual and moral areas, on some practical matter.
How to keep humanity from self-extinction is certainly a matter of the most practical kind and requires the greatest degree of spirituality and mentality.
As I read his letter I thought about the year Isaiah spoke of (Isaiah 61:1-3) "acceptable year?" If so, it is also the day of God's vengeance. Let's look at this passage.
Isaiah 61:1-3: "The spirit of the Lord GOD is upon me; because the LORD hath anointed me to preach good tidings unto the meek; he hath sent me to bind up the brokenhearted, to proclaim liberty to the captives, and the opening of the prison to them that are bound; To proclaim the acceptable year of the LORD, and the day of vengeance of our God; to comfort all that mourn; To appoint unto them that mourn in Zion, to give unto them beauty for ashes, the oil of joy for mourning, the garment of praise for the spirit of heaviness; that they might be called trees of righteousness, the planting of the LORD, that he might be glorified."
Notice that the "acceptable year" is also the "day of vengeance," according to what God revealed to this man of God. Why? What are the events to take place that make that "day" a day of both?
Jesus, according to Luke 4:18-22, spoke these words before a congregation: "The Spirit of the Lord is upon me, because he hath anointed me to preach the gospel to the poor; he hath sent me to heal the brokenhearted, to preach deliverance to the captives, and recovering of sight to the blind, to set at liberty them that are bruised, To preach the acceptable year of the Lord. And he closed the book, and he gave it again to the minister, and sat down. And the eyes of all them that were in the synagogue were fastened on him. And he began to say unto them, This day is this scripture fulfilled in your ears. And all bear him witness, and wondered at the gracious words, which proceeded out of his mouth. And they said, Is not this Joseph's son?"
Why didn't he mention the vengeance factor? What is this factor of vengeance related to? In other words why must God Himself take vengeance on some in favor of others? And who are the people involved? Why did Jesus omit the sentence that contains vengeance? Is this because acceptance of him forestalls, delays or permanently puts off vengeance?
Vengeance means the infliction of punishment in return for a wrong committed; retribution. It is the infliction of injury, harm, humiliation, or the like in return for an injury or other offense received.
Vengeance is the act of retaliating. It includes the ideas found in words (and realities) such as revenge, retaliation, reprisal, retribution, counterattack, counteraction, counterblow, counterstroke, reciprocation, requital.
Now this word vengeance comes from a Latin word vindicare from which comes the word "vindicate." Vindicate means to clear from an accusation or suspicion. It is to afford justification for, justify; to uphold or justify by argument or evidence; to maintain or defend against opposition. It also means in certain uses, to claim oneself or another.
Now this word has meanings that the dictionary says are obsolete, archaic, old and not in use any more. Those meanings are to avenge; to free; liberate; to punish.
Looking deeper into this word's roots, in Latin, we come to vindicatus, which is the past participle of vindicare, which means to free someone from servitude by claiming him as free, protect, avenge, punish.
This word is derived from a Latin word "vindex" which refers to a claimant, protector or an avenger.
In the 12th chapter of Romans, verse 19, Paul is giving advice to his followers. He wrote: "Dearly beloved, avenge not yourselves … for it is written, Vengeance is mine; I will repay, saith the Lord."
It seems that to avenge means something good for some and not so good for others–at some time.
More next issue, Allah willing.