By Gregory Muhammad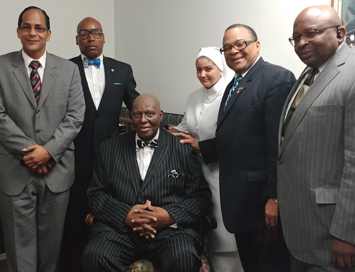 PHILADELPHIA–The Delaware Valley Region was blessed to host the Honorable Minister Louis Farrakhan's Student National Prison Reform Minister Abdullah Muhammad, who was invited into the region by Student Regional Minister Rodney Muhammad.
Minister Rodney is also the president of the Philadelphia NAACP Chapter. He sponsored a criminal justice forum that included several presenters, including Pam Africa, director of International Family and Friends of Mumia Abu-Jamal. The criminal justice forum was held the evening of April 13 at the Church of the Advocate in North Philadelphia.
Minister Abdullah Muhammad, during his opening, stated, "I bear witness that the Honorable Minister Farrakhan is the anointed servant of Master Fard Muhammad, Elijah Muhammad and he is the promised Reminder and Guide into all truths that have been told by Elijah Muhammad and Master Fard Muhammad. I want to explain what I'm saying because I don't know when I will see you again. We don't even understand how a wise man worked to save us because we think we know the way, but, we ain't chosen by God to show the way. So, I'm not saying all the other organizations shouldn't fight the fight, they are fighting. But, without God being known and the 'center' of the fight, it ain't no win!"
He continued, "So, Elijah Muhammad, out of all the teachers you got in the world, he made it very clear, 'Allah in Person is my teacher.' He identified the person who reproduced Himself and made Elijah Muhammad just like Him."
Minister Abdullah said, "If your father is a master mechanic and he teaches you everything he knows, what do you become? A master mechanic. So, when we say, Elijah Muhammad is the Exalted Christ that means the 'Wisest Man' in the universe is his teacher and he has made him what he is, a Black God of the Universe. When you reject the truth, I'm telling you from Elijah, Farrakhan and Master Fard, guess what you're saying? 'I don't want to be a God.' "
On Saturday morning, April 14, Brother Abdullah visited the State Correctional Institution in Graterford, Pennsylvania, where he spoke to Nation of Islam Study Group members and visitors. Student Inmate Study Group Coordinator Calvin X shared his thoughts on Brother Abdullah's message at Graterford Prison: "What a wonderful time we spent with Minister Abdullah! Allah-U-Akbar! The very first sign that it was a very special meeting was the weather. He was here for two days, and for both days, the temperature was 80 degrees, and soon as he left, the temperature dropped some 40 degrees with rain, and high winds."
Brother Calvin continued, "Minister Abdullah covered points of interest with grace and tactfulness as he addressed the men. Everyone sat in rapt expectation and Brother Abdullah didn't disappoint anyone. Like any small life form, we are struggling for balance. Great potential exists here as latent energy. The will and desire to broadcast one's ideas and sentiments can be misunderstood within a small group. Minister Abdullah never missed a beat as he opened in the name of Allah, His Messenger Messiah, and the Honorable Minister Louis Farrakhan, sharing his personal experiences with Minister Farrakhan as the Minister started rebuilding the work of the Most Honorable Elijah Muhammad.
"Also, he addressed the accelerated incidences of suicide here by using the weight of atmospheric pressure at sea level, which is 14.7 pounds per square inch on living things, and how it is matched with an internal spiritual force that equalizes the intense pressure that confinement suggests is endless, then bringing on hopelessness. And once hope-lessness sets in, darkness fills the mind and heart and the only way out for one so affected, is suicide."
Brother Calvin, concluded, "It was a timely visit and we can never thank Almighty God Allah enough, who came in the Person of Master Fard Muhammad, for the Most Honorable Elijah Muhammad and His Love for Minister Farrakhan's heart, and Minister Farrakhan's desire to submit so Their minds became one. This, to me is what the Most Honorable Elijah Muhammad meant when he said that through Minister Farrakhan, He would get all of his people."
Another brother who attended the study group at Graterford Prison, Maurice Dillon, had this to say about Brother Abdullah, "The presence of Minister Abdullah Muhammad in summary has revealed to me as God giving birth to God in the Person of Master Fard Muhammad, gave birth to the mind of the Honorable Elijah Muhammad, who then birthed the Mind of our Beloved Brother, Honorable Minister Louis Farrakhan."
There were about 20 prisoners in attendance to hear Brother Abdullah at a last minute announcement that he would be inside of the prison.
The weekend was concluded that Sunday, with Brother Abdullah giving a powerful and heartfelt unscripted message at Muhammad Mosque No. 12 in Philadelphia. He shared words about the brother who was his first teacher while incarcerated: "Brother Leotis X Beasley was my teacher in jail. He wanted to drive trucks for the Nation of Islam and deliver newspapers, The Final Call, when he got out. He was able to do that, but, he has returned to Allah. But, when Minister Farrakhan bought the first 9 or 10 Peterbilt 18-wheeler trucks, he named them the 'Leotis Fleet.' " Minister Abdullah shared an article in The Final Call back in 2008, titled, "Guidance and Wisdom for 2008." Minister Abdullah reads an answer to a question from Brother Richard Muhammad, Final Call editor to Min. Farrakhan. He stated, "For the last 20 years I have been warning that the war that the President of the United States had called his Joint Chief of Staff to discuss was a war that would be on two fronts. One in the Middle East with a Muslim nation and the second inside America with the tiny Muslim Nation of Islam and Black youth. That is what motivated my 'Stop the Killings tours' and my visits to many cities, calling on Black men and then the Million Man March and the positive affect that march had on the world's view of the potential Black man, in particular, and Black people in general."
Minister Abdullah continued to read, " 'do you know that on that day (Million Man March), the crime rate fell, that means none of the brothers were on their way to prison.' Do you hear me? I'm showing us what I'm looking at and understanding that everything he's doing will reduce the crime rate, death, recidivism, and illness. Whether you know it or not, he had us on one meal a day." Minister Abdullah emphasized the following words from Min. Farrakhan: "The government's aim has now come to the point of execution. It is an executive decision and at the highest order that Black youth are a danger to the future of White people. White people are vexed with our young people, particularly our hip hop artists who are taking their young people away from the racist White supremacist idea. So, messages of American Gangster, promote a gangster style of life, promoting drug culture that leads to death as well as to prison." Minister Abdullah explained, "He's telling us that they use the media to put in our mind the desire to be like the characters they are projecting to us and that's setting us up for the Prison Industrial Complex."
"Now this is December 2008 from Minister Farrakhan, right? Now, we are in January, I'm sharing words from Charlotte, N.C., it says, '83 Blood gang members indicted on federal charges,' " said Minister Abdullah. "Now, we heard what he said in December and now, we are in January 2009, and a whole lot of different law enforcement agencies roll on the Bloods in North Carolina. Allegations contained in the indictment say that beginning in at least 2009 and counting until present–I put emphasis on this again–Minister Farrakhan's interview was at the end of 2008. He said, 'it's now at the point of execution.' He didn't come cross the last day of December before they executed it. And, you don't know who you need to listen to and follow?"
Student National Prison Reform Minister Abdullah demonstrated to us the manner of a man, Min. Farrakhan. He described the "anointing," of Min. Farrakhan, to say, two are backing him, Master Fard Muhammad and the Most Honorable Elijah Muhammad.
It was a blessed weekend for the Delaware Valley Region with the presence of Brother Abdullah Muhammad.
–Gregory Muhammad, NOI Student Regional Prison Reform Minister for the Delaware Valley