By Final Call News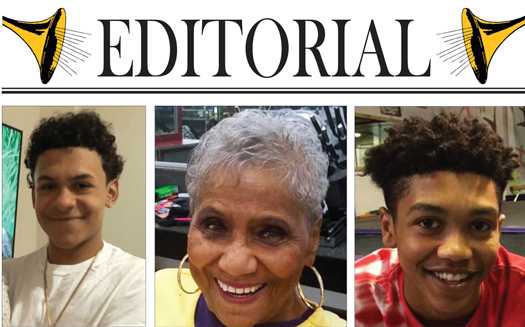 Antwon Rose, Thana Muhammad and Lesandro Guzman-Ortiz never knew one another in life. But their tragic and painful deaths remind us that Black America must do something about violence plaguing our community.
Antwon, 17, was shot while running away from a police officer in Pittsburgh. Sister Thana, 81, was murdered, dismembered in her home on the Far South Side of Chicago. Lesandro, 15, was dragged from a store in New York and slashed to death with a machete and a knife, or knives.
A funeral was held for Antwon June 25 as protesters have demanded justice and asked why did a teen running away from cops have to be shot? Police claim the youth was running from a car suspected of involvement in a shooting. The officer's action, gun in hand, was caught on videotape tape. "He murdered my son in cold blood," said Antwon's grieving mother.
Activists want Allegheny County District Attorney Stephen Zappala Jr. to bring criminal charges against East Pittsburgh police Officer Michael Rosfeld, who pumped three bullets into Antwon. He had only been sworn in for the job hours earlier. He had previously worked for other police departments over seven years, news reports said.
"Three shots in the back. How you justify that?" shouted protestors who shut down streets and highways in the aftermath of the police shooting.
"It was like he was taking target practice out on this young man's back. He didn't flinch. He didn't say, 'Stop running.' He didn't say anything," the person who recorded the video told the media. Off. Rosfeld has been placed on administrative leave, police said.
Thana Muhammad died in her home of 40 years with a history of good works. A $20,000 reward has been offered to bring her killer or killers to justice. Her daughter, longtime activist Ashanti Chimurenga, said, "My mother had a right to be safe." Ms. Chimurenga and her family, who have been supported by the Nation of Islam's Fruit of Islam from Mosque Maryam, vowed to walk the streets of the city to seek justice for her mother, who was a devout Muslim. Her dismembered body was found in two bins.
Camille Durham, who lost her grandmother, does criminal defense work for indigent defendants. Her mother has taught inmates and children and advocated for death row inmates. Her late uncle was a Chicago alderman and another family member served on the police force.
"We should be very afraid," said Ms. Durham. "People are losing their humanity and we have to get it back."
Her grandmother spent over 40 years working as a radiologist, owned a restaurant during the 1970s and was a building rehabber, said Ms. Durham. "She (Ms. Muhammad) gave property to people sometimes who she knew wouldn't pay. But she had a soft spot for people in the community," said the granddaughter.
Whoever committed this murder is a "monster," who needs help, she added. "You should be very afraid," said Ms. Durham.
Police have made arrests in connection with the killing of Lesandro Guzman-Ortiz, the Associated Press reported June 25. One of the suspects was 19-year-old Kevin Alvarez, of the Bronx, said AP. The wire service added that the suspect was arrested on charges of murder, manslaughter, and gang assault. The NYPD is seeking more suspects and arrests.
Lesandro, according to different sources, was not the intended target of the attack, which may have stemmed from a sex tape and the perpetrators coming after a male who was in the tape. The killers may have seen themselves as avenging the honor of a female relative shown in sex acts. A Dominican gang leader reportedly apologized to the boy's family. Authorities believe members of the Trinitarios gang were involved in the killing. Lesandro was dragged out of the store and hacked to death in the street.
#JusticeforJunior, the teenager's nickname, trended on social media after popular rapper Cardi B posted about the death on Instagram.
In this dark time, where we face heartless police, neighborhood predators and packs of killers, we cannot simply cower or grieve. We have to take action in dealing with rogue cops, in protecting our elders and in watching and developing our children.
America is a violent society and has been a place of murder and brutal killings from the time she was founded. This is a country that worships the power of the gun, loves bloody movies, graphic video games and shocking true crime stories. It is a cruel nation whose heart is the heart of a beast. And, when we accept and mimic the way of the beast, we become beasts and savages. But we should be careful as America, her police forces and her rulers should be careful. This is not a time when the blood of Black folk should be needlessly spilled. This is the time of our deliverance and God Himself has come to save Black people in fulfillment of scripture. Accepting that truth or, at least, facing the truth that too many of our people are dying and we need collective action is a necessary step to ending this violence.
Are we waiting for personal tragedy to touch us? Are we waiting for a blond-haired, blue-eyed Jesus to rescue us, are we waiting for a final destructive conclusion to our existence as a people? "The war that we've got to fight is on two fronts. We can't go to Washington, and tell the government: 'Step up! You stop killing us!'–and Mayor Rudolph Giuliani comes up and says 75 percent of the people that die in the hood are 'Black people killing Black people.' He's not lying! So we've got to go in our community and straighten that out," said the Honorable Minister Louis Farrakhan three years ago in organizing for the 20th anniversary gathering of the Million Man March. He has laid out how police are an occupying force on one hand and conditions in our community are "social engineering" designed to foment self-destruction.
The efforts of the Nation of Islam, the 10,000 Fearless organizing efforts, and others need support and we have a duty to get involved. Nothing will change except we pick a place in the fight and get busy. There have been too many tears, too many deaths and we cannot allow such heart-wrenching losses to be in vain.