By Charlene Muhammad CHARLENEM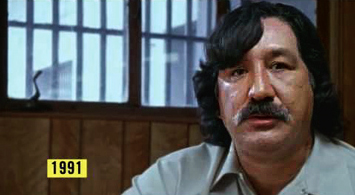 Native American activist and political prisoner Leonard Peltier is still battling poor health and prison conditions while his supporters continue to fight for his release.
According to the International Leonard Peltier Defense Committee, the Nobel Peace Prize nominee was diagnosed with an "aortic abdominal aneurysm," in January 2016. "An abdominal aortic aneurysm is an enlarged area in the lower part of the aorta, the major blood vessel that supplies blood to the body. The aorta, about the thickness of a garden hose, runs from your heart through the center of your chest and abdomen," said the Mayo Clinic. "Because the aorta is the body's main supplier of blood, a ruptured abdominal aortic aneurysm can cause life-threatening bleeding. Depending on the size and the rate at which your abdominal aortic aneurysm is growing, treatment may vary from watchful waiting to emergency surgery."
"Sometimes I (feel) fairly well and yet others I'm in constant pain in my hip, right knee down to my ankle. My shoulders joints hurt all the time. My prostate problem isn't getting any better so I sleep less and less at night having to get up to go to the urinal, so I'm falling asleep at all times and places during the day and my aortic abdomen aneurism ( AAA ) isn't healing itself so I'm just waiting for it to burst and then I die. My teeth all broke off and I have constant headaches," stated the Native American leader in an email interview with The Final Call. The interview was facilitated by Paulette Dauteuil, co-director of the International Leonard Peltier Defense Committee.
The American Indian Movement leader is incarcerated at the Coleman Federal Prison in Florida. He is serving two life sentences in connection with the deaths of two FBI agents at the Jumping Bull compound on the South Dakota Pine Ridge Indian Reservation on June 26, 1975. Mr. Peltier was convicted in 1977. He and his supporters have long maintained he is innocent and was framed by the FBI.
Jean Roach, chair of the International Leonard Peltier Defense Committee, met April 17 with Victoria Tauli-Corpuz, the UN Special Rapporteur on the Rights of Indigenous Peoples. Their meeting occurred during the 17th session of the UN Permanent Forum on Indigenous Issues.
The two week forum's theme was "Indigenous Peoples' Collective Rights to Lands, Territories and Resources." It ended April 27.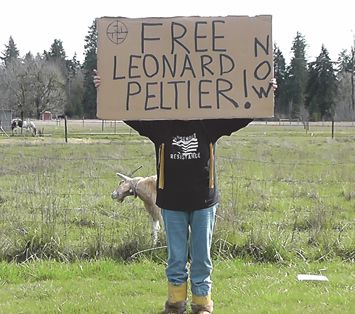 Ms. Roach was 14 years old during the shootout. With prayers, she said she sought international support for her elder, brother and human rights defender. "After 43 years he should be free. Our brother Leonard Peltier has been incarcerated for a crime the United States Government has admitted to fabricating," Ms. Roach stated during the session. Many files which prove his innocence are being withheld, she added.
Ms. Roach said she asked Rapporteur Tauli-Corpuz to help get Mr. Peltier moved to another facility for health treatment and ultimately for his release. "Freedom. We want his freedom," Ms. Roach told The Final Call. "Well this un visits/presentations has been happening for at least 30-40 yrs. now and I have not seen any progress. I have even had the UN rapporteur, James Anaya visit me and later wrote a letter to (Mr.) Obama who did not do anything to help by the way," wrote Mr. Peltier.
The activist said the U.S. government wants him to lie, falsely accuse someone or admit something he is not guilty of, but his legal team has been able to impeach their whole case.
"… Now the U.S. attorney in charge of trial is advocating for my release because he said I did not get a fair trial–witness lied and trial was questionable," said Mr. Peltier. He continued, "so, unless I admit to something I did not do or falsely accuse someone, as I'm no guiltier then my co-defendants who was found not guilty by self-defense by an all non-minority christian jury. I agree with Pres. Donald Trump, the F.B.I and Department of Justice are corrupt. They are not going to let me out of prison."
The 73-year-old added, "I need help people and lots of it, I need legal help, lawyers want money that we don't have. Hell, I need lawyers who will not be afraid to take this case, and someone who isn't afraid to fight for justice. We have everything I mentioned and more on record, so no one needs to be concern that none of it is true. Thank you. Doksha Leonard Peltier."
In addition to recovering from open heart surgery performed last year, Ms. Dauteuil said the activist was diagnosed with a major prostate problem two years ago. A specialist recommended surgery back then, but the prison is dragging its feet on the operation, according to Ms. Dauteuil.
The committee is working to have Mr. Peltier moved to a federal facility eight hours away from his family in North Dakota. Coleman Prison is 27 hours away.
The meeting with Special Rapporteur Tauli-Corpuz is of great importance because the issues facing Mr. Peltier and other political prisoners tend to get swept under the rug, said Student Minister Abel Muhammad, Latino Representative for the Nation of Islam and the Honorable Minister Louis Farrakhan.
"The intention of the government is to hide their, in many times illegal at the very least, immoral practices that have led to the incarceration and death of many of the people who are fighting for freedom and justice and equality," he said.
"We hope that those in the UN and those from the Indigenous and non-Indigenous people who are trying to assist in clearing the name of Brother Leonard Peltier, we pray that they will receive the information and do what they can to make sure that our brother is freed and justice is given," Min. Muhammad said.