By Final Call
News of two young men whose dismembered bodies were found chained to cinder blocks in a pond has spread across Black America.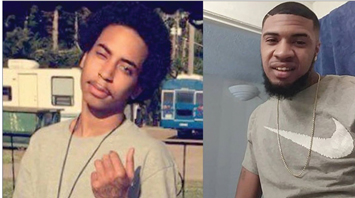 The reports came out of Oklahoma City as the bodies of Alize Smith and Jarron Moreland, 21-year-old Black males, were found in a scene out of the worst slasher and serial killer movies imaginable. Their bodies were found April 18 in the Oklahoma City suburb of Moore, according to the Associated Press. They had been reported missing for four days.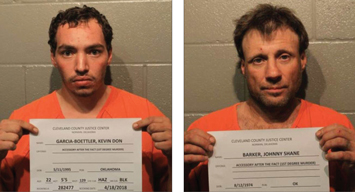 "Kevin Garcia-Boettler, 22, faces charges of being an accessory to murder, desecration of a corpse and unlawful removal of a body. He is jailed on $3 million bond," said the Associated Press.
"Garcia-Boettler's 16-year-old brother is charged with one count of first-degree murder, one count of second-degree murder, desecration of a corpse, unlawful removal of a body and for having a gun after he had been convicted as a juvenile. … He is jailed on $5 million bond," the wire service continued.
"The brothers' mother, Crystal Boettler, 40, is charged with being an accessory to murder. Her boyfriend, Johnny Barker, 43, is charged with being an accessory to murder, desecration of a corpse and unlawful removal of a body," said the Associated Press.
The four Whites have been charged in the deaths of the young men, who authorities say met up with the Garcia-Boettler brothers hoping to purchase a firearm.
While the Cleveland County prosecutor decided that the crime was not racially motivated, not everyone is sure. Some fear the crime was more than just a gun purchase gone wrong.
"To me, it's like y'all planned to torture them," the mother of Jarron Moreland said of the alleged killers. "It's like my whole world's been crumbled," Kennetha Moreland told a local TV station. Her grandson, Jarron, Jr., is fatherless, she added.
"I can't even have proper closure because my baby is disfigured, and I can't even see him," Kennetha Moreland told KFOR TV News 4 in Oklahoma City. "When it first happened, I told the detective that if my son don't call me by a certain time, my son is hurt bad or he is dead," she said. "Felt like somebody ripped my heart out of my chest."
Destiny Smith told a news station, "I won't get to see my only son ever again." Her son was Alize. "Not only was he taken, I cannot even bury him the proper way," she added. The grieving mother also told the news station she believed a hate crime has been committed.
Authorities insist the deaths are the result of a gun purchase negotiated over Craigslist. "Investigators say Garcia-Boettler told them that he and his 16-year-old brother picked up Smith and drove to a grocery store parking lot in Moore where Moreland approached and entered their van. Police say Garcia-Boettler told them he heard a gun cock and that his younger brother then fired," said the Associated Press.
According to a McClatchty newspaper report, "The two brothers, who are white, had driven to the grocery store in a white van, which Moreland and Smith entered, KOKH reported. 'When they entered the vehicle, the white men said they heard a gun being racked,' Moore Police Sgt. Jeremy Lewis told the Norman Transcript. 'So one of them fired four rounds.' "
The brothers drove out of the parking lot, called their mother, who said drive the bodies to the boyfriend's home, said McClatchty.
"When they arrived, police say the boyfriend, 43-year-old Johnny Shane Barker, helped the boys clean up the bloody van and sink the two bodies in a nearby pond with bricks, according to KOCO. The bodies had been dismembered, according to News9.
"A tip reportedly led police to the property where they found the truck four days later, alongside cleaning products and a power washer, according to KFOR. In the van, police found dried blood spattered on the ceiling and 'a bucket of water with a chainsaw bar inside and soaking in the water along with several jigsaw blades,' " said the news service.
The loss of these two young men demands justice and demand a thorough and complete investigation by authorities. While the county prosecutor and police say there is no racial connection, Black folk aren't that convinced.
The authorities must fully present evidence to support their assertions and to avoid additional pain for two mothers and a community hurting after these deaths.
While a single standard of justice should prevail, such hope has never been reality in America. Blacks have always been deprived of justice and have watched murderers walk free, whether acquitted by Southern juries or by Northern panels charged with investigating police shootings. So an investigation like this draws added scrutiny and is a reminder of the bad old days when Blacks were lynched outright.
Oklahoma also has its own sordid and dirty history when it comes to race crimes. Nearly two hours from Oklahoma City is the town of Tulsa, home to one of the worst race riots and assaults on Blacks in American history. In 1921, Whites went on a rampage destroying a prosperous Black community, despite valiant Black efforts to defend the Greenwood section of the town. Black Wall St., as the area was known, was a hub of thriving businesses and Black life. Many believe that was the real reason for the assault, not a bogus charge that a Black boy accosted a White woman on an elevator.
When the smoke cleared, more than 35 blocks of Black developments were destroyed, with between 39 and 300 people dead, depending on the source of the numbers. Some six-thousand Blacks were arrested and another 800 people were admitted to hospitals. Ten-thousand Blacks were left homeless and $31 million, in today's dollars, were lost in damages. Not only did the Whites attack on the ground, they reportedly dropped dynamite and "burning balls of turpentine" on buildings from planes.
A horrifying history of race and wrongdoing has already been written and the deaths of Alize and Jarron can either be a part of that appalling narrative or represent an exceptional moment for justice in the history in this nation.