and Barrington Salmon -The Final Call-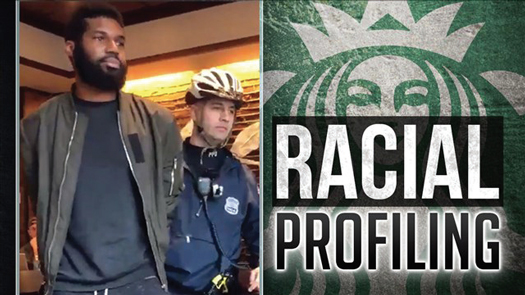 PHILADELPHIA–The recent arrests of two young Black men at a Starbucks coffee shop in downtown Philadelphia created a firestorm in the city and struck a nerve nationally. The incident once again brought to the fore issues of racial profiling, White fear of Black men and the reality that over 400 years after Africans were first brought to America in chains, the equality and fairness Africans in America seek is elusive.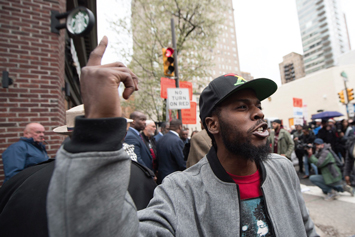 The men, Rashon Nelson and Donte Robinson, both 23 years old and also childhood friends, walked into the Starbucks at Rittenhouse Square at 4:35 p.m. to meet a family friend at 4:45 p.m. to discuss some real estate business. Mr. Nelson asked the manager if he could use the bathroom and was told that only paying customers were allowed to use the commode. Mr. Nelson said he went back to sit with Mr. Robinson and the manager came over and asked if she could help them. They demurred and two minutes later, the manager called the police at 4:37 p.m.
At least six cops–the initial responders and backups–descended on the store and without allowing the men the benefit of an explanation, accused them of refusing to make a purchase or leave, then handcuffed and arrested them during the April 12 incident. They spent eight hours in jail before being released. No charges were filed.
In an interview on Good Morning America, the young men shared the pain of their ordeal. "As soon as they approached us, they just said we had to leave," said Mr. Nelson. There were no questions or inquiries about if there was any issue, he continued.
Police didn't explain why they were being arrested nor were the men read their Miranda Rights, said Mr. Robinson. "Just double-lock handcuffs behind our backs and escorted out and put into a squad car," he said.
The arrests sparked protests at the coffee shop, recriminations from a wide assortment of critics and belated apologies from Starbucks CEO Kevin Smith and Police Commissioner Richard Ross. Mr. Smith and former Starbucks CEO Howard Schultz met with Robinson and Nelson to offer their personal regrets and assurances that through policy changes and policy reviews, this won't happen again. According to Starbucks the manager that called police has left the company.
The company said it plans to close 8,000 of its U.S. stores May 29 to conduct what it calls, "racial-bias education geared toward preventing discrimination in our stores."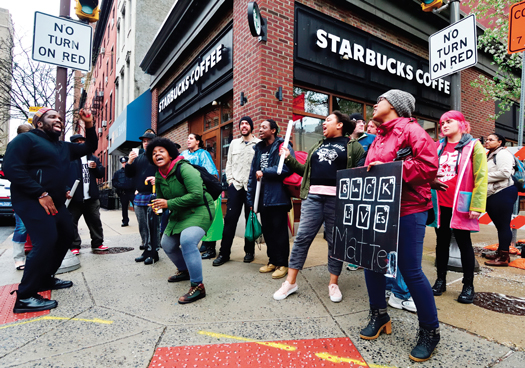 United States of White Supremacy
"This is a repeat of history," said Attorney Brenda Pennington, a Maryland-based lawyer in private practice. "It almost feels like we're living in the time of Jim Crow. We have gone back to the '50s and '60s and they want to take us back further."
"We are definitely living in historic times but we as a people are asleep. There are people saying that this wasn't about race, but it was all about race. We are being warred upon, but some Black people aren't aware of what the government is doing, how it works. We've been socialized to believe that we're a part of this and have a stake in this. People have been educated from reality."
Ms. Pennington said everything that played out at the Starbucks that afternoon illustrates the reality that the United States is a corporation and that corporations like Starbucks are entities that prop up racism, White dominance and White supremacy. It also makes clear that Africans in America must stop reacting to racial attacks by being more proactive and strategic in their response to raw, naked racism, she said.
Melissa DePino, who was also at the Philadelphia Starbucks, recorded the police encounter and was incensed when Robinson and Nelson were arrested. She and the man the pair were supposed to meet, asked in the video clip why Nelson and Robinson were being detained when they'd done nothing wrong.
"The police were called because these men hadn't ordered anything. They were waiting for a friend to show up, who did as they were taken out in handcuffs for doing nothing," Ms. DePino said on an April 12 Twitter post. "All the other white people are wondering why it's never happened to us when we do the same thing."
Her video has been viewed more than 11 million times and retweeted hundreds of thousands of times.
Dr. Ramel Kweku Akyirefi Smith said it's impossible for anyone to discount the role of race in the Starbucks arrests.
"This is something that has been going on for a while," said Dr. Smith, a Milwaukee-based psychologist and mental performance coach. "In Milwaukee, we had a case some years ago of a young man with documented mental health issues sleeping outside a Starbucks. Someone called the police and they came and left him alone. Someone made another call, and an overzealous police officer shot and killed him," he said.
"What happened in Philadelphia automatically triggered a reaction. As a Black man, it is re-traumatizing, whether it's the killing of Trayvon Martin, Tamir Rice or the death of Sandra Bland," added Dr. Smith.
"We still live under Jim Crow and we're really living under an illusion of freedom."
Pervasive pattern of corporate racism
Activists have seized this moment as an opportunity to bring attention to corporate failure as it pertains to the fair treatment of Black people, and the history of racism in corporate America. American Airlines was accused of ugly racial incidents last fall when NAACP issued a "national travel advisory."
The organization warned the airline "could subject Black travelers to disrespectful, discriminatory or unsafe conditions." In the advisory, the NAACP listed four incidents in which Black passengers said they were discriminated against by airline employees.
Last summer current and former Black employees filed a class action lawsuit against Atlanta-based CNN, Turner Broadcasting and New York-based parent company Time Warner for racial discrimination. The lawsuit in part cites discrimination in evaluations, compensation, and promotions reported AJC.com. Fortune Magazine reported that Texaco for years had the image as the "embodiment of corporate racism." The oil giant cut a whopping $175 million check to settle a racial discrimination lawsuit filed by some of the company's Black employees, the most extensive such settlement ever.
From a legal standpoint regarding what happened in Philadelphia, the issue is about constitutional rights, said Student Minister Dr. Ava Muhammad, National Representative of the Honorable Minister Louis Farrakhan and the Nation of Islam.
"This is why desegregation laws came about in the first place," she told The Final Call. "Where restaurants and other facilities, hotels were ultimately required by the Supreme Court to serve Black people, you cannot deny me access. There is a false posture that is making its way into the public psyche as legitimate. This is another in the way of daily insults and denial of rights that Black people experience in America at the hands of these multinational corporations," said Dr. Muhammad who is also an attorney.
Philadelphia social activist Supreme Dow said what happened is typical of how America as a corporate system treats Black people.
"The Starbucks situation is classic northern racism," he said. "We have always looked at the South as racist. What that manager did was a snapshot of how many Whites in the North feel about Black people and have always felt. I don't think it was a matter of being intimidated by Blacks; rather it's a matter of Blacks having to submit to a different level of social policy," he explained.
"Particularly the 'Yoga pants' atmosphere of Rittenhouse Square where the coffee shop is located. It is a typical White northeastern community that says we Whites live here and you can visit but only on our terms."
Questions on ADL role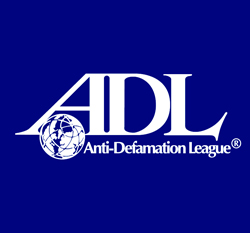 Starbucks executives have said their upcoming training will be developed with guidance from experts including former U.S. Attorney General Eric Holder; Sherrilyn Ifill, the president of the NAACP Legal Defense and Education Fund, executives from the Equal Justice Initiative, the progressive think tank Demos and in a decision that raised many eyebrows–Jonathan Greenblatt, CEO of the Anti-Defamation League.
"So you are aware, Starbucks was on a decent track until they enlisted the Anti-Defamation League to build their bias training. The ADL is constantly attacking Black and Brown people. This is a sign they are tone deaf and not committed to addressing the concerns of Black folks. Be clear about what is happening here!" social justice activist Tamika Mallory of the New York Justice League posted via Facebook.
The ADL recently attacked Ms. Mallory as well as several members of the Congressional Black Caucus for their association with Min. Louis Farrakhan.
Jewish Voices For Peace also questioned ADL involvement in the Starbucks racial sensitivity training. "Jewish Voices for Peace has deep concerns about the ADL participating in the Starbucks racial bias training. The ADL has a long history of anti-Arab, anti-Muslim, and anti-Palestinian advocacy and at a minimum has shown profound insensitivity toward Black communities," the group stated in a press release.
Leonard F. Muhammad former Nation of Islam Chief of Staff, told The Final Call the ADL's role should be reconsidered by Starbucks because of "their long history of bias shown toward Black leadership in particular."
He went on to note that recently The Final Call ran a story about the many Black leaders that have been accused of being anti-Semitic. "I think because those contentions are false and baseless, it makes it questionable whether or not the ADL could be a fair arbitrator or broker in this situation. We think there are many other groups to choose from and they should make a choice on an organization that doesn't have this type of tainted history."
"The bottom line is this is another incident of us being guilty of sitting at a table while Black. As for the anti-bias training for me, it is adding insult to injury. I don't need you to train to deal with me. The presence of the ADL engaged in helping to support the Starbucks company with this atrocity is adding further insult to injury because the ADL is a historically anti-Black organization," said Dr. Ava Muhammad.
What reality demands
Corporate America enjoys the support of Black America on a daily basis but the problem is there is no reciprocation, Philadelphia NAACP president Rodney Muhammad told The Final Call. "To me, it is an uneven relationship, and I'm not sure we are approaching it right–trying to get board representation (and) jobs. Operation PUSH pushes for franchises, Black entrepreneurship. I think that may be one way to move–demanding franchising rights," he continued.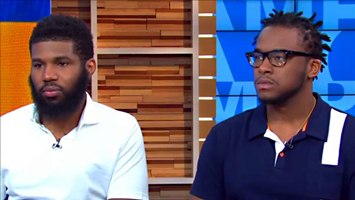 "There has to be a real discussion about corporate America and how it engages us," said Rodney Muhammad who also serves as student Minister of Muhammad Mosque No. 12.
Dr. Avis Jones-DeWeever, is a diversity, equity and inclusion specialist, who speaks frequently in corporate settings and who is often brought in to help business leaders navigate racial shoals. She said that on the surface, corporate leaders speak about the importance of diversity and inclusion and use all the right buzzwords.
"I have thought about them characterizing this as unconscious bias which is used as racist code," she said. "The moment you hear White people talking about unconscious bias, you know. This is one of the many examples of our being treated differently and one of the many examples that we're not free in our own land," she added.
Some get that changing demographics is a business imperative, but with all this, they still don't change, explained Dr. Jones-DeWeever. "Most say it's a value, but most corporations exist in a space of organizational apartheid. Upper levels of the hierarchy are mostly populated by White males and White women."
"This is a nation of a built-in fabric of advancement for White men. The focus is on more gender diversity which overwhelmingly brings in White women. It ends up with more and more White advantage," she said. Blacks in America must develop a significant level of economic spending power, said Dr. Jones-DeWeever.
"We have to solidify our economic power, build institutions and support our own. We've gotta be focused and unified and take dollars from the places that don't respect us."