By Charlene Muhammad CHARLENEM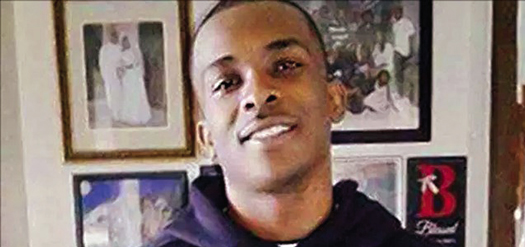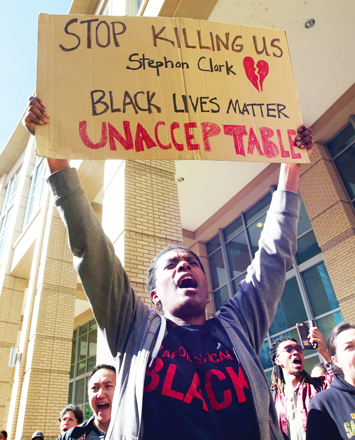 Stephon Clark died within 3-10 minutes of being shot by police, not instantaneously, according to a forensic- and neuro-pathologist who released findings of an independent autopsy at a press conference a day after the young, Black male's funeral.
"He was shot from the back. The first bullet wound was to the neck," declared Dr. Bennet Omalu, who was hired by family attorneys to perform an independent autopsy. He was flanked by two large sized posters with front, back and side images, denoting bullet wounds with large red circles during his presentation in Sacramento, Calif.
Dr. Omalu is co-founder and director of the Brain Research Institute, known for his work with Chronic Traumatic Encephalopathy [CTE] in pro-football players and other sports athletes, which was featured in the movie "Concussion," starring actor Will Smith.
Sacramento Police officers fired at Mr. Clark, a father of two, 20 times. He was unarmed. Eight shots landed. In no sequential order, Dr. Omalu said six shots clustered in his right back and shoulder area, another in his back, just slightly to the left side, and the final bullet in his left thigh.
He was flanked by the family's legal team, including attorneys Benjamin Crump and Dale Galipo. Hours before the March 30 press conference, Atty. Crump told The Final Call national media reports claiming he would be announcing at the press conference that a federal lawsuit was filed that same day were false. The press conference was available via livestream over the internet.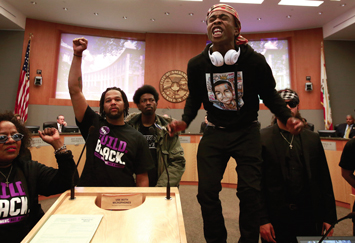 Police chased and cornered Stephon Clark on March 18 in response to a 911 call that someone was breaking into cars. He was in his grandmother's back yard. Police said they believed he was pointing a firearm at them and feared for their safety. Police press releases also alleged he had a toolbar. But, in the end, only a cell phone was near his body. There are also questions because the officers involved in the shooting turned off the audio to their body cams after the shooting.
"It (the autopsy) contradicts the narrative that has been put forth by the police, based on the autopsy findings," argued Atty. Crump, who said they are still awaiting release of the county coroner's report.
"The narrative that they had to put forth is that they had to open fire because he was charging at them, well obviously, based on Dr. Omalu's findings and the family's autopsy, it suggests all the bullets were from behind," he said.
The autopsy took about three hours, and the trajectory of all wounds went forward and leftward, Dr. Omalu explained.
"He bled massively," said Dr. Omalu, who further said it only took one bullet to kill young Clark because all were lethal except the final shot to his thigh. Untreated, that shot could kill a person in about three weeks, he added.
Dr. Omalu said he completed his autopsy on March 28, and saw the video on March 29. Mr. Clark was facing the house, with his left side to the officers, when the first bullet struck, he stated.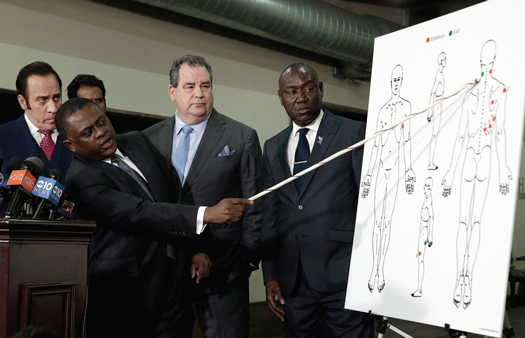 "He was not facing the officers. After he was shot, the first one, he turned around, now, these are not my opinions. These are the prevailing scientific evidence, as provided by the second autopsy," Dr. Omalu stated.He demonstrated that Stephon Clark's left back was slightly facing the officers to the side and how during the entire interaction, his back was facing the officers, not his front.
Shot number eight revealed he was falling on the ground or closer to it and given the human anatomy, it was not likely he sustained that wound while standing up, Dr. Omalu explained. He noticed when he watching a video of the shooting that Mr. Clark's left thigh lifted up while he was on the ground.
When a reporter asked Dr. Omalu to explain the difference between this and other autopsies done on people shot by police, and if he'd done any other autopsies on people shot by police, the expert replied, "You would notice human beings may want to believe we are all different. No. We're not. So this is not different from the thousands of autopsies I've performed. They are the same generally accepted principles of medicine and the same standards of practice of medicine.
"This, again, is routine. There is nothing exceptionable about this case. The truth of the facts are actually very simple," Dr. Omalu added before Atty. Crump took the reins.
"Everybody knows Dr. Omalu all over the world for his important work with CTEs and the concussion cases in professional football. When he put forth those theories, people attacked him for that. Over time truth won out," Atty. Crump said. "We anticipate they may try to attack him in this autopsy, but we believe, over time, just like with the NFL, truth will win out."
"One of the big questions we all have to address is what do we need to do for these shootings to stop," said Atty. Galipo.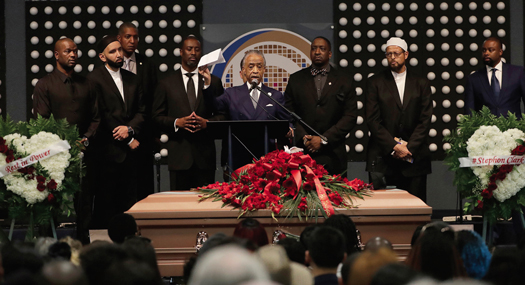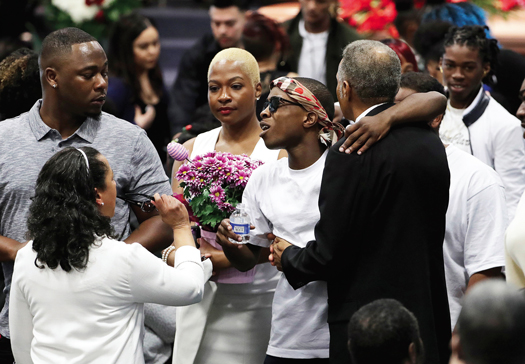 Meanwhile, many across the world wept with Stephon Clark's grieving family as funeral services at Bayside of South Sacramento Church were streamed live March 29.Before Reverend Al Sharpton approached the podium to deliver Mr. Clark's eulogy, Stevante Clark, his older brother, approached and kissed the casket several times and spoke passionately. The leader of the National Action Network and the distraught young man hugged.Stevante Clark's range of emotions and trauma played out before the world as his family wept and grieved in church pews. He appeared happy at times, laughing, his facial expressions switching rapidly into looks of despair and grief the next. He has repeatedly called for a library and 24-hour recreation and activity center in honor of his brother and to serve youth. He has also repeatedly referred to his love for his brother and Black people.
Alice Huffman, president of the California NAACP, was giving acknowledgments when Stevante Clark went up and began chanting his baby brother's name as he had done in public meetings. Attempts to contain and escort him to his seat failed, and he took the reins of the funeral for a moment, calling on family and friends who knew Stephon to speak.
His sister spoke of an intelligent student with great potential. A friend shared how Stephon's greatest goal was to be the best father he could be. A cousin asked mourners to bear with him as he tearfully recited an original poem written for the young king he called "Lil Poppa."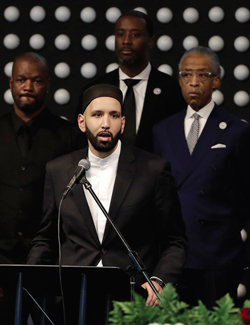 Rev. Sharpton hugged Stevante Clark. "Stevante and this family is why we're here. You don't tell people in pain how to handle their pain. You don't tell people when you kill their loved one how to grieve. We did not come for you uppity, bourgeois, proper folk … we came because this boy should be alive today!" Rev. Sharpton said.
Rev. Sharpton also addressed reporters, whom he said questioned him about the way Stevante Clark and demonstrators in Sacramento have been protesting. Demonstrators have shut down freeways, blocked entrance to Golden I Arena for a Sacramento Kings NBA game during an initial protest shortly after the shooting, and shut down a city council meeting. The NBA franchise has since agreed to work with activists to improve some conditions Blacks face in the city. "As part of their commitment to the goals of the Build. Black. Coalition, a group of Sacramento community leaders who have organized in the wake of the Stephon Clark shooting, a tragic death of a young man by Sacramento police, the Sacramento Kings will create an education fund for the children of Clark. This fund cannot fix the issues that led to the death of their father, but it will secure opportunities for their futures while the family and the city grapples with healing," said the Kings in a statement.
"To support transformational change for Black communities in Sacramento, the Sacramento Kings are creating a multi-year plan in partnership with the Build. Black. Coalition to support the education of young people and to provide the workforce preparation and economic development efforts needed to truly #BuildBlackFutures."
Rev. Sharpton continued, during his short eulogy, "Some reporter said to me about how this brother (Stevante Clark) and others stopped cars. They (police) stopped this young man's life," he said, pointing down at the red bow and flowered casket in front him. They (protestors) were not violent! They didn't shoot at anybody 20 times! They didn't take anybody down! We saw the video! Do the right thing! We will never let you forget the name of Stephon Clark until we get justice," Rev. Sharpton declared, pointing to Stevante Clark.
Rev. Sharpton also pushed back against the Trump Administration's characterization of the shooting as a local matter. On March 28, Sarah Huckabee Sanders, White House press secretary, was asked about Stephon Clark and the decision not to charge officers who killed Alton Sterling, a Black father in Baton Rouge, Louisiana, in 2016.
"This is something that is a local matter and that's something that we feel should be left up to the local authorities at this point in time," said the White House spokesperson. She further said President Donald Trump wants to make sure all law enforcement is carrying out the letter of the law, and that he is very supportive of law enforcement, but in specific cases and instances, the federal government should not weigh in.
"No! This is not a local matter. They've been killing young, Black men all over the country, and we are here to say that we're going to stand with Stephon Clark and the leaders of his family," Rev. Sharpton said.
"We are putting aside our differences. It's time for preachers to come out the pulpit! It's time for politicians to come out their office! It's time for us to go down and stop this madness," Rev. Sharpton continued as the sanctuary erupted into applause and cheers.
California Attorney General Xavier Becerra announced March 27 that at Chief Daniel Hahn's request, the California Department of Justice will be providing independent oversight of the investigation to ensure it is fair.
"We take on this responsibility in full recognition of the importance of getting it right–because there is nothing more important than respect and trust between law enforcement and the communities that they are sworn to protect as we work to keep all Californians safe," stated Attorney General Becerra, flanked by community leaders, city officials, and law enforcement during a press conference.
"I also promise regardless of the final outcome of this investigation, we will explore and implement ways to better serve our community and find ways to prevent this sort of tragedy in our city," said Chief Hahn.
Imam Omar Suleiman's March 28 tweet forewarned of just how badly the young Muslim's frame was damaged. "#StephonClark was massacred. His body was in such bad shape that we couldn't do the ritual washing (ghusl). The brothers did a substitute ritual (tayammum) and are horrified by the sight," tweeted the president of the Yaqeen Institute for Islamic Research, a non-profit research initiative.
"We cannot allow this to keep happening," tweeted Imam Suleiman, who also spoke at the funeral.
Imam Zaid Shakir from the Lighthouse Mosque in Oakland, Calif. underscored Stephon Clark's death as a national issue during his remarks. Today we are here to memorialize and bury Stephon Clark, but yesterday it was Amadou Diallo, and Sean Bell, and Trayvon Martin, he said.
"Walter Scott, Gary King, Oscar Grant, Alan Blueford, Tamir Rice, John Crawford, Alton Sterling, Philando Castile, Eric Gardner, or, it was Tanisha Anderson, Yvette Smith, Miriam Carey, Shelly Fray, Darnisha Harris, Alesia Thomas, Shantele Davis, Rekia Boyd, seven-year-old Aiyanna Jones in Detroit, Michigan," Imam Shakir continued, calling the roll of fatal police shooting victims amid a standing ovation.
"The community is rightfully pained, is rightfully angry, is rightfully frustrated," he said as the sanctuary settled down and many stood at attention and stared ahead.
"To borrow from the poet, because we've built our coffins much too often and we're tired of seeing our people die," he said.
"And it's not just our people. Every year in this country, White folks are shot! Brown folks are shot! Upwards to 1,000 people are shot by the police! That is a systemic problem, not a local problem, not a Sacramento problem. It's a uniquely American problem," Imam Shakir said as the church broke into applause again.
He then called on Muslims to help take Stephon Clark's casket outside for a special prayer for him. He welcomed members of the Muslim community and others to join and observe the prayer service.
"We pray that he's at peace. He's at peace," said Imam Shakir.