By Charlene Muhammad CHARLENEM
The family of a 23-year-old Black man shot at 20 times in his backyard by Sacramento Police officers is planning to file a wrongful death lawsuit, family attorney Benjamin Crump told The Final Call in an exclusive interview.
He did not disclose any specified amount.
Stephon Clark, 23, is survived by his two small children and fiancé Salena Manni.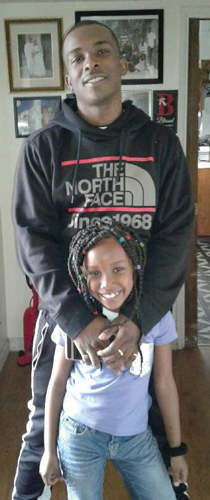 During a March 26 press conference Sequita Thompson, his grandmother, was flanked by representatives of a broad coalition of national organizations including the NAACP, National Action Network, and Black Lives Matter, community- based organizations, leaders, activists, and clergy. They are calling for independent federal and state investigations into the incident.
Ms. Thompson said she was viewing a video of her granddaughter praise dancing as her 7-year-old granddaughter slept on the sofa and shots rang out. She said she crawled to the girl and they crawled to the bedroom where her husband told her he heard someone call out to them at the window, she detailed at the press conference.
"That had to be our grandson," Ms. Thompson cried before collapsing into Atty. Crump's and a relative's arms.
"They didn't have to kill him like that. They didn't have to shoot him that many times," she wept.
Why didn't officers shoot him in the leg, in the arm, send dogs, use a taser? Ms. Thompson asked. "I just want justice for my grandson, for my daughter, my poor babies, they're in so much pain! She's in pain."
"He didn't commit any crime. … The police gave him no warning. The police gave him no identification that they were the police. And they never gave him time to comply with any order that they gave. They shot within a matter of seconds," stated Atty. Crump in a March 25 phone interview with The Final Call, a day before he stood with family members in front of Sacramento Federal Court.
"They gave him no humanity after they executed him in the backyard; he laid there on the ground dying for six minutes before they came to him, and then they handcuffed him," Atty. Crump continued.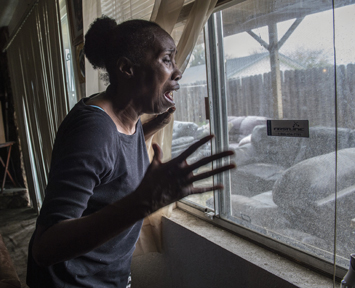 Footage of Sequita Thompson, Stephon Clark's grandmother, wailing and subsequent police body camera videos released by Sacramento Police sparked national outrage.
The Sacramento Police Department, District Attorney Anne Marie Shubert and the city's Office of Public Safety Accountability are conducting a joint investigation.
Chief Daniel Hahn, who is Black, called for calm in various interviews and told the San Francisco Chronicle there are misconceptions about the March 19 incident.
Vance Chandler, public information officer for the Sacramento Police Department, told The Final Call police did not yet have information on how many shots actually struck Stephon Clark and are awaiting the coroner's report. They do know each officer, one White and one Black, fired 10 rounds.
The first thing Stevante Clark, his brother, told The Final Call in the few words he could muster into a sentence, before any question was asked was, "As Salaam Alaikum. My brother was a Muslim."
He enthusiastically shared a memory of how his brother would not let him eat pork. "Only because I'm talking to y'all. This the first time I'm smiling," Stevante Clark remarked.
He and his family had just met their lawyer for the first time and the intense energy of struggle, pain and relief burst through the phone at once.
"Tell Farrakhan to say something in support and tell Farrakhan we love him and we love you like Muhammad. Allah-U-Akbar," he concluded, before abruptly handing the phone back to Atty. Crump.
During the press conference, the grieving brother led the community as they chanted Stephon's name.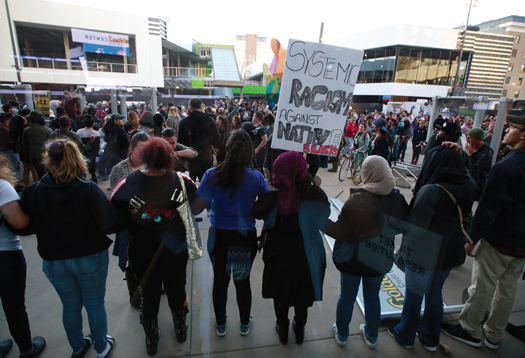 "He's just so emotional … they want answers. Why did they execute him in his own backyard?" Atty. Crump told The Final Call.Lingering questions include why were officers told to mute audio on their body cameras, which was heard on the video.
Mr. Chandler, the police department spokesman, said investigators are looking into why and if that was appropriate. Public transparency has been the police department's priority, which is why it released the video and audio within 72 hours of the incident, he stated.
"The relationship between our police department and our community is extremely important, and we want to do all we can and we've been working with community leaders and our entire community to help strengthen our relationship and this is a very tragic event in our city, and that's why we believe that it's very critical to work with our community to move forward," Mr. Chandler stated.
"The demand is for justice, that they need to be held accountable," said Atty. Crump. "We certainly are planning to file a lawsuit, but we are going to do everything possible, every legal remedy possible to get justice for him and his children and his family."
"The family is devastated when they watch that video, and they see them knock on doors, and ask other people can we search your backyard, but they never did that with Stephon Clark's family," said Atty. Crump.
In fact, he continued, his grandmother said the next morning when they told her not to come out of her house for any reason, they asked her for a picture of Stephon.
"When they said that, the first thing she said is I hope that y'all didn't kill one of my grand-boys, because they sometimes sit in the back at the picnic table," Atty. Crump said. "Little did she know they had actually killed her grandson, and that's why she was so emotional, that they had actually killed her grandson, right behind her bedroom window," he said.
On video, a cop is heard shouting in rapid succession, "Show me your hands! Gun! Gun! Gun!" then shots are fired.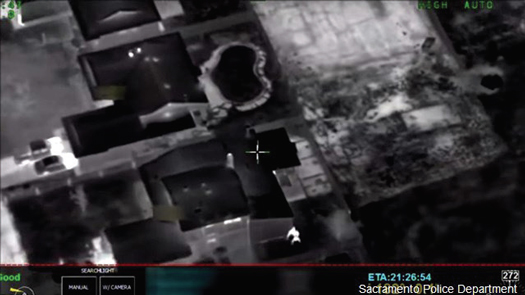 Atty. Crump questioned police claims Stephon Clark had a gun, then the next day, a tool bar. "Finally after all of that, they had to come clean and say all he had was a cell phone," Atty. Crump said.Mr. Chandler said the police department's story never changed and indicated the early versions were preliminary accounts.
Sacramento Police said they received a call on the evening of March 18 that someone was breaking into cars and was hiding in a backyard. They began a search with the aid of the Sacramento Sheriffs' Department helicopter unit, which claimed he picked up a toolbar and broke a window to a residence.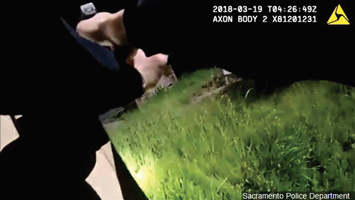 After a chase into what is now known to be his backyard on 29th Street, police claim Stephon Clark "turned and advanced towards the officers while holding an object which was extended in front of him."
"The officers believed the suspect was pointing a firearm at them. Fearing for their safety, the officers fired their duty weapons striking the suspect multiple times. The involved officers held their position for approximately five minutes, until additional officers arrived. Officers approached the suspect, handcuffed him and began life saving efforts," indicated a March 19 press release.
In an updated release later that day, police indicated they found no firearm and that the only item near Mr. Clark was a cell phone. They further indicated investigators identified at least three vehicles with damage believed to have been caused by Mr. Clark, as well as a nearby residence which had a sliding glass door shattered allegedly by the young father.
"They're trying to justify the extermination of Black and Brown people by saying anything that they think society will accept," Atty. Crump argued.
The Greater Sacramento NAACP Branch has established per the family's request a scholarship fund for Stephon Clark's sons Aiden, 3, and Cairo, 1, according to branch president Betty Williams' March 21 press release.
On March 22 demonstrators shut down Interstate 5 and blocked entrances to Golden 1 Arena for the Sacramento Kings basketball game against the Atlanta Hawks to protest the shooting. Hundreds formed a human chain blocking doors, according to media and Twitter reports.
Though the Kings fell to the Boston Celtics 104-93 on March 25, both were victors in the eyes of the community for the stand they took on the court. The teams came onto the court wearing black and white t-shirts with #StephonClark on the back and "Accountability. We are one" on the front.
The Kings have also released a video calling for accountability.
Sacramento Mayor Darrell Sternberg urged calm during a March 22 media briefing.
Keon Johnson, a self-identified "community servant," told The Final Call, "I think it was murder … it was cold blooded." He feels what happened is routine, citing the case of 40-yearold Dazion Flenaugh who was allegedly armed with knives when he was fatally shot seven times by Sacramento Police officers after a pursuit in April 2016.
The Sacramento District Attorney's Office did not charge any officers involved, saying the shootings were justified.
"It's a cowardly act and its happening over and over and over again. With the previous murders that have taken place, we've had rallies and protests of that nature in the past, but this one caught the ear of those whose previous murders may have fallen on deaf ears," Mr. Johnson stated.
The Clark shooting hit home because he was supposedly in the safest place one could be, their own yard, he stated.
Despite the claims of a break in, they should have taken him in, Mr. Johnson argued. "That doesn't warrant a murder. Period. Point blank. There's due process and there's the 'injustice system.' Take him through the process … I can't help but believe, think and trust that they move with murder on their mind. They move with murder on their heart."
Start with transparent, independent investigations and arrests and indictment, but end with convictions and prison time for the officers involved, he said.