and J.A. Salaam -The Final Call-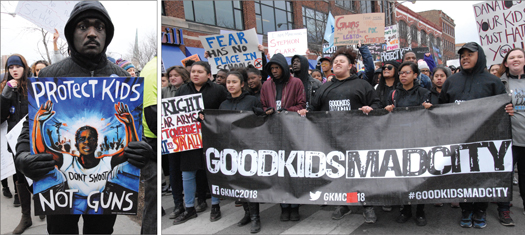 "And a little child shall lead them," Isaiah 11:6 says in the Bible. It might profit the nation's politicians to listen-up as an estimated one million students, teachers and parents took part in rallies to push for gun reform in the wake of the fatal shooting at Florida's Marjory Stoneman Douglas High School.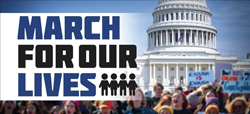 As hundreds of thousands of students gathered in the nation's capital March 24, with sister marches across the country and cities outside of the United States, a singular message was delivered: "We have had enough."
The massive rally in Washington, D.C., was organized by students from the Florida high school with a main event hosted on the National Mall. The "March for Our Lives" rally featured 20 student speakers, and many famed musicians. Organizers estimated that approximately 800,000 people attended the march.
According to organizers across the country, marches happened in major cities, including New York, Philadelphia, Miami, Cincinnati, Houston, Atlanta, Baltimore, and Pittsburgh. Rallies were held in Israel, New Zealand, Australia, the U.K., Japan, Belgium, India, France, and Chile. Organizers estimated 800 marches were held.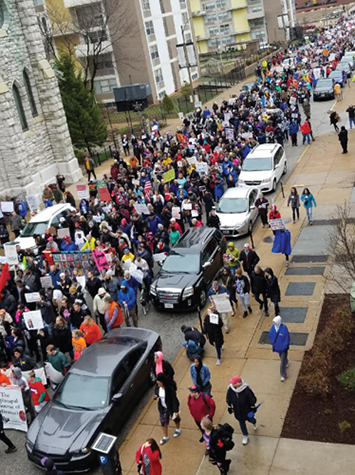 A powerful moment happened during the Washington demonstration when Emma Gonzalez, a student, and survivor of the Feb. 14, Parkland, Fla., shooting, stood on stage with tears streaming from her eyes. She stood in silence for 4 minutes and 25 seconds during her 6 minute and 20 second presentation.
"Six minutes and about 20 seconds," she said. "In a little over 6 minutes, 17 of our friends were taken from us, 15 were injured, and everyone in the Douglas community was forever altered. Everyone who was there understands. Everyone who has been touched by the cold grip of gun violence understands."
"Fight for your lives before it's someone else's job," she said.
Other prominent themes across the marches were outrage at the influence of the National Rifle Association on elected officials, the importance of voting and what many described as a misdirected emphasis on mental health instead of gun control.
During the Philadelphia march, two significant issues were brought to prominent positions. University of Pennsylvania freshman Rachel Steinig, a student organizer, talked about "racist and classist media coverage of school shootings."
"Through movements like Black Lives Matter, Black youth have been fighting for gun reform for years and haven't been given the support and media coverage that the Parkland students have," she said to the enthusiastic crowd. "This is a problem."
State Rep. Brian Sims (D-Pa.), in a short but potent speech, condemned the "false superiority of White men" and urged White men to "step out from the ignorance our privilege affords us."
"This lie is marked by some of the most epic and destructive violence in our nation's history. This lie kills dreams, families, and communities and it kills children. White men and the sheer violence that stems from intense privilege and false superiority has become the most dangerous demographic in our society," he warned.
Marvin Payne of Chester, Pa., directs a leadership program called RISE (Responsibility, Integrity, Service, and Excellence). He brought 15 young people to the Philadelphia march. The march afforded his students an opportunity to "advocate for the community," which is a training module in the program, Mr. Payne explained. "It's a great opportunity to get the youth out and involved."
Dyvne Lee, a seventh-grade student and RISE program participant said, "We are here to fight against gun violence and the shooting in Florida. We hope to convince people that guns are no good, something needs to be done and we want to put an end to it."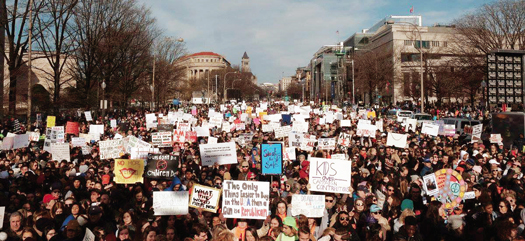 Clarie B., a suburban school student in the ninth grade, told The Final Call she wants people to realize they have a voice and can use that voice to stop political leaders from being cowards and have lawmakers stand up for the people they represent. "We are tired of their ignorance and stupidity on this subject. School is for books, not bullets."The question becomes whether these young people who call themselves "the mass shooting generation" will fade in the debate over gun control or be leaders in changing the country's policies. Their major weapon for pushing reform appears to be voting. During the Philly march voter registration stations were prominent. Voting was also a major theme in Washington. "We are going to make this the voting issue," said David Hogg, a Stoneman Douglas student and march organizer. "We are going to take this to every election, to every state, and every city. We are going to make sure the best people get in our elections to run not as politicians, but as Americans."
"Experts and leaders of past movements say it's going to be an uphill battle to translate the #NeverAgain movement into significant changes. A lot will revolve around local efforts, keeping the pressure on lawmakers and having a clear message moving forward," observed USA Today.
Polls show Americans are increasingly in favor of stricter gun laws. By almost 2-1, 61 percent to 33 percent, they say tightening gun-control laws and background checks would prevent more mass shootings in the United States, according to a USA Today/Suffolk Poll published in February. Even wider margins of Americans say semiautomatic weapons such as the AR-15, used in the Florida shooting, should be banned.
In aftermath of the Florida high school shooting, some movement on the issue has taken place. At least twelve companies have cut ties with the National Rifle Association, students from 3,000 schools held a nationwide walkout and Florida's governor signed a comprehensive bill that included tighter gun laws.
Attorney General Jeff Sessions announced he was proposing new regulations that would effectively ban so-called bump-stock devices that allow rifles to mimic fully automatic machine guns.
Plans are underway to stage a "National High School Walk-Out for Anti-Gun Violence" on April 20, the anniversary of the 1999 mass shooting at Columbine High School in Colorado. Thirteen people were killed in that tragedy.
"We are the students; we are the victims, we are change, fight gun violence now! High school students across the USA, the way to fight back is here. There has been too much complacency on the part of politicians when it comes to gun violence. The time to act is now!" said organizer Lane Murdock of Change.org.
Over 10,000 youth gathered in St. Louis in solidarity with student activists that marched in Washington, D.C. The call for stricter gun laws and safer schools was supported by at least a dozen schools in the St. Louis area. Local organizers Damen Alexander and Morgan Lowe said they were not going to allow politicians to stay in office if they did not address the issue of gun violence.
"We want to get the adults and the politicians to finally listen to us kids and take us seriously. And if they don't do that, we are going to vote them out; that's our message plain and simple. Thoughts turned into action, then results," said Mr. Alexander.
"Enough is enough and we demand change now. Columbine should have been enough. Sandy Hook should have been enough. But this time we are not leaving it up to the politicians. We are demanding that they change something. In the near future we are having an art day on April 20 and that's a national walk out day. And we want to see politicians introduce legislation, so anyone that's here today must do the work in office as well," added Morgan Lowe.
The marchers walked approximately one mile toward the courthouse in downtown St. Louis. Several political figures stood side by side by the young people, among them were Congressman William "Lacy" Clay, and state representative and activist Bruce Franks.
Mr. Franks knows firsthand of the pain of loss due to gun violence. His older brother Chris was killed in 1991 when a neighbor grabbed him to get him out of the way while in a shootout with a drug dealer. Mr. Franks was six-years-old and his brother was nine at that time. As a result of his brother's death, a campaign was launched to get illegal guns off the streets and a statue of Chris was made from melted guns. It stands as a reminder of that painful day in front of a St. Louis hospital.
State Representative Franks said he came to support the young people as a politician and advocate. It's very easy to acquire guns in Missouri because there are no strict gun regulations, he said. "I have to listen to what they have to say. I can't tell you what it feels like to be 17 or 18 in 2018. They can, they know the barriers and challenges they are faced with daily and how safe their schools are and they aren't. I feel that there should be a ban on certain long guns," said Rep. Franks, who has also marched in anti-police violence protests.
"Because when you look at what's being used in these shootings and the calibers, you'll see it's the same across the board. But then we have to look at states like Missouri that don't have any gun laws; we don't have a transfer of ownership; you don't have to report your gun stolen; you don't have to do a background check on private sales or a CCW (carry and concealed weapon) anymore. This is a major issue that must be corrected," said Mr. Franks.
There were tents and tables for voter registration throughout the march in preparation for midterm elections in November.
"I'm here to let the young people know that I stand with them and I'm so proud of what they have done to organize like this. The NRA gave me an 'F' grade because I am against what they stand for and I have never taken their blood money," said Congressman Clay.
While the major argument among gun rights advocates turns on defending the Second Amendment, the Honorable Minister Louis Farrakhan has warned, America needs a proper interpretation of the right to bear arms and needs to consider the price the country is paying for an apparent addiction to firearms. "In discussing the second Amendment, you cannot discuss that amendment without discussing the context in which that Amendment was made a part of the U.S. Constitution. This is a serious, serious, mistake on the part of those who use it to say that 'all of the American people have the right to bear' the kind of arms that they're being sold–but the arms that the American people are being sold are actual weapons of war," observed Min. Farrakhan, during his major lecture series "The Time and What Must Be Done" in 2013.
"At the time that this amendment became a part of the Constitution, there was no well-regulated militia. So in order for the people to keep the freedom they had gotten through the wars for their independence, it was necessary that the average citizen should 'bear arms,' " he said. "Did you know that in the year 2009, the estimated total number of firearms available to citizens in the United States had increased to approximately 310 million: 140 million handguns; 110 million rifles–among which are assault rifles; and 86 million shotguns. In 2010, approximately 9.2 million guns were sold in America. In 2011, over 10.8 million guns were sold in America."
"As late as 2010 the Supreme Court issued a decision that the Constitution gives an individual citizen the right to have a handgun in their home for self-defense–but with these assault weapons, the intent is for slaughter," warned Min. Farrakhan.
"What are you arming for? Is it just to protect your residence, your home, your property? Some of the militias have said that they are arming because they are angry with their government, and they feel that the government is robbing them of the constitutional guarantees of life, liberty and the pursuit of happiness. They see the erosion of democracy, and the rise of fascism in the United States government. What does this portend for the future?" he asked during the Time lecture series. "The Honorable Elijah Muhammad gave us a Solution to The Problem of Guns who are followers of his in the Nation of Islam: He told his followers not to have so much as 'a penknife'–so there are no weapons in our homes. Why? So that whenever there's disagreement in the house, or disagreement in the mosque: We settle our disagreement not with weapons of war or fighting, but we settle our disagreements with rational approach to finding the truth as a solution to our problems," he said.
(Final Call staff contributed to this report.)