By Richard B. Muhammad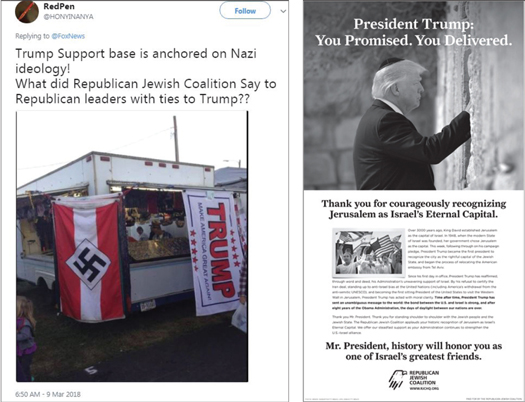 In one of the more bizarre cases of American politics, a Jewish Republican group called on seven Black Democrats in Congress to step down in repudiation of Nation of Islam Minister Louis Farrakhan over false charges of anti-Semitism. Several of the Black congressional leaders obeyed and denounced Min. Farrakhan.

The Republican Jewish Coalition, which seeks "to foster and enhance ties between the American Jewish community and Republican decision makers," made the demand. "We work to sensitize Republican leadership in government and the Party to the concerns and issues of the Jewish community, while articulating and advocating Republican ideas and policies within the Jewish community," the RJC added.
Nowhere in the RJC mission is there a commitment to bi-partisanship, nor recognition of any interests except the interests of Jewish people and Israel. Yet the group devoted to Jewish and Republican interests saw fit to order Black Caucus members to repudiate meeting with a man who has worked on behalf of Black people for over 62 years?
Clearly the only thing that matters is the Jewish part of any so-called Black-Jewish relationship. Blacks don't have a right to forge their own agendas or to even meet among themselves–which are apparently rights reserved for Zionist Jews. And, apparently, Jewish concerns even outrank party loyalties and naked attempts to hurt Blacks inside the Democratic Party. So powerful are the Jewish Republicans that not only do they keep Republicans in line, they also have enough juice to force Blacks who are Democrats to toe the line too.
You find no common interests between these groups as the RJC was virulently anti-Barack Obama, the first Black president, and literally spent millions trying to defeat him.

If the RJC had its way, you would have never had that Black man in the White House.But wait, there's more. There's the RJC's sacred defend-Israel-at-all-costs commitment without a commitment to justice for all. And, when it comes to racist-in-chief Donald Trump, the RJC even refused to criticize the president for a 2017 statement on International Holocaust Remembrance Day that failed to mention Jews. Others took the Donald to task, but not the RJC. This is the same Donald Trump that called African nations and Haiti shithole countries, urged a crowd to beat a Black Lives Matter protester (a Black man who was actually assaulted and then arrested) at a pro-Trump campaign event, and who had to figure out White supremacists and the killing of a young White women at a protest in Charlottesville, Va., was wrong. Mr. Trump fed into the hysteria that led to five young Black and Latino men going to jail in the 1989 Central Park jogger case in New York, though they were innocent. Mr. Trump claimed the young men were still guilty after they were released. That the men were paid a $41 million settlement in 2014 meant nothing. In 2016, presidential candidate Trump declared the men were still guilty. At the height of trial hysteria, Mr. Trump took out a full-page ad saying New York should bring back the death penalty. Then there were those Trump lawsuits for housing discrimination and charges because he didn't want to rent to Blacks in the 1970s.
So clearly there is no affinity between these lawmakers and the RJC's love fest with Mr. Trump, who is essentially reviled by the Congressional Black Caucus.
Maybe it's the RJC protect-Israel-at-all-costs mantra that fits with the politics of these Black congressmen? Not really. Rep. Andre Carson of Indiana, who was called out by the RJC, conducted a TV interview on FOX 59 in his home state. During the March 9 broadcast, Rep. Carson admitted to meeting with the Minister to discuss important issues. What about the RJC demand he step down? "That organization doesn't have any credibility with me. I know they have a political agenda," said Rep. Carson. "The Congressional Black Caucus is asking that organization to condemn (Israeli Prime Minister) Benjamin Netanyahu and the (Israeli) government for discriminating against Africans who are migrating, who are fleeing dictatorships, who are fleeing oppression. There's a great deal of bigotry and racism happening right now they fail to condemn."
So African migrants in Israel are suffering, threatened with deportation and jail, the Black Caucus asked the RJC for help and heard crickets? What kind of fake Black-Jewish relationship is this? And, while Israel is kicking Black Africans out of Israel, she is blocking Ethiopian Jews from reuniting with family members living in the so-called Jewish state, which seems to welcome White Jews Only.
Yet these Jewish Republicans had the gall to demand that congressional representatives Carson, Maxine Waters of California, Keith Ellison of Minnesota, Danny Davis of Illinois, Al Green of Texas, Barbara Lee of California and Gregory Meeks of New York condemn Min. Farrakhan. Sadly lawmakers Ellison, Davis, Lee and Meeks had done just that by Final Call press time. It's enough to be on the Democratic plantation, but when your masters come over from the Republican plantation that should be more than any self-respecting Black man and woman should stand. So the only bi-partisan thing for a Negro politician to do is join with Jewish Republicans to denounce Min. Farrakhan?
Sad. Shameful. But proof once again that the Negro has no political interests nor political power that the White Man, the Jewish Man, is bound to respect.
Or do we have no political power at all?
Richard B. Muhammad is editor-in-chief of The Final Call newspaper. He can be reached through www.finalcall.com and at [email protected]. Find him on Facebook at Richard B. Muhammad and on Twitter: @RMfinalcall. His website is www.richardmuhammad.com.