By Charlene Muhammad CHARLENEM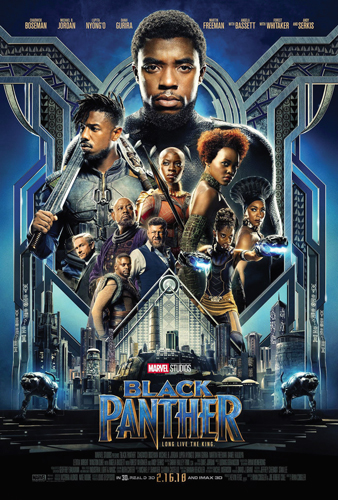 Days before its release, the movie about comic book hero Black Panther had inspired a sense of pride, culture, history, and power across generations of Blacks in America.
Memes, photos with humorous or sarcastic captions, GIFS, animated images, Twitter countdowns, costume party invites, and reserved theaters signaled the high energy, excitement, and just how anxious many were to fill theaters Feb. 16 for the official release.
Buzz about Black Panther's cast, costumes, and Wakanda, the fictional Kingdom in Africa, has been sweeping the country for more than a year now under the hashtag #BlackPantherSoLit.
Directed by Ryan Coogler, who co-wrote it with Joe Robert Cole, it hosts mostly a Black cast, with Chadwick Boseman, Michael B. Jordan, Lupita Nyong'o, Danai Gurira, Daniel Kaluuya, Letitia Wright, Winston Duke, Angela Bassett, and Forest Whitaker. With the exception of Andy Serkis and Martin Freeman, two White males, the film's major characters are Black.
Mr. Boseman debuted as Black Panther in Marvel's film "Captain America: Civil War." Now as the prince T'Challa, surrounded by Black female warriors, he returns to Wakanda to face an old adversary "Killmonger," played by Mr. Jordan, who challenges him for his father's throne. The character and storyline are based on a Marvel comic book.
Black Panther is set in a country that is the most technologically advanced in the world and richest in all of DC and Marvel comic universes.
According to Time, Inc.'s online Money magazine, T'Challa's Black Panther net worth is considered to be around $500 billion. Tony Stark's Iron Man is around $100 billion, and Bruce Wayne's Batman at $80 billion in a comparison of fictional wealth.
Shuri, his 16-year-old sister, is the most intelligent person in the world with her own science lab where she creates all of T'challa's weapons and his invulnerable suit.
The imagery counters the widespread portrayals of Africa as poor and backward.
Images from Black Panther's Purple Carpet Jan. 29 premiere in Los Angeles sparked more excitement about the movie and plans for outings like school field trips to theaters.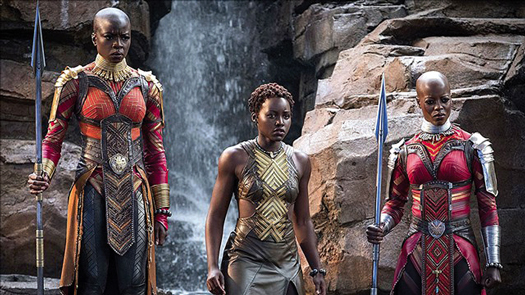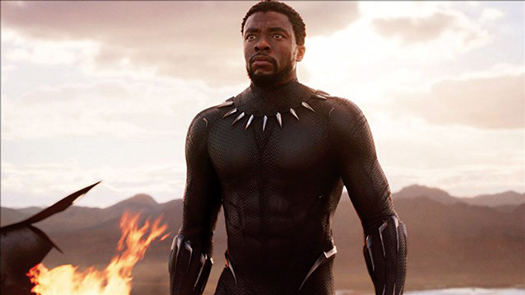 A discussion, comic book drawing workshop, and chance to get movie tickets was held Feb. 11 at the Charles H. Wright Museum of African American History in Detroit. Participants were Dr. Sundiata Cha-Jua, professor of history and African American Studies, University of Illinois-Urbana; Andre Batts, creator of Detroit-based Urban Style Comics and the character "Dreadlocks," and artist Chloe Seabrook-Welks. They discussed the significance of the Black Panther character, and the cultural impact of the film.
Mr. Batts, an avid comic book collector, began writing comics in 1989. He created his own comic in 1992. Most of the comic books he has collected weren't created by Blacks, though a few existed. He feels Black Panther will have a major impact on Black, independent comics by bringing more exposure and the opportunity to let people know they exist.
But, he conceded, Black Panther is a Marvel product, so it's still putting money into Marvel Entertainment and Disney versus benefitting Black creators in an economic sense.
"Don't get me wrong, I like the fact that it's an all-Black cast, a Black writer, director, producer, the whole nine. I love that fact. But the fact still remains that those dollars, the benefit, still goes to the Caucasian creators of Black Panther," Mr. Batts said.
The movie rating site Rotten Tomatoes and others in the industry acknowledged Black Panther was poised to be a cultural phenomenon. Frederick Joseph of New York launched the #BlackPantherChallenge after raising over $40,000 on GoFundMe to take Harlem children to see Black Panther in theaters. Thousands of people have donated to GoFundMe, created a campaign in their community, or shared the #blackpantherchallenge online. To date, over 300 GoFundMes have raised over $300,000, to help thousands of children to see the movie. Donations have come in from all 50 states and 30 countries around the world.
Oscar winning-actress Octavia Spencer plans to buy-out a theater in Mississippi "in an underserved community there to ensure that all our brown children can see themselves as a superhero." She's not in the movie, but like others, is buying out whole theaters for Black Panther screenings. Along with Mr. Jordan, she starred in Mr. Coogler's Fruitvale story of slain Black youth Oscar Grant, III., which broke records at the Sundance Film Festival, she doesn't star in Black Panther.
Black Panther is a tent pole release: a major studio release, with a major budget, between $150 million-$200 million, a Black director, a majority Black cast, Black lead, based on a Black superhero, said Dr. Darnell Hunt, director of UCLA's Ralph J. Bunche Center for African American Studies at the University of California, Los Angeles.

"It's unique, because as we all know, in the history of Hollywood, there's been a continuing struggle with how Black people are represented, and there've been concerns that stereotypical images that have circulated have more or less reinforced long-standing, racist views about the position of Black people in society and their worth relative to White people," Dr. Hunt told The Final Call.The extent to which Black Panther is critically-acclaimed and does well at the box office could be an industry game changer in the viability of projects that feature Black people, he said.
Mission has been accomplished on the box office front. Mr. Coogler, 31, put out his adaptation of Stan Lee's and Jack Kirby's 1966 Marvel character during Black History Month, and the film shattered box office records long before it came out. According to Variety, an entertainment news magazine, Black Panther sold more advanced tickets in its first day than any film in Marvel Studios history, then surpassed presales for all superhero movies. It's ahead of the presale pace for any first-quarter release in Fandango history, outpacing The Hunger Games and last year's Beauty and the Beast at the same point in each film's release cycle.
It's on track to earn up to $150 million over the 4-day Presidents Day weekend, and could even surpass the current record $152 million earnings for that weekend, the film review site noted.
"Black people want to see themselves represented on the screen, either the big screen or television screen. They want to see characters with whom they can relate. They want to see those characters as protagonists. They want to see them as the person around whom the story resolves, as opposed to just the sidekick or in the background, or in any demeaning, dehumanizing type of role," said Dr. Hunt.
Black Panther is almost the exact opposite of all the negatives, he said.
In the process of overcoming the forces of evil, Black Panther demonstrates his moral character, strength, and intelligence, things Blacks were denied historically in film depictions.
"Black people have a special investment in this movie. I think the film will be successful with all audiences, but I think Black people, in particular, see this as one of those groundbreaking moments to feel proud that a particular type of image of them is being circulated," Dr. Hunt continued.
Black Twitter joked White viewers should not be upset over the only two Whites in the movie because "that's how Blacks feel in theaters 24/7."
Many plan to wear "Coming to America," or African attire, in tribute to actor Eddie Murphy's film about an African prince's journey to New York to find his bride.
Black Twitter also joked about plots to bring meals into theaters and Black food lines surpassing ticket sale lines in theaters.
"The broken pre-sale records is almost as if Hollywood didn't know Black people will pour their coins into something that represented them so excellently, or did they not learn from the ticket sales of Hidden Figures," said 19-year-old Mariam Muhammad of Los Angeles, who is excited about the movie.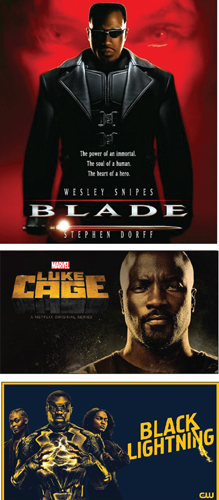 That Grammy award winning Kendrick Lamar created the soundtrack only added to her enthusiasm for the movie, though she's never read comic books. "While I understand the importance of representation and always gravitate to that, I don't believe this movie makes up for our years of struggle and is only for Blacks to enjoy," she added.
Other comic heroes made into movies with Black characters include Michael Jai White's Spawn by comic book creator Todd McFarlane, which was adapted for film by New Line Cinema. Netflix's popular Luke Cage series, played by Mike Colter and created by Cheo Hodari Coker, aired last year with a hoodie-wearing, unbreakable ex-con who fights to clear his name and save his neighborhood. Cress Williams stars as the CW Television Network's recent release Black Lightening, created by Salim Akil. It's the story of a retired superhero becomes a vigilante for justice. But before Black Panther, Luke Cage, and Black Lightening, there was Blade, portrayed by Wesley Snipes.
Blacks have long made comics, pointed out Mr. Batts. There's Golden Legacy, published by Bertram Fitzgerald, and, Brotherman, which embodied images of heroism, strength, and intellect from a budding generation of young, Black cartoonists, said publisher Big City Entertainment, Inc.
Independent storytelling is vital, because Black stories are ignored, Mr. Batts continued. "It's very important that we tell our own stories, not saying that we know everything as relates to our own stories. But we need to tell them to the best of our ability and stop allowing others to tell our stories for us, because the more we allow that to happen, the less important we'll be in this market," he said.
The Black superhero craze has an up and down side, especially for Black youth, in the view of Minister Abdul Akbar Muhammad, the Nation of Islam international representative.
"Our young people need to see some Black superheroes, because for years, between Batman and Superman and all of their heroes, these fiction stories of super heroes, even Indiana Jones, there's no Black image in there showing Black men and women as superheroes, so that's the upside," he said.
The downside, he said, is the film industry threatened by 2016 #OscarsSoWhite boycotts over all-White awards nominations is working to capture a segment of the Black audience worldwide.
But, he believes Black Panther has kicked off a revival that must continue. "When somebody does something that impacts us, we have to look at it, if it is good. It's not going to be 100 percent of what we want, but someone has to be there continuously to keep it going. Otherwise, it will die of itself, and I think that this is the opportunity that we have, if we handle it right," he said.