By Richard B. Muhammad – Editor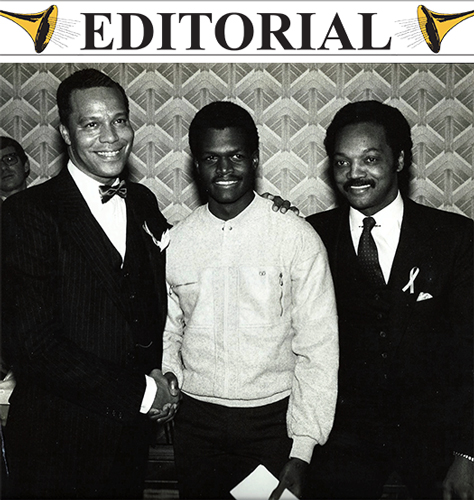 The Jewish and right wing media have gone wild with publication of a photo of Nation of Islam Minister Louis Farrakhan and then U.S. Senator Barack Obama taken over a decade ago.
Not content with howling at Mr. Obama, these jackals now clamor and declare: how could the Congressional Black Caucus associate with the Minister during its annual legislative weekend in Washington, D.C. in 2005? The CBC weekend is vitally important for public policy and political discussions about Black people and ideas for moving this suffering people forward. How could Min. Farrakhan not be welcome?
We've seen this movie before and can predict the ending: The Zionist groups and powerful Jewish individuals are probing the Congressional Black Caucus and Black leaders for weakness. Next comes demands that Black lawmakers prostrate themselves before the altar of Jewish interests and bow to perverse Jewish pressure to "condemn Farrakhan."
To that end, these demons repeat the 34-year-old lie that the Minister is anti-Semitic. There is no place for him in America, they howl. If you consider the decadence, inequality, immorality and corruption that permeate America, you could be right to say that the Minister has no place in such a wicked society. But for a country facing divine chastisement for evil done to her once slaves, their children and the original inhabitants of this Nation, Min. Farrakhan is a blessing.
If the bible says the wicked must be warned to come out of their iniquity or face God's wrath and utter destruction, every word the Minister speaks is potentially a lifesaving truth–if the guilty would accept it.
Instead of admitting their faults and roles in slavery, the slaughter of Palestinians, exploitation of Black talent and opposition to half-remedies like affirmative action, these Jewish groups paint themselves as innocent. Anyone who dares challenge their evil is wrongly charged with being evil.
But the historical record shows no such evil by Min. Farrakhan and verifies his efforts to aid in ending warmongering and saving lives.
His role in such efforts made him a guest at the White House under one of America's most beloved presidents–not Barack Obama, but Ronald Reagan.
In 1984, after then presidential contender and major underdog Rev. Jesse Jackson had the audacity to embark on a successful Middle East peace mission to free an American pilot shot down and captured in Syria, President Reagan had Rev. Jackson and his delegation at the White House. Those involved in talks with the president of Syria and humanitarian appeals included Min. Farrakhan, who was among guests in the Rose Garden.
"Minister Louis Farrakhan played a significant and vital role in enabling Jesse Jackson to secure the release of navy Lt. Robert Goodman. Minister Louis Farrakhan accompanied Rev. Jackson to Syria. Surely, this would be a test for the ideas of the Honorable Elijah Muhammad. The so-called contrast between Orthodox Islam and the Nation of Islam could derail negotiations, put Lieutenant Goodman's life in further danger, and embarrass the United States and the entire African American community," wrote Professor Clifton E. Marsh, who was quoted in an article written by Student Minister Demetric Muhammad a few years back.
"The charismatic Minister Louis Farrakhan impressed Syria's heads of state, Imams, Muslim scholars, and true believers with his knowledge of Islam and ability to speak perfect Arabic. He led the Jumuah prayer service with all the grace and eloquence of Bilal himself. So much for those who said the international community of Islam would not accept the ideology of the Lost-Found Nation of Islam in America," observed Professor Marsh in his book, "The Lost Found Nation of Islam in America."
Demetric Muhammad cited another witness in Chicago attorney Thomas N. Todd, who said Min. Farrakhan was a "substantial part of the success" of Mr. Jackson's Syria mission to free Lt. Goodman. "To assume Minister Farrakhan is on some lunatic fringe, away from the mainstream, is not true," Mr. Todd said. "His influence extends far beyond the Nation of Islam, to Black professionals, educators and others who agree with Farrakhan's position on some of the social ills and how we got there."
Min. Farrakhan's work of 60 years for freedom, justice and equality have earned him a place at the table with the Congressional Black Caucus and any table where the affairs of Black folk are discussed. The CBC meeting in 2005 was especially important as the tragedy and international embarrassment of Hurricane Katrina over lost lives and the failure of the U.S. government to save Black so-called citizens was front and center. And, by the way, Dr. Ben Carson, now the Trump administration head of the Department of Housing and Urban Development, civil rights and entertainment legend Harry Belafonte, and Hillary Rodham Clinton were among thousands of people who participated in the important weekend.
The question is not whether the Minister should dialogue with Black leaders and help guide a neglected community, but what business is it of Jewish groups and leaders?
And why should we who have benefitted, and still benefit, from the sacrifice of this great man allow these damnable enemies to falsely define our champion when we know who he is? The false narrative of anti-Semitism against Min. Farrakhan was introduced by wicked Zionists who viciously attached that damnable moniker to his good name. When the Minister responded and beat back their attack, the enemies redoubled their fight against him but still could not overcome him.
After Min. Farrakhan was slandered by Jews who labeled him a Black Hitler in 1984, he responded: "I'm not proud of Hitler's evil toward Jewish people, but that's a matter of record. He rose Germany up from nothing. Well, in a sense you could say there is a similarity in that we are rising our people up from nothing, but don't compare me with your wicked killers.
"Why would we tolerate this? I've been among Black people as a teacher from the Honorable Elijah Muhammad for nearly thirty years. I'm not a stranger in America. I have lectured in every major university and college and theological seminary in this country. I'm well known by my brothers and sisters who are scholarly. I have addressed every major Black organization that there is. I ask, why should we submit when a White man calls one of our Black brothers a 'Hitler' that we don't rise up and take them to task?"
He also warned, "when you can allow the enemy to call your leaders anything they want to and get away with it, then you are selling yourself again into slavery."
No slavemaster ever wants to give up a slave and the Jewish people and groups that have benefitted from their control of Black people don't want to give us up. But this isn't the day of the oppressor; it is the day of the rise of the oppressed. Nothing will stop our rise. We appeal to Black leaders to stand on what is true and good for our future and not lay down at the feet of false friends and heartless, recalcitrant enemies.
–Richard B. Muhammad, editor, The Final Call Newspaper