ASKIAM and Nisa Islam Muhammad, Final Call Staffers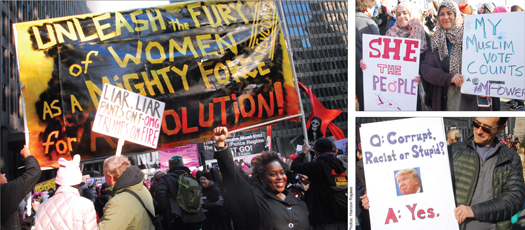 WASHINGTON–On the anniversary of his first year in office January 20, President Donald J. Trump managed to oversee a shutdown of the United States government. At the same time he earned himself the lowest approval ratings of any president in modern history. Mr. Trump's succession of volatile statements and policies–each more spectacular than the one before–has been like a rocket ride toward hell, rather than an ascent to greatness.
As the shutdown entered its first workweek Jan. 22, hundreds of thousands of federal workers–including civilians employed by the Pentagon–were furloughed. Essential government services, including the military and airport security were uninterrupted. Senate leaders announced a deal Jan. 22 to end the shutdown.

For the first time in U.S. history a shutdown–caused by the expiration of the government's authority to spend money–occurred when the same party (in this case the Republican Party) controls not only the White House, but House and Senate majorities as well. Republicans need the votes of several Democratic senators in order to pass any spending bill. Democrats, they say, caused the shutdown in order to protect illegal immigrants.
More than 800,000 undocumented people who were brought to this country as children–so-called "Dreamers"–are subject to deportation unless Congress extends their residency protection. President Trump argued that the agreement must include funding to build his proposed wall along the U.S.-Mexico border. The deal included a promise to deal with immigration legislation to focus on the Dreamers, a children's health insurance program and fund government through Feb. 8. The shutdown lasted three days, as senators passed the bill and end it. At Final Call press time, the bill was awaiting the president's signature.
Democrats argued that Mr. Trump and his allies wanted to see the government shutdown all along. In fact, in May 2017, Mr. Trump called for a "good shutdown" to fix the "mess" in the government. "The reason for the plan negotiated between the Republicans and Democrats is that we need 60 votes in the Senate which are not there!" Mr. Trump tweeted "We either elect more Republican Senators in 2018 or change the rules now to 51%. Our country needs a good 'shutdown' in September to fix mess!" he complained in a series of tweets.
White House Budget Director Mick Mulvaney, a former South Carolina congress member who once prided himself on being part of the House "Shutdown Caucus," agreed at the time. "A 'good' shutdown would be something that fixes Washington, D.C. permanently," Mr. Mulvaney said in an appearance on "Face the Nation" on CBS News.
The House Democratic Leader Nancy Pelosi (D-Calif.), told reporters on Capitol Hill Jan. 20, that the GOP was using the plight of the Dreamers "to attack our domestic agenda," which includes children's health protection, disaster relief, and other domestic-social spending.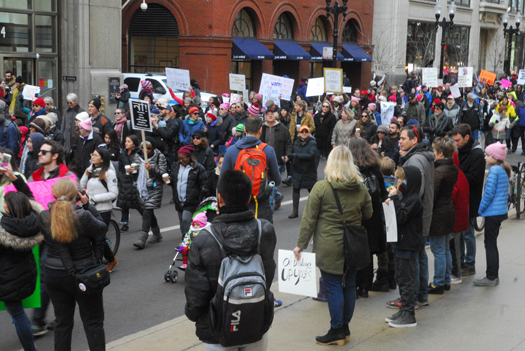 Meanwhile, the Senate Minority Leader Charles Schumer (D-N.Y.) accused the president of failing to make a deal. "It all really stems from the president, whose inability to clinch a deal has created the Trump shutdown," Mr. Schumer told reporters at the Capitol Jan 21. "He can't take yes for an answer. That's why we're here."Just hours before the shutdown, Sen. Schumer met privately with the president at the White House. When he left he thought they had agreed on the outline of an agreement. But within hours, the White House announced there was no agreement, and that a shutdown was imminent. Mr. Schumer said he "essentially agreed to give the president something he wants in exchange for something we both want."
"The president picked a number for a wall," Mr. Schumer said, referring to Mr. Trump's proposed border wall. "I accepted it." But that agreement lasted only a few moments, and was not good enough to prevent a government shutdown.
Mr. Trump's one-year anniversary was also greeted by massive protests around the country drawing hundreds and hundreds of thousands, mainly women, in dozens of cities. At the same time the president's popularity is at a historic low, especially toward Black people. Predictably, 79 percent of Black people see him as biased toward them. The overall population agrees: 52 percent of the overall population see him as biased against Black people, according to an ABC News poll, conducted by Langer Research Associates.
Only 36 percent of the population is in favor of his job performance one year into his presidency the poll found, while 58 percent disapprove.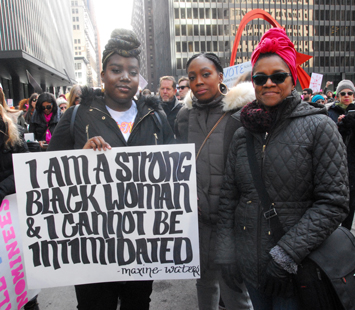 Once again across the country from coast to coast and around the world hundreds of thousands of women with their friends, families and supporters spent the day Jan. 20 protesting the one-year anniversary of President Trump, as they did when he was inaugurated.
"I was here a year ago when he was inaugurated," Meredith Hogan from Frederick, Md., told The Final Call. "I'm back again, angrier than I was then. I can't believe things have gotten worse. I'm White and I have friends who voted for this man. I ask them now 'is this what you voted for?' Believe it or not. They are here with me this year. We are concerned about the direction this country is going in. It's going to hell!" She was among protestors in Washington, D.C.
Last year's Women's March drew millions of people around the world marching in solidarity to protest the election of the new 45th president. This year's march was less nationally organized but more locally focused and included the issues from the #metoo movement to end the sexual assault of women and inappropriate conduct in the workplace by asking women to share their stories of past abuse.
National organizers from last year's historic march focused this year on a Power to the Polls rally, Jan. 21, in Las Vegas. This kicked off a national voter registration campaign for one million new voters.
The D.C. march went from the Lincoln Memorial to the White House where protestors felt empowered to be in front of the home of President Trump, who many blamed for the government shut down.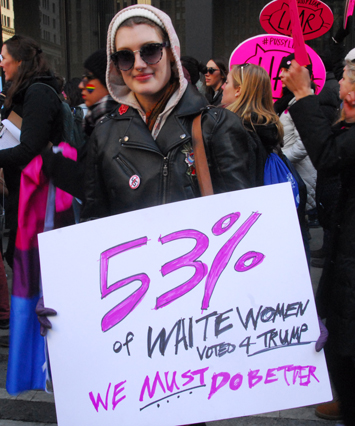 "I'm a government worker," said Terry Davis to The Final Call. "I wasn't coming to this march until the government shut down. This is absolutely crazy. He wanted the government shut down. This is beyond reason. I'm considered a non-essential government worker. No work for me tomorrow. What was he thinking? What are our tax dollars paying for?"
"What is this country coming to? I mean, really. I'm happy to be here with all of these women protesting. As a man I don't feel out of place. I feel right at home supporting these women who feel like I do, 'Dump Trump.' What direction is the country going in? I don't know and I don't think the people on Capitol Hill know either."
Linda Sarsour, Women's March national organizer, tweeted: "Whose shutdown? #TrumpShutDown. Say it LOUD. Say it CLEAR. #CallAndResponse #PowerToThePolls."
Protesters in Oklahoma City chanted, "We need a leader, not a creepy tweeter!"
President Trump was undaunted by the outpouring of discontent at his administration. He tweeted, "Beautiful weather all over our great country, a perfect day for all Women to March. Get out there now to celebrate the historic milestones and unprecedented economic success and wealth creation that has taken place over the last 12 months. Lowest female unemployment in 18 years!"
In Los Angeles, celebrity presenters to hundreds of thousands gathered, included Eva Longoria, Natalie Portman, Viola Davis, Alfre Woodard, and Scarlett Johansson.
"I am speaking today not just for the MeToos, because I was a me too, but when I raise my hand, I am aware of all the women who are still in silence. The women who are faceless," said actress Viola Davis.
"The women who don't have the money and don't have the constitution and who don't have the confidence and who don't have the images in our media that gives them a sense of self-worth enough to break their silence that is rooted in the shame of assault and rooted in the stigma of assault," the Black Oscar winner stated.
Alfre Woodard's message was to register and vote. "The 2018 midterms start now," she said.
Mayor Eric Garcetti initially gave a count of 500,000 people at the Los Angeles rally and later updated that figure to 600,000.
Around the world in Frankfurt, Germany; Kampala, Uganda; Osaka, Japan, Rome, Italy, women's voices were raised in global sisterhood and solidarity.
However, the Women's March was not embraced by everyone. Some Blacks felt there was no place for them. In Cincinnati, the Black Lives Matter group posted on its website, "Despite our unshaken belief that women's liberation is essential to black liberation, our political principles are at odds with the 'Hear Our Vote' theme for this year's march. Furthermore, we recognize that the national event and its sister marches (like one in Cincinnati) have pushed aside the concerns of women of color from its inception. Therefore, while thousands plan to march on January 20, 2018 … our organization will not be among them."