CHARLENEM and Darrielle Muhammad
"Footprints on the Moon" is the new album by three-time Grammy-nominated singer/songwriter Raheem DeVaughn and multifaceted wordsmith and actor Wes Felton. The duo performs under the moniker, "The CrossRhodes."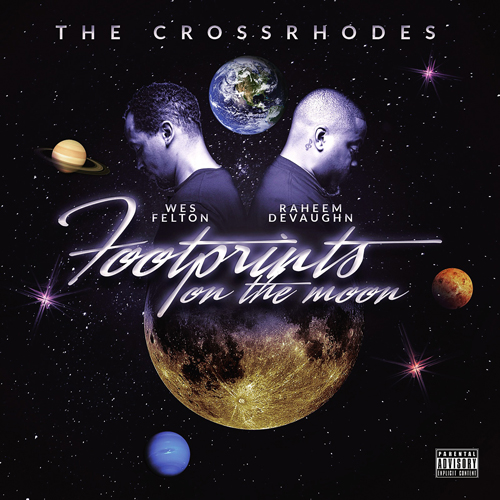 The album addresses racial and social injustices, economic disparities, and issues that affect real people. From the title track to closing, it takes listeners on a ride of community and self-reflection. The first lyrics of the introduction is delivered by the late, great artist Gil Scott Heron."America" begins with a spoken word piece recited by Raquel Ra Brown that includes lines like "People out here hungry barely staying afloat makes you think about survival. What is survival?"
Released September 22, this album aims to reach the inner critical thinker inside of those that listen to it.
"When you bring music with a message, and purpose, and a movement behind it, it's not under your control anyway. It's under God's control," said Mr. Felton.
"You may think in the moment that while you're making it, people should be getting it, but maybe God doesn't have the world and the planet in the place mentally, physically and spiritually where they're really ready for that kind of art," Mr. Felton told The Final Call.
The Honorable Minister Louis Farrakhan and the Nation of Islam have always had a great reputation for supporting and advocating for the cultural revolution and for artists to use their artistry and gifts to uplift and educate and not degrade.
"I've always had a huge amount of support from the Nation, from the Minister, from the brothers, so I really wanted to get this project on their radar and let them know, like, it's some music out there for the conscious Black mind and for the conscious mind as a whole, and we need y'all's support," Mr. DeVaughn said.
"The biggest challenge has been letting people know, this album's not only out, but it's available in your phone. It's already in your Smart Phone. It's already at a digital platform, waiting for you (Tidal, Spotify, Google Play, iTunes etc., under the name "The CrossRhodes"), and it's something that you can work out to … you can have discussions around this album. It's something you can listen to with your kids," Mr. DeVaughn added.
"Not Trying to Fight Tonight," deals with the problems of alcoholism and how it contributes to domestic violence.
This album is not for the escapist mentality, but it's reality music, but not in the sense of reality T.V., continued Mr. Felton. It challenges and encourages the listener to take time to critically weigh their situation and circumstance, he explained.
The project employed youth talent between 15-23 years old. They were part of the entire process of making the video for "America," said Mr. Felton. The aim was to show the teens that everything comes through a process and they can achieve what they want if they take the time.
"It's great to be able to have music that goes hand-in-hand with the movement that we're creating and the movements that have been created long before me and Wes were thought about," said Mr. DeVaughn.
Keeping within the theme of giving back and truly impacting the community, Mr. DeVaughn's Love Life Foundation advocates for Black women and the Black community. Its emphasis is on HIV/AIDS, domestic violence, mental illness, autism, cancer, education, music and the arts. It helps pay for books and materials for college students in their first year.
The CrossRhodes were guest speakers on the Hip Hip Stand Up nationwide conference call on September 17, themed "The Role of Hip Hop in 2017 and Beyond." Artists, executives, bloggers and radio show hosts have held the weekly calls since the San Francisco Police execution-style killing of Black youth Mario Woods on Dec. 2, 2010.