By Charlene Muhammad CHARLENEM
Blacks were more than half of all single, biased and race-based hate crime victims while Whites were nearly half of known offenders, according to the Federal Bureau of Investigations (FBI) 2016 Hate Crimes Report.
Approximately 60 percent of the hate crimes were based on race/ ethnicity/ancestry, while 21 percent stemmed from religion, and nearly 18 percent from sexual orientation.
The term victim may refer to an individual, business/financial institution, government entity, religious organization, or society/public as a whole, according to the report, released Nov. 13.
Law enforcement agencies reported 6,121 criminal incidents were motivated by bias toward race, ethnicity, ancestry, religion, sexual orientation, disability, gender or gender identity, noted the bureau.
The numbers were compiled from 15,254 law enforcement agencies that participated in the Hate Crime Statistics Program. Nearly 1,780 agencies reported 6,121 hate crime incidents involving 7,321 offenses.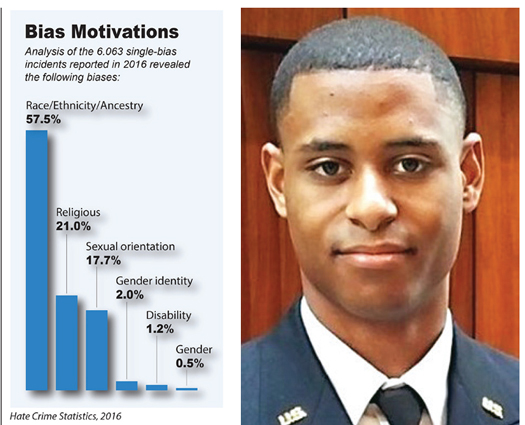 Of the 4,229 offenses motivated by race/ethnicity/ancestry, 50.2 percent were motivated by anti-Black or African American bias, compared to 20.7 percent anti-White and 10.6 percent anti-Hispanic or Latino."The FBI is best when it does reports like this versus harming Black citizens through its counterintelligence activities. But, this report shows how an election full of rhetoric can embolden people to violently act on their beliefs," stated Atty. Opio Sokoni, a Jacksonville, Fla.-based activist and professor.
He said the federal government must be careful that it is not the very entity that is helping to cause violence. "The FBI put out a report recently attempting to provide information about what they call Black Identity Extremists. The Justice Department is over the FBI. Attorney General Jeff Sessions, who is the head of the Justice Department, told Congresswoman Karen Bass that he barely knew about the report during a recent oversight hearing," Atty. Sokoni said, referencing Atty. Gen. Sessions' recent testimony to the House Judiciary Committee.
"Then, who in the FBI thought it was important to conduct and publish this report? I don't have to tell you the type of climate this can create for Black individuals, organizations and colleges. But, many of us Blacks do not feel that we are victims. We can defend ourselves fairly well–both on the issues and physically," Atty. Sokoni told The Final Call.
Law enforcement agencies that reported hate crime data to the Uniform Crime Reporting (UCR) Program identified 5,770 known offenders in 6,121 bias-motivated incidents in 2016.
"Known offender" indicates that some aspect of the suspect was identified but does not imply that the suspect's identity is known, according to the program.
Whites ranked highest of those offenders at 46.3. Blacks were 26.1 percent, and groups made up of "other individuals or various races were 7.7 percent.
The resolution to what is happening is going to come from those being attacked, explained Daryle Lamont Jenkins, executive director of the anti-racist organization, One People's Project. "We have resources of our own," he said.
Mr. Jenkins cited recent violent acts committed in Tennessee, where members of the Traditionalist Worker Party (TWP) reportedly attacked an interracial couple in a restaurant as an example. Media reports stated a group of Neo-Nazis attacked the pair after a White Lives Matter rally. According to Nashville Police, a group of 20-30 White men and women allegedly began an altercation with the couple, a Black man and White woman, at a restaurant.
"No one involved was arrested," Mr. Jenkins told The Final Call. But the Traditionalist Worker Party can be held accountable in civil court, he said.
"We need to support those that are victims of these groups if they choose to hold these groups liable in civil court. Past verdicts rendered against such groups have caused them to shut down, and it has caused the others to think twice before they make violent moves against someone they consider their 'enemy,'" Mr. Jenkins stated.
Hate crime incidents occurred in a variety of locations including near residences (27.3 percent) and on or near some type of roadway (18.4 percent). Other locations were not immune including: schools, places of worship, commercial and government buildings, restaurants and nightclubs, parking lots and garages, playgrounds and parks, and even medical facilities, noted the report.
In October of this year a White University of Maryland student, Sean Urbanski was charged with a hate crime in the brutal stabbing death of Bowie State University student, Lt. Richard Collins III. If found guilty, he faces life without parole.
For hate incidents based on religion, 1,538 offenses were reported by law enforcement departments with 54.2 percent based on anti-Jewish sentiment; 24.8 percent anti-Islamic, 4.1 percent were anti-Catholic and the remaining percentages were anti-multiple or other religions.
For Davey D, hip-hop activist, journalist and radio personality, hate crimes have always been present and are valid. However, other incidents that may not result in physical violence should also be taken into consideration, such as people walking down the street being called the "N-word." He doesn't think the hate crimes being reported are impactful to the community in all cases.
"If I get jumped by a few White boys and we call it a hate crime, or they write something on the wall, which we can call a hate crime, it needs to be confronted and stopped, but it's a small drop in the bucket to what's really going on," the veteran journalist told The Final Call.
Hate crimes that are missed are those coming from law enforcement, such as police killings, beatings, outright disrespect, and planting of evidence, Davey D said.
"We're like, okay, Johnny Hillbilly called me the 'N-word. We call it a hate crime, but we ignored the human trafficking of a woman of color that took place in Oakland, where you had several dozen cops involved, and not one of them was arrested. In fact, some of them were promoted," he pointed out. "We don't call that a hate crime."
Nor were actions of the cop that stood by and actually watched then-South Carolina Police Officer Michael Thomas Slager planting evidence on Black motorist Walter Scott after fatally shooting him recorded as a hate crime, Davey D continued.
Certain policies that are implemented also bear watching, because they're motivated by the hatred people have had for Blacks. Redlining, gentrification and the so-called 'war on drugs' should also qualify as a hate crime, explained Davey D. While it's important to look at individual actions, such as the Alt-Right holding Neo-Nazi rallies, these things happen in the backdrop of systemic racially biased policies and more systemic situations.
"We can start going on and on. … That's just one aspect. Then we have the hate crimes that show up in the form of voter suppression which goes to disenfranchise people. Some of it comes in the form of the purging of voting rolls, with all types of questionable individuals and programs who set up systems to make that happen, which doesn't get much attention and is not seen as a hate crime, but it really is, when you're disenfranchised," he added.