By Charlene Muhammad CHARLENEM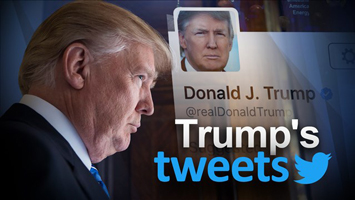 President Donald Trump's tweet about the National Football League on Black Friday signaled that his conflict with Black men, particularly those who speak up, is far from over.
President Trump derisively tweeted Nov. 24 that NFL players are the bosses, and the league isn't tough enough on its employees.
His tweet came shortly after reports that the NFL may allow players to remain in locker rooms during the National Anthem next season.
Starting with Colin Kaepernick, former San Francisco 49ers quarterback, taking a knee during the National Anthem in peaceful, non-violent protests against police abuse and racism, Marshawn Lynch, a five-time Pro Bowler and Super Bowl champion who plays for the Oakland Raiders and many national Black male athletes followed suit.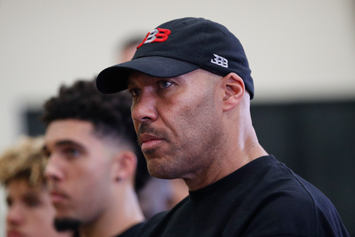 Dr. Wesley Muhammad, a Nation of Islam student minister, researcher, and author of Understanding the Assault on the Black Man, Black Manhood, and Black Masculinity, said the desire to assert White male dominance is seen in how Mr. Trump continuously entangles himself with and attacks Black men.
White males must always be the "alpha male," dominant men of society, and keep Black males in a subordinate position, he said.
"That's why he obsesses over bleaching, not just the White House, but White House presidential history. He's obsessed with bleaching it of the stench of (President Barack) Obama, because the Obama presidency gives the appearance of challenging the dominance hierarchy," Dr. Muhammad explained.
That bleaching includes all of society, which is why Mr. Trump is always bullying people, according to Dr. Muhammad.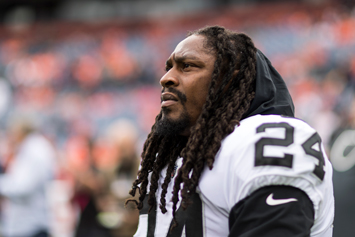 "But he bullies epsilon, or what he considers lower ranked Black males. He has yet to address the frontal message by the Honorable Minister Louis Farrakhan," Dr. Muhammad noted. Wesley Muhammad was referring to a Nov. 16 press conference at the Watergate Hotel. Min. Farrakhan said the president was facing a major challenge regarding what to do with Black people. It is time for Black people to go free and America is under divine judgment and chastisement, said the Minister.
"Let me tell you something: If you don't give justice to us, you will lose everything you've got, including your life, because God, now, said He is ready to fight you for our deliverance. And he told me to tell you: You don't have no fight against the forces of nature," Min. Farrakhan cautioned President Trump. The Minister has consistently warned disasters striking America are not happenstance, but the divine Supreme Being's direct intervention and chastisement. "So now, the ball is in the court of Donald J. Trump," said Min. Farrakhan.
"He refuses to even touch that, because he knows Farrakhan isn't an epsilon male. He's not a subordinate Black man, so he doesn't even touch the Honorable Minister Louis Farrakhan with his Twitter fingers. He goes after who in his mind who are subordinate Black males, and Farrakhan is a dominant alpha male," Dr. Muhammad pointed out.
On Nov. 20, President Trump tweeted that the NFL should suspend running back Marshawn Lynch, after he stood for the Mexican national anthem and sat during the American national anthem at a game in Mexico City.
Former rightwing congressman Joe Walsh tweeted that Mr. Lynch was an uneducated American-made millionaire. Counter-tweets highlighted the football star's degree from Cal-Berkeley and his philanthropic efforts.
In other tweets, Mr. Trump attacked LaVar Ball of the Big Baller Brand and sports agent for his three sons–Lonzo Ball, a Los Angeles Lakers point guard; LiAngelo Ball, a freshman basketball player at UCLA; and high school basketball phenom LaMelo Ball.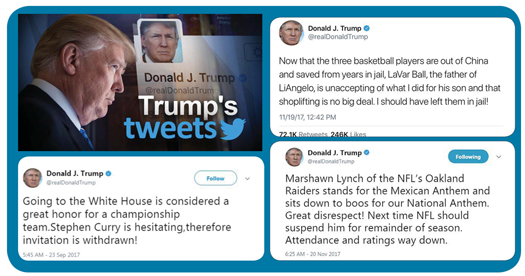 The problem started when the president didn't feel sufficiently appreciated for his reputed role in getting LiAngelo released from confinement at a hotel and back home following a shoplifting incident. UCLA was in China for an exhibition basketball game. LiAngelo Ball and two UCLA teammates Jalen Hill and Cody Riley were held at a hotel in Hangzhou, China, amid allegations of shoplifting at high end stores. The president said he was responsible for Chinese officials releasing the young Americans, who thanked him at a press conference in the U.S. But when the father declined to kiss his ring, Mr. Trump escalated the Twitter battle. Mr. Trump called LaVar Ball an "ungrateful fool," and argued it was he that brokered LiAngelo's escape from a 5-10 year prison term.The senior Ball responded that the president should have more important things to do and said if anyone should be thanked it was China's president. In a Twitter huff, Mr. Trump had declared he should have left the U.S. citizens in jail. They were never in jail, observed LaVar Ball.
The New York Times also reported it was unlikely the basketball players would have been jailed. China, mindful of its image, would likely have deported the players, experts told the Times.
Why was it so important for Mr. Trump to double down on Black men and be thanked by LaVar Ball? Fear, according to Tony Schwartz, who ghostwrote Mr. Trump's book, The Art of the Deal.
"First of all, his (LiAngelo's) father is a tall, Black man, and I think Trump is half-awed and half-frightened by Black people, and his only way of dealing with them is to attack them," Mr. Schwartz told CNN's John Berman in a Nov. 22 interview.
Mr. Schwartz stated Mr. Trump was unequivocally awed, during the many times he saw him with members of the team he owned in the U.S. Football League, and sponsored prize fights.
"I think he had this kind of ambivalent relationship, where he wished he could have been an athlete like they were, and on the other hand, if he felt fear, he always felt aggression, and a need to put them down," Mr. Schwartz stated.
Take notice of who he responds to, said Michael D'Antonio, Mr. Trump's biographer, The Truth About Trump, also interviewed by Mr. Berman.
"I didn't see that he ever went after any of the White players who knelt in solidarity with their Black teammates," Mr. D'Antonio said.
On Nov. 20, Chris Cuomo, CNN anchor, took Mr. Ball to task in an over 20-minute interview for failing to properly thank President Trump, and questioned several times, why he hadn't, and asked him to do so. Mr. Ball said he would, if Mr. Trump had helped.
Dr. Muhammad found Mr. Cuomo's exchange with Mr. Ball interesting, because the news anchor and all of CNN "spend practically every minute critiquing and attacking Donald Trump, but they will close ranks with him in racial solidarity against a Black man."
He said Mr. Cuomo wanting LaVar Ball to bow down to Donald Trump is preserving or co-signing the White male dominance hierarchy. "But they want this Black man to bow down to Trump and offer him a thanks that is not clear that he really deserves. But as a Black man, 'you better bow down to this White man,'" Dr. Muhammad said. "CNN is as much a supporter of White supremacy as Fox News is, and that is an illustration of that."
Part of the problem is NFL owners' rebuff of Mr. Trump, dating back to the 1980s, according to Reggie Williams, a sports consultant based in Charlotte, N.C. "He sees himself, he's a billionaire, as are they, those owners, and it's a club that quite frankly, he loves to talk about. He's friends with certain owners, but it is a club he has not been able to gain admittance in," he said.
Most Division I colleges do not have players on the field during the anthem and there's no talk of boycotting them, observed Mr. Williams. It's about distraction politics and dog whistles to the Trump base, he added.
"Fair and equal treatment and justice. Freedom, justice and equality. Why do you have a problem with that?" he asked.
"As Minister Farrakhan pointedly expressed on Nov. 16 in his press conference and his message to Donald Trump, the president, along with the United States government and the people of America, he reminded us that this is a system and a society that is built on a doctrine of White supremacy," said Atty. Ava Muhammad, national spokesperson for Minister Farrakhan, student minister, author, and radio host.
"Donald Trump's comments regarding Marshawn Lynch just points once again to professional sports providing us with an excellent view of the doctrine of White supremacy and in modern times. We're able to see the structure of the plantation in that the NFL owners, of which Donald Trump is a type … wealthy White male in his 70s as are most of the NFL owners … and their view of Black people is the same as it was on the part of their forbearers in 1555 that we are inventory. We are commodities. We are sub-human animals that belong to them," Ava Muhammad stated.
She said it never occurred to Mr. Trump that the protests are against the treatment Blacks had and are receiving under the American flag.
"The country of Mexico did not kidnap us from the West Coast of Africa and brought us to their country in chains, and rape and murder us, and ultimately shoot us down, unarmed, in the streets, in the 21st century," Ava Muhammad argued.
"Marshawn Lynch, as a grown man, has the ability to discern what he wants to do and when and where he wants to do it, and that for us is the issue. That is why separation is the best and only solution, because the two people are so at odds in our thinking and our perception of reality," she added.
Draymond Green, a forward for the Golden State Warriors basketball team, suggested the NBA use the term chairman instead of owners. "To be owned by someone just sets a bad precedent to start. It sets the wrong tone. It gives one the wrong mindset," Mr. Green stated in an Instagram post, after Bob McNair, owner of the Houston Texans, said in October that the NFL can't have inmates running the prison.
Mark Cuban, owner of the Dallas Mavericks, called on Mr. Green to apologize to the NBA, saying equity is owned, not people.
"And so my reaction is not to the truth of what you're saying. My reaction is to the fact that it is you, and that's why (Mr. Cuban's) calling it disrespectful. It's not what Draymond Green is saying that is disrespectful. It is that a Black man is saying it," Ava Muhammad said.
What's going on with Mr. Trump and Black athletes is the same thing that's happening with the president and the American people in terms of the way he seems to disparage women and people of color, said David Squires, veteran writer and editor, and journalism lecturer at North Carolina A&T State University.
"We're not surprised and shocked, but we're certainly disappointed," Mr. Squires told The Final Call.
He feels players' associations, the NFL and NBA, are seeking solutions, and doesn't see revolution on the horizon yet.
"I think we've got to suffer through this along with the rest of the country and figure out how long it's going to play out, but African Americans could stand to exercise their right to protest and get respect for their spending power in areas other than sports," Mr. Squires stated.
Until Blacks can use protests in other forms, demonstrate unity and commitment to not being disrespected, things will not likely change, he said.
"This will only end in one of two ways: separation or death. There is no middle ground. We will not see the NFL owners having a come to the Black Jesus moment. We will not see police departments suddenly having a come to the Black Jesus moment. This will end either by separation or by continued death, disenfranchisement and indignity for Black people. There are no other options for this thing to end," stated Wesley Muhammad.