JABRIL.MUHAMMAD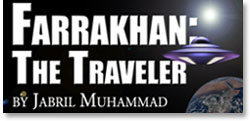 The Honorable Elijah Muhammad once said, "Some things must happen that other things may happen." He told me this in person. Often unpleasant things must occur in order for pleasant things to take place. Allah, however, in His Holy Qur'an, teaches "Surely with difficulty is ease; with difficulty is surely ease." Surah 94:5,6. These are spiritual laws that bear on everything in this article about the Sources of the moves of the Honorable Minister Louis Farrakhan–his Backers: God and His Christ.
Let's go back to the last meeting the Honorable Elijah Muhammad had with his ministers, prior to his departure, December 8, 1974.
Towards the end of that meeting, an official brought up some unpleasant information that was commented on, chiefly by the Honorable Elijah Muhammad. I won't go over all the details except to repeat these words by the Honorable Elijah Muhammad.
He said of the Honorable Minister Louis Farrakhan, "This is the best minister that I have had in 40 years of my work. And, I am warning all of the ministers, from this day forward, if any of you speak an evil word against this man, I will sit you down off your posts."
Was the Honorable Elijah Muhammad looking and referring to a time in the future, when he would be working, affecting, and participating with God and His angels, in the affairs of America and the world–including the little Nation of Islam, here in the United States of America–from a special place of power, at the right-hand side of God? Could he do such work physically dead?
Let's go further. The Honorable Elijah Muhammad had already made clear, in several ways and on several occasions, that God was elevating Minister Farrakhan for a special purpose and work. God had gifted him with a special measure of His divine qualities of head and heart. This was/is evident in his work on behalf of the Honorable Elijah Muhammad for the benefit of Black people, prior to 1975.
The divine vision of the Honorable Elijah Muhammad, for the future greatness of Black people, was not to be completed, or fulfilled, on his departure in February 1975. He knew that before he departed in 1975. He had to prepare Minister Farrakhan before he left, to do as he has done, which we have witnessed, since 1977. He did.
At the beginning of his mission the Honorable Elijah Muhammad sought the assistance of a special helper.
The Honorable Elijah Muhammad first looked (in the 1930's) for that person, from among his immediate family, by "blood." He looked for that man, who would be the fulfillment of the words in the 20th Surah of the Holy Qur'an. It reads that he would be given a special aider; a special helper; a special minister; as Moses was given in the person of Aaron.
He first thought that this person was his brother Wali, in the thirties. Later he thought that this helper was his Brother Charlie. However, although I can't say with 100 percent certainty just when he saw that his special helper was Minister Farrakhan, I have good reason for believing it was February 26, 1955.
That was the first day when he saw his special helper in person. It wasn't until 1968 when he began to tell Minister Farrakhan outright what his place was in relation to him, to God and in God's plan. Shortly, thereafter, he began to openly teach him of his value.
The Honorable Elijah Muhammad had a clear perception of who his Minister was when they first met, in a personal way, in 1957. He told his future national spokesman that he reminded him of David. He was telling Minister Farrakhan that he reminded him of himself; not as David was to Saul, but as Solomon was to David. This is pregnant with meaning; all of which spells good for Black people and all who desire freedom, justice and equality. It took time and suffering–among other factors–for Minister Farrakhan to clearly see this.
The Honorable Elijah Muhammad told Minister Farrakhan facts about himself, such as, he was the one he had been waiting on for 38 years (for the whole time of his work up to that time); that he wanted him to share his burden (as God made Aaron to do that for Moses); that he was more valuable to him than all of the riches on earth, for through him he would get all of his people; that through him (the Minister) he would reveal the new teachings … and more.
This is not to say that the Honorable Elijah Muhammad did not say many, let us say, good things of his other helpers. He did. But what he told them relates to their part and place in the Minister's mission, which is part of the overall mission of the Honorable Elijah Muhammad. Minister Farrakhan is an integral part of the mission God gave to his teacher.
Thus, it is impossible to claim acceptance of the Honorable Elijah Muhammad and reject the Minister who is so vital a part of his (the Honorable Elijah Muhammad) divine work; especially when the Minister is successfully carrying out major aspects of the will of the Honorable Elijah Muhammad.
The Honorable Elijah Muhammad chastened all of his helpers, from time to time, as needed. This was to correct and to impress on them what he wanted of them–for the benefit of others and for themselves. It was part of their preparation for their futures. Some misunderstood this. Some fell away. Others became opposers.
In connection with this, Hebrew 12:5-11 reads: "And ye have forgotten the exhortation which speaketh unto you as unto children? My son, despise not thou the chastening of the Lord, not faint when thou art rebuked of him: for whom the Lord loveth he chasteneth, and scourgeth every son whom he receiveth.
"If ye endure chastening, God dealeth with you as with sons; for what son is he whom the father chasteneth not? But if ye be without chastisement, whereof all are partakers, then are ye bastards, and not sons.
"Furthermore we have had fathers of our flesh which corrected us, and we gave them reverence: shall we not much rather be in subjection unto the Father of spirits, and live? For thy verily for a few days chastened us after their own pleasure; but he for our profit, that we might be partakers of his holiness."
"Now no chastening for the present seemeth to be joyous, but grievous: nevertheless afterward it yieldeth the peaceable fruit of righteousness unto them which are exercised thereby."
Chastening is unpleasant. However, if wisely done and done with divine motivation, it will yield that which is pleasant.
The public will soon come to know that the mind of the Honorable Elijah Muhammad towered so far above others so as to be more of a difference in quality rather than a difference in kind.
He was like a father to small children. His mind towered so far above all others; both in relation to those he met and those he never met. Even those who were considered giants by others, were in awe of the transcend, surpassing majesty of the wisdom of the Honorable Elijah Muhammad. We see this today in the Honorable Minister Louis Farrakhan.
More next issue, Allah willing.