By Charlene Muhammad CHARLENEM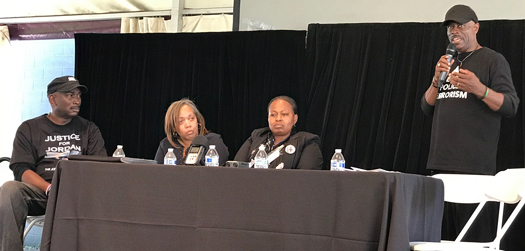 LOS ANGELES–Ending money bail, the real costs of mass incarceration and the emotional fallout of families whose loved ones were killed by police or vigilantes, were a few highlighted topics discussed at the 2017 Left Coast Forum. The three-day event, spearheaded by Dick and Sharon Price, publishers of the online L.A. Progressive news hub, held at Los Angeles Trade Technical College Nov. 3-5 was the first time organizers convened on the West Coast.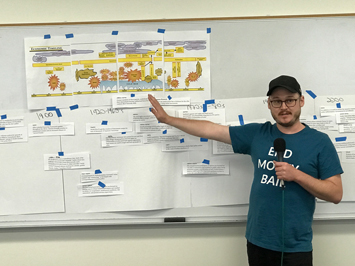 Progressive activists, scholars, organizers, and others, gathered to network and establish a foothold in L.A. One of their goals is an annual meeting to connect, learn from each other, grow, and work to dismantle flawed and faulty systems while developing more viable, healthy and humane ones.
A great place to beat back oppression within the criminal justice system is to end money bail, urged Charlie Fredrick, Jess Farris, and other advocates with the American Civil Liberties Union (ACLU) who presented at one of several workshops convened at the forum.
During their workshop, Mr. Fredrick, ACLU senior organizer presented a timeline of the history of policing and criminalization of Blacks and Latinos, and the use of prisons and bail within that system dating as far back as the 1800s.
Participants were given a history of slavery, slaves and families having to buy their freedom, and how that relates to vulnerable Americans currently having to buy their freedom from jails and prisons.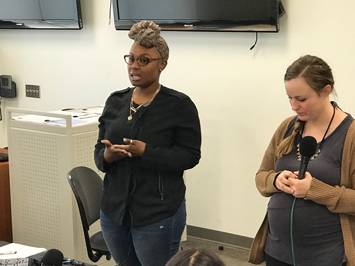 Across the country, around 450,000 people–approximately 70 percent of all people in jail–sit in jail though they remain innocent in the eyes of the law, according to statistics.
"It's so abusive, because being outside and not remaining incarcerated when you're trying to fight a criminal case is super important," said Amber Rose, an organizer with Californians United for a Responsible Budget. It increases the chances of lesser time or winning cases when able to check back into school or being around supportive family members, she said.
"Mario did 17 hard years. He did eight years, was 17 when he went in. A boy. Came out at 25," stated Gwendolyn Woods. She drew a link between her son Mario Woods' incarceration and his execution-style killing by San Francisco Police officers on December 2, 2015.
She said he was broken, and she could hardly put him back together, but they were doing it and he got his driver's license, jobs, and was on his way.
"I would say, 'Mar,' you're gonna fail, but we're gonna get through it,' but he came home broken, and that's the system," Ms. Woods lamented just before the opening of the panel themed, "Families United 4 Justice Movement: Building in Era of Trumpism."
Ms. Woods said she educated herself while her son was in prison and asked the audience to boycott industries that invest in prisons. "It (prison) keeps us as slaves. It kept my baby as a slave," Ms. Woods stated.
In addition to Ms. Woods, mothers Dionne Smith, Denise Friday Hall, Theresa Smith, and father Ron Davis, whose children were slain in police and vigilante violence, told participants the heart wrenching stories that catapulted them into the movement against police brutality.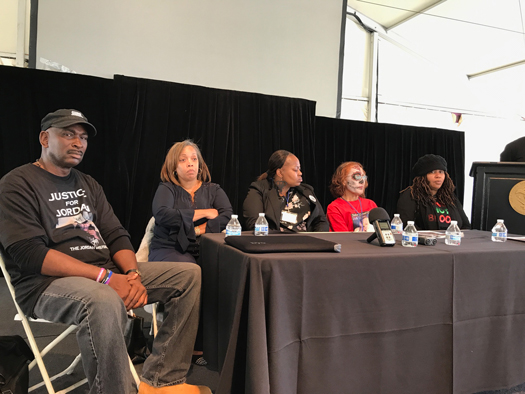 The panel was facilitated by Cephus "Uncle Bobby" X Johnson and his wife, Beatrice X, co-founders of the Love Not Blood Campaign. Mr. Johnson's nephew, Oscar Grant, III., was shot by a Bay Area Transit Police officer on New Year's morning 2009 at the Fruitvale Station in Oakland, Calif. The former officer, Johannes Mehserle, was the first cop convicted in California for killing someone in the line of duty."This struggle, we have to be clear, is not even about us today. I have grandbabies in this room. It's about their future, and what is it we're willing to do to make it right for them," said Mr. Johnson.
Panelists, including Cheryl Dorsey, mother of four, author, and retired LAPD Sargent, talked about enduring a reality where the norm is it's unlikely a police officer will face charges for unjustly ending the lives of Black or Brown people. They shared how their families are forced to band together under a common pain.
Stockton Police Officer David Wells killed 30-year-old Colby Friday on August 16 last year. A federal wrongful death law has been filed on behalf of Mr. Friday's daughters.
In 2015, the City of Anaheim settled a wrongful death suit for $175,000 by the family of Caesar Cruz, killed by Anaheim Police. Theresa Smith, his mother, scoffed at the settlement, saying no amount is worth a human life, and the settlement nonetheless provides little for her grandchildren.
Mr. Davis said like his son Jordan, in the era of Trumpism, society will likely witness more citizens shooting and killing children, not just police. Michael Dunn was convicted of shooting the 17-year-old over loud music in Jacksonville, Fla. He was sentenced to life without parole.
"He lived not more than two hours from George Zimmerman (Trayvon Martin's killer), do you understand that? … and the laws agree with them," Mr. Davis said.
"We were one of the only families that you'll hear about, and especially in the south, to get full justice in the court system where Michael Dunn, we got him on 1st degree murder, life imprisonment, with no chance of parole!"
On July 22, 2010, the day before his 17th birthday, Stockton Police and one San Joaquin County Deputy Sheriff killed James Rivera, Jr., Dionne Smith's son, in a hail of 48 rounds.
As she cried and examined the golf-ball size bullet hole in his forehead and other injuries, she said she knew she had to fight the system.
"I went to my first city hall. Didn't know what to do. I didn't even know I had a voice. It took me two years to be able to stand and tell people 'No justice. No peace,' for my son, and so I've been fighting for justice for all the families in Stockton that have been shot and murdered after James," she said, sobbing uncontrollably at times.
"Our failure to hear these families and their struggle in seeking justice for their loved ones, and their loved ones' children that have been left behind, must be heard by us. We must emotionally connect," said Mr. Johnson.