, Eric Ture Muhammad and Brenda Muhammad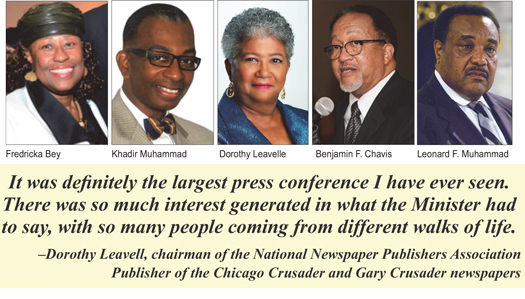 WASHINGTON (Watergate Hotel)–When the Honorable Minister Louis Farrakhan delivered a final warning to United States President Donald J. Trump and the U.S. government, he squarely put on the table separation as the best and only solution to America's race problem. And he cautioned the government against continued evil planning against Black people, Black youth and the Nation of Islam.
Listeners responded well to his message Nov. 16 at a press conference, confident of his leadership, not happy about presidential evils and ready to consider alternatives to mainstream solutions.
The Minister called for eight states or territory where Blacks can build their own reality clear of the destructive hand of Whites, who face divine destruction if they refuse to let Black people go fully free, said Min. Farrakhan.
"I've been a follower of the Minister for more than 20 years and he has always been timely, truthful and in step with the times in which we live," said Rev. Charlette Manning, vice president of the District of Columbia branch of the NAACP.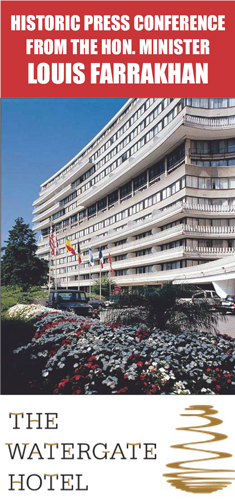 "His warning to Donald Trump is one of purging. And, I agree with Min. Farrakhan, that it is the goal of the government to kill Black people in general and Black men and youth in particular. Either they are undercover KKK dressed as police officers across America, or they are putting chemicals in their foods; or are of those who openly express hate. They continue to target our sons, while at the same time, they attempt to destroy our Black organizations following the agenda of systematic racism," the civil rights activist continued.
"My 38-year-old son cried while listening to Minster Farrakhan, who for over 40 years wanted this government to set our people free. Unlike other Black organizations, he has never deviated or wavered," she noted. She expressed her belief in the Minister's well documented experience in September of 1985, that reunited him with his teacher, the Most Honorable Elijah Muhammad as the Messenger of Allah revealed to him the plans of a U.S. president and his Joints Chiefs of Staff to plan a war that would ultimately lead to the end of America as it is known. The Minister also squarely laid out to the world that the Christ Messiah that the whole world has been looking for is in fact, the Most Honorable Elijah Muhammad.
"It was definitely the largest press conference I have ever seen. There was so much interest generated in what the Minister had to say, with so many people coming from different walks of life," said Dorothy Leavell, chairman of the National Newspaper Publishers Association and publisher of the Chicago Crusader and Gary Crusader newspapers. The Moretti Ballroom at the Watergate Hotel was filled to its 500-seat capacity. In the room were international and national news outlets, the Black Press, progressive, online and independent media makers, including students from Ballou High School in the District of Columbia, who brought two cameras to cover the historic event.
"His message as always, very prophetic, but different this time. He's fed up and for him to put it all out here like this, knowing what they want to do to him leaves me a little concerned for him," she admitted.
The Minister's message to the world reminded her of the last messages imparted by Dr. Martin Luther King, Jr. before his assassination.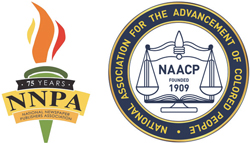 "It's paramount that Mr. Trump hears from our community and from our only voice," D.C. native Elliot Rodgers told The Final Call. Mr. Rodgers a public relations firm owner, said, "Minister Farrakhan is our only voice that has substance and significance. I canceled all that I had to do to be here. There is no other leader that would stand up and take the chance on saying anything. Everybody is hogtied and limited in what they can say. They are owned by sponsors. They are owned by contributors. Their hands are tied to the enemy's pockets. They are lame ducks, like mannequins in a window. They look good, but they can't perform. He (Min. Farrakhan) is our last chance. I love him, I'd walk with him and I'd walk through fire for him."
"The Minister clearly is a spokesperson for a huge number of (political leaders') constituents nationwide," observed Leonard F. Muhammad, a top aide to Min. Farrakhan. "And those constituents, I believe, are prepared to follow the Minster's lead politically now as they follow other suggestions, or even directives from Minister Louis Farrakhan. I think that it would be wise for the politicians, our Black politicians, in particular, to get more in touch with what is being said by Min. Farrakhan. He is representing now the will of the people and if they are on the wrong side of that will, many of them will be voted out of office," he said.
"The address by the Honorable Minister Louis Farrakhan was delivered in an outstanding manner, that reaffirmed the teachings of the Most Hon. Elijah Muhammad with respect to Black America's necessity for less dependency, self-sufficiency and self-respect," said NNPA Executive Director Benjamin F. Chavis, Jr. He also co-chaired the momentous 1995 Million Man March and Million Family March and Millions More Movement gatherings that followed. "The message is good news for Black America, for it says we will no longer be bridled by the ongoing manifestations of White supremacy and bad news for all who continuously seek out our oppression," Rev. Chavis said. "He warned Trump, but he also opened a door for President Trump to repent and stand against the forces of evil."
"This is the period at the end of the sentence," noted Nation of Islam Mid-Atlantic regional representative Abdul Khadir Muhammad, who is based in Washington, D.C. "When there are commas to the previous statement, it's just a build up to the last and final statement that has to be said and done. That statement was delivered Nov. 16, 2017," he said. "The Honorable Minister Louis Farrakhan is an awesome man of God and we must all stand with him in this hour."
"The eight states of separation," mused Ms. Leavell, "with America's mindset I don't know how it will be accomplished. But, the Minister would not put it out there if it had not thoroughly been thought out by him, already. This man brought out millions of Black men to a mall in 1995 and nobody saw that coming," she chuckled.
"If anyone can get it done, it would be the Honorable Minister Farrakhan. And as chairman of the National Newspaper Publishers Association, of which The Final Call is a member and one that we are very proud to have, we look forward to further collaboration with Min. Farrakhan and the Nation of Islam to take the next steps in accomplishing everything he has set out to do. So that all of our lives can be better," closed Ms. Leavall.
"His mission is to warn Donald Trump and the government about their evil intentions that have been against Black people since they were kidnapped and brought here and for some reason, they absolutely hate Black men and youth," commented Nathaniel Morgan of Ntertainment Masters, in Washington, D.C. "There have been various attempts by the government to either kill, incarcerate or destroy our Black people and Black institutions and now they are targeting our women. For them it is cultural, and they don't care who knows it. I took his (Min. Farrakhan's) speech and sent it to 25 Black men. It's global, systematic racism and it doesn't matter what president is in office, it is always the same."
Like many others not physically in the room, the press conference was available via internet for some students on the 20-year-old campus of the Carter G. Woodson Charter School in Winston Salem, N.C. It's home to nearly 500 young male students. Students in an eighth grade American History class viewed the press conference webcast. "Number 1, I wanted to view the message myself," explained high school and middle school social studies teacher Christopher M. Taylor to The Final Call. "Secondly, it was relevant to the studies. When we talk about eighth grade social studies there is American history and in his opening the Minister addressed a lot of history."
Steven Evans, 13, recalled how the Minister explained that President Trump "lies a lot." He was fascinated with the Minister's being taken up on the Wheel. Through the Minister's presentation, Edgar Rojas and Kyree McKee, both 13, learned enemies hid the history of Black people and rewrote it. While Jenteze Myers, 13, found fascination around the notion that Black people brought into America via slavery were not originally Christians. He was also struck by and recorded the Minister's comments concerning wars and a covert domestic war on Black youth in America.
Many attendees at the press conference were struck by its location, the Watergate Hotel. From here a break-in into the offices of the Democratic Party by Republican operatives brought the country to a constitutional crisis. It reached all the way to the White House and forced President Richard M. Nixon to resign. There is also a loud cry for the impeachment of President Trump going on now.
"The Watergate Hotel became symbolic of the corruption and lies rooted in American politics," observed Leonard F. Muhammad. "From that time until this time as the Minister pointed out, America is continually made up of political parties of lies; political leaders that lie and I think that to go back there, to actually cause people to reflect on that, was a good thing. But more importantly, when you are trying to make a correction, sometimes it's good to point out what is wrong in a symbolic location like that. I certainly enjoyed being there and enjoyed what the Minister had to say," he said.
"I went to the second floor and took a picture of the door to the infamous scandal room," said Mother Fredrica Bey, executive director of Women in Support of the Million Man March (WISOMMM). "We are in the house that symbolizes a failed presidency. How amazing is that? That he, Min. Farrakhan, had the heart to come here and bring out the hypocrisy of all of these presidents and people of government and he laid it out," she said.
Al-Malik Farrakhan, executive director of Cease Fire Don't Smoke the Brothers and Sisters, an anti-violence group in Washington, was deeply touched. "Man, I am overwhelmed with what Minister Farrakhan had to say," he admitted. "My heart bleeds when he says they are going to assassinate him. It's not going to happen. It would set the whole world on fire."