and Charlene Muhammad


CHICAGO–The crowd at Mosque Maryam, headquarters of the Nation of Islam, buzzed with anticipation Oct. 15 as they awaited the appearance of the Honorable Minister Louis Farrakhan's Holy Day of Atonement message viewed nationwide via webcast from Newark, N.J.
Sitting in seats hundreds of miles away, the crowd here felt the electricity of the event as they exploded in applause to the words of Student Minister Abdul Haqq Muhammad of Muhammad Mosque No. 25 in Newark, who described the Minister's passion to see his people free.
Antario Miller, a 20-year-old college student from Mississippi was visiting Mosque Maryam for the first time. Mr. Miller, a student at Olive Harvey Community College, said his father is "big on Minister Farrakhan" and often reads the "First Call" newspaper, referring to The Final Call. He came to the event to feel the energy he gets from the Minister's "knowledge and insight."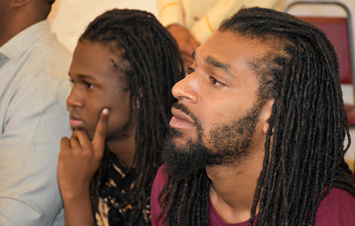 "It's always good to obtain knowledge," he said. "I try to come to any situation with an open mind. I imagine the Minister will have a blueprint on how our community can come together as a whole."
Ladonn Smith, 29, of Chicago came with three of his friends. It was the first time for each of them to visit Mosque Maryam. He said he had watched videos of the Minister on YouTube but had never seen him in person.
"Minister Farrakhan keeps it real. He's not trying to tell people what they want to hear, he says what they need to hear. I want to hear what's going on," he said.
His friend Lydell Johnson, 29, agreed. "The Minister talks about how we can come together to change things by putting our money together and buying stuff like farmland. I've always had respect for the Nation," he said.
Going into the mosque, Linda Perez, an entrepreneur in Chicago, said she was always curious about the Nation of Islam but became comfortable with visiting only after attending an event at the mosque sponsored by one of her friends.
"It broke my fear," she said. "I just didn't have the courage."
This being her fourth visit, she said, "I was always curious about the Nation of Islam and I'm trying to learn more. I know we've been programmed about everything from other cultures.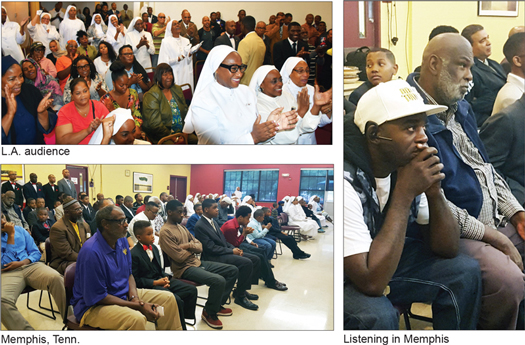 "This is more of a self-awakening. It's what I've been yearning for," she said.Commenting about the Minister's speech after the event, particularly about Jesus being a Black man, Ms. Perez said, ""When you see a different Jesus, it's like 'wow.' My family was Catholic so I always saw the White Jesus. It's hard to conceive a different kind of Jesus but I can go with that.
"I came away knowing that we need to know who we are and to fulfill our own purpose, not the purpose of others," she said.
Mishea Robinson of Chicago was experiencing her second visit to Mosque Maryam. "I enjoyed it the first time I came so I decided to come back. I don't have any doubt about what Minister Farrakhan said. It's absolutely true, although I sometimes might not support his approach so much, but it is what it is," she said.
"The Minister thinks the same way that anybody who was taught manners feels. We don't like what these White people have been doing for forever and it is definitely time for it to stop," she said.
When Minister Farrakhan taught on Jesus, Juan Williamson, 20, of Chicago, reflected on how his grandmother used to bring him to church. Hearing that Jesus is a Black man was "definitely a different and great feeling. It felt empowering to me as a Black man," he said.
"As the Minister talked about the injustices to us, I became angry about what has been happening to our people. I definitely want to learn more," he said.
Aaron Burden, 32, who just started processing to become an F.O.I., said he agreed with the Minister, that unless Blacks and Whites separate, there will be no peace.
"I was seeking the truth, that's why I came to the Nation," he said. "White people are not going to tell us the truth. Until we separate, we're going to have trouble.
"At some point, we have to identify with the progress we've already made. We have lots of money. We need to pool our resources. We need ownership," he said. Mr. Burden said he was impressed by the unity of the men in the audience.
"When I stood up to applaud and I saw all the brothers standing around me, I knew we all had a common understanding, that we were in agreement," he said.
Wanakee Howard, a retired veteran from Chicago, said whenever she hears Minister Farrakhan talk, she seeks to find "alignment within herself." She realizes separation is the only solution to bring peace but is unsure how it will happen.
Ms. Howard said that 20 years ago she would have discarded the Minister's talk of his vision-like experience on The Wheel (UFOs), but now "I can relate to it though it's still kinda foggy for me. But I know I can't throw it out."
Message resonates out West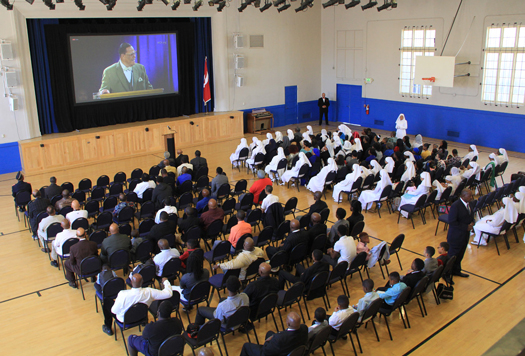 Thousands of miles away on the West Coast, guests and followers of Min. Farrakhan filed into the Western Region Headquarters in Los Angeles for the beloved universal teacher, guide, and warner's lecture, entitled "Separation or Death."Daude Sherrils, a long-time gang interventionist out of Watts said everyone, including Pres. Donald Trump and his administration should take heed to Min. Farrakhan's message.
"It's a message of truth, and it represents history … more of from a spiritual point of view," Mr. Sherrils said.
"I was one of those brothers that spoke at the 1995 Million Man March, and at this present date as Min. Farrakhan is out there in 'New-Ark,' N.J. with Mayor Ras Baraka, my brother Aqeela Sherrils (and they) are working on a lot of things to create peace and unity in that area, so his message resonated with us from back then to 30 years later to right now today," the activist stated. "New-Ark" is an affectionate name the largest city in the state is sometimes called.
Muslims and guests, like Walter Hoskin from South Bend, Indiana, intently absorbed Min. Farrakhan's address at the Antelope Valley Study Group, about 70 miles north of L.A.
"I really liked his message today. It was kind of different than what I'm normally used to hearing, and I like the fact that he brought up Nobel Drew Ali, because that's more of the science that I was used to, so, it was just good the way it had the message tied in, like how we really all is one, really," Mr. Hoskins said.
"It's really like separation and death, and we really need to focus on more about how this separation thing is going in life, like with uplifting our brothers and our sisters," he said.
This was Taif Harris' second time visiting the study group. He found the Antelope Valley meeting place when he saw coordinator Ansar Muhammad's name in a recent newspaper article as he was doing research, he told The Final Call.
"Unbelievable! Everything. The ark, most of all," Mr. Harris said. "When he talked about Noah and the ark and everybody laughing at him when he said separate .… It's time to separate," he stated.
"Hopefully, the government's finally paying attention to the Nation and Farrakhan and Elijah Muhammad. Stop acting like he's playing. They're playing. Take him, take us, seriously."
The atmosphere inside Muhammad Mosque No. 98 in Rialto, approximately 65 miles northeast of L.A., was energized by the sounds of audience members bearing strong witness to what Min. Farrakhan was saying. People listened with anticipation to his timely words of warning and guidance, which they can always expect to be delivered from the beloved man of God.
Porscha Dillard, a returning guest, said what she appreciates most about Min. Farrakhan is that he is a very knowledgeable man, who makes sure that he checks his facts, such as how he enlightened her about the flag code, the horizontal flag, and how that's disrespectful, she said.
"A lot of us are not as politically knowledgeable or smart, and a lot of it goes with the jargon and words, and that's what distracts us so I appreciate that he's able to bring it and make it easy for us to understand," added Ms. Dillard.
The energy in Muhammad Mosque No. 75 in Las Vegas, Nevada, was as it was worldwide, at its apex in anticipation of Min. Farrakhan's presence. Some guests shared the way he explained Jesus resonated greatly with them.
"This was life-changing," emphasized a 22-year-old guest. "I've been looking for something to clench on to, and I think I've found it." All Praise is due to Allah for the Hon. Min. Louis Farrakhan, he added.
Lamar Piggee of Phi Beta Sigma fraternity at Arizona State University, tuned into Min. Farrakhan's iconic speech from his home in Phoenix. "I look at it as, I'm always trying to find out what solutions can we bring to help our people in general and really who better to hear from than the people out here actually creating the solutions," he said.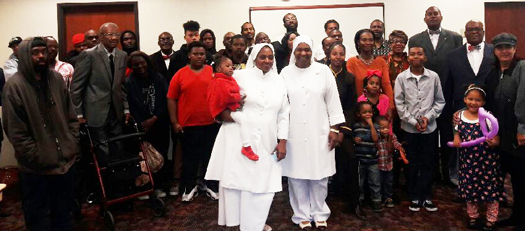 He said he may not always agree with everything Min. Farrakhan says but finds him very powerful as far as who's being innovative, pressing the limits, and creating a detailed structure of requests he wants from the government for Black people.
Impact in the South
The message also resonated in the South. The 22nd commemoration of the Million Man March and Holy Day of Atonement and Reconciliation was celebrated in Columbia, S.C., with a "Family Fun Day" and a job fair on October 14 that offered immediate employment and business opportunities for participants.
Friends, families and members of Muhammad Mosque No. 38 enjoyed a day of food, laughter and camaraderie as part of the weekend of activities that culminated with a viewing of the critical message the following day in the gymnasium of Columbia High School.
The Nation of Islam's Southern Region headquarters at Muhammad Mosque No. 15 in Atlanta was filled with enthusiastic guests, visitors and Muslims. The message was interrupted several times with technical issues but the Minister's message still received thunderous applause and standing ovations from the audience
"The Minister's message gives you a lot to think on. We got to do what he said, like the things people keep doing in life. We need to separate from this, because if we keep doing what we doing, it could lead to death" said Ray Mathis who viewed the message from Atlanta.
Guests and Believers came to Muhammad Mosque No. 93 in Macon, Ga. to hear and view the critical message.
Leroy Mitchell from Byron, Ga. said he likes that the Minister will deal with President Trump. He also reiterated the Minister's call to watch the weather, saying the Minister has been issuing that warning for a long time.
Leading up to the Holy Day of Atonement in Memphis, members of Muhammad Mosque No. 55 participated in a special Believers meeting, in which Student Minister Anthony Muhammad, Mid-South Representative, shared the original letter from Min. Farrakhan that served as preparation for the historic 1995 Million Man March, providing rich information on the purpose for Atonement, Reconciliation and Responsibility.
The weekend's events included a family day skating outing, and a joint F.O.I. / M.G.T. community push to invite people to attend the webcast viewing.
Despite a heavy Sunday, Oct. 15 morning downpour of rain, a capacity crowd of close to 300 people flocked to the Orange Mound Community Center in Memphis to hear the Minister's message.
The Orange Mound neighborhood was a particularly fitting location for a community viewing, as it was one of the first communities in America to be built by and for Black people and was the second largest settled Black community, second only to Harlem, N.Y.
In addition to the Memphis location, a viewing was held at the satellite Southaven Study Group in Southaven, Miss., which was also filled to capacity.
Melissa Hammond shared with The Final Call that she came out to receive knowledge and an understanding of what is going on today. Ms. Hammond's takeaway from the message was, "to get yourself right and to help others." While visiting the Muhammad's Economic Blueprint information table, Ms. Hammond shared that she and her mother owned land and she was looking for information on use for the land and interested in the economic program established by the Most Honorable Elijah Muhammad and reintroduced by the Minister.
Student Minister Malik Muhammad and members of the Waxahachie Study Group in Waxahachie, Texas, and members of Mosque No. 64 in Austin, Texas, united to promote the 22nd anniversary of the Million Man March.
It was a wonderful display of brotherhood as people in the Waxahachie community received invitations from the F.O.I. to hear Min. Farrakhan speak live via webcast. Nearly 50 guests showed up to hear the message and left feeling extremely uplifted and motivated.
It was the first time some ever heard him speak. But for one guest, he became overcome with emotion. "Upon seeing the Honorable Minister Louis Farrakhan for the first time, for 15 minutes only, I was overwhelmed with joyful tears," said a guest named Kendrell.
His grandmother told him that she knew the Minister to be a great man. "He's much, much, more than that," he responded.
(J.A. Salaam reported from Atlanta; Brian Muhammad from Columbia, S.C.; Anisah Muhammad from Macon, Ga.; Donna Muhammad from Memphis; Akeila Muhammad and Angelita Muhammad from Los Angeles; Darrielle Muhammad from Rialto, Calif.; Jameelah Muhammad from Antelope Valley, Calif; Gregory 2X from Las Vegas and Hannibal Muhammad from Phoenix. Rhodesia Muhammad also contributed to this report.)