By Charlene Muhammad CHARLENEM

Twenty years after convening the Million Woman March on October 25, 1997 to tackle problems affecting Black women in America, founder Phile' Chionesu and co-organizers will return to Philadelphia to commemorate the national protest march under the theme "Raising Up the Mother of Civilization" later this month.
Activities are scheduled to begin with a citywide series of workshops, town hall meetings, open forums, films, and artist showcases from Oct. 23-27. The Million Woman March 20th Anniversary Reunion closes the week on Oct. 29.
The 1997 Million Woman March, which featured scheduled hours of prayer and various speeches, called for repentance for the pain of Black women caused by one another, and the restoration and resurrection of the Black family and community bonds. It followed the highly successful Million Man March in 1995.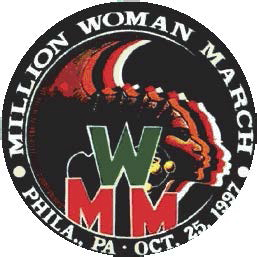 Among the dignitaries and speakers were Winnie Madikizela-Mandela, anti-apartheid leader and former wife of Nelson Mandela; First Lady of the Nation of Islam Mother Khadijah Farrakhan; Mother Tynnetta Muhammad, scholar and wife of the Hon. Elijah Muhammad; Attorney and Nation of Islam Minister Ava Muhammad, Rep. Maxine Waters (D-Calif.); Sistah Souljah, rapper, activist and author; actress Jada Pinkett Smith; Attallah and Ilyasah Shabazz, daughters of Malcolm X; and Dr. Dorothy Height, president emeritus of the National Council of Negro Women. Revolutionary Assata Shakur delivered a message from her exile home in Cuba.
This year, the Million Woman March will launch its first annual international gathering and campaign to unify Black women throughout the Diaspora. Through "African American's Solidarity & Appreciation Day," the aim is to implement action against violence and abuses of females of African descent, regardless of nationality, social status, age and religion, said march organizers.
Ms. Chionesu told The Final Call she was inspired as a new student in the movement, after the 1960s student movement, by her ancestors, continued Black suffering, and Black leaders, movements, and gatherings that were paving the way to make change.
"Then, of course, crack cocaine. I know, I saw the effect that it had on the women. It devastated all of our communities, needless to say. But the women, that was a totally different reality, and needless to say, what affect did that have on the children?" Ms. Chionesu asked.
She wanted to be a part, but by the time she got there, the student movement had dissipated, she said. Twenty years up from the first march, she shared that the struggle has been real, but so has the inspiration.
"After the Million Man March, I saw that was so beautiful, so incredible. I literally called Chicago a few days afterwards, and asked, I just want to be involved with the Million Woman March," she said with glee.
The Million Woman March was to deal with the absence of Black women on a global level and from a holistic perspective, she stated. Without benefactors, corporate sponsors, she said she nearly emptied out her bank account to start the Million Woman March, right after the unprecedented 1995 Million Man March, convened by the Honorable Minister Louis Farrakhan in Washington, D.C.
"People don't know that! I came home, 1995," she said.
While vending at the Million Man March, she sent her sons to join the men. "I saw it! I know what was going on! I felt it! I came right back home and said, okay, I'm ready," Ms. Chionesu stated. So moved by the historic, majestic gathering, she began making calls within a week.
Fast-forward to 2017, through great pain and sacrifice, the Million Woman March has been consistent and steadfast, despite blatant, disrespectful efforts to co-opt it, she said.
During the anniversary march organizers will install 20 sister saints, among them, Mother Clara Muhammad, the beloved wife of the Honorable Elijah Muhammad.
On Oct. 25, "A Million Black Women in White to End ALL forms of Gender Related Violence and Abuse," is scheduled. On Oct. 2, a Declaration of Violations Rally at 5th and Market Streets in Philadelphia will be made, and the march's "We Charge Genocide" movement against sex trafficking and other violence will be launched.
Organizers plan to collect and bring one million signatures in support of the charge to the United Nations by 2020.
"The escalation of violence involving our women and girls is not like before. See, before we would get hit, beaten, or whatever. That's happening, but this stuff has gone in a totally different direction," Ms. Chionesu said.
She noted one young woman was brutally murdered, and then the house set afire by her killer.
A three-year campaign will document atrocities and collect data to be used to stop violence against Black women. Organizers wrap up the campaign at the African Union's Decade for the African Women at its 2020 summit, according to the activist.
They will also receive reports from women the Million Women March has helped, such as one who had just been released from prison the year of the first march. She met Ms. Chionesu some years later and shared how the event changed her life. She'd graduated from college and gone into business. Others with diseases like cancer said the Million Woman March gave them hope and the tenacity to fight.
"This is why when I hear people say, 'I don't want to go to another march,' well guess what, nobody asked you to, like that. Because we know that most of us who are involved in some kind of very proactive stuff, we went to some marches or something," Ms. Chionesu said. "That's part of your training. That's part of your introduction to struggle, so even though someone else reached a point where, 'I don't wanna do that no mo,' well, you have a whole bunch of other folks who need that experience, who's never seen or felt anything like that."