By Charlene Muhammad CHARLENEM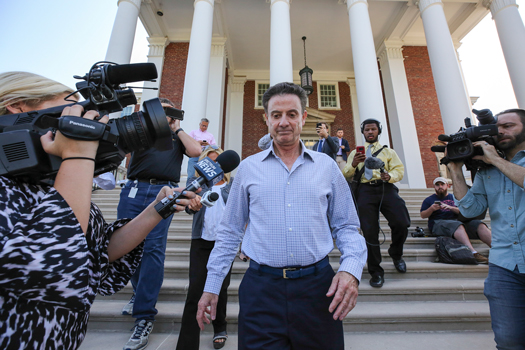 A federal bribery investigation has re-opened an ugly door on major sports payoffs and the exploitation of young athletes.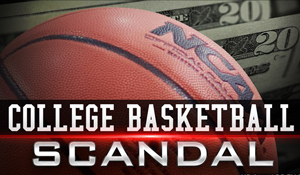 Four Division I National Collegiate Athletic Association (NCAA) basketball coaches, three athletic advisors, an Adidas company executive and two affiliates were arrested September 26 in connection with two related fraud and corruption schemes.
According to the Department of Justice, 10 men were charged with various counts of wire fraud, bribery, travel act, and conspiracy offenses, and face from 80 to 200 years in prison.
The charges, stemming from an investigation which began in 2015, paint an ugly picture of college basketball, said Joon Kim, acting Manhattan U.S. Attorney for the Southern District of New York, during a press conference.
Federal authorities allege coaches Chuck Person (Auburn assistant), Lamont Evans (former University of South Carolina and current Oklahoma State University assistant), Emanuel Richardson (Arizona assistant) and Anthony Bland (University of Southern California assistant), took cash bribes from athlete advisors Christian Dawkins, Munish Sood, and Rashan Michel, in exchange for using their influence over college players to pressure and direct the athletes and their families to hire those advisors.
The coaches allegedly paying money to sway students to attend certain schools sponsored by Adidas and hiring the athletic financial advisors when the players make it to the NBA is not what broke federal laws, some argued.
But it was how they reportedly went about it that did, noted federal prosecutors. They used federal resources and crossed state lines, according to the federal complaints. They allegedly tried to conceal the illegal payments and made or intended to make false representations to the relevant universities regarding the involvement of student athletes and coaches in the schemes, in violation of NCAA rules.
"This thing has been so bad for so long, the only wonder that I have is what took 'em so long to get to the point that they began to file charges," said Dr. Harry Edwards, professor emeritus of Sociology at the University of California at Berkeley.
Allegations include, according to the complaints:
-Mr. Person, took approximately $91,500 in bribe payments initially arranged by Mr. Michel over 10 months and gave $18,500 of the bribe money he received to the families of two student athletes.
-Mr. Richardson took $20,000 in bribes from Mr. Dawkins, Mr. Sood and two undercover agents.
-Mr. Dawkins and Mr. Sood facilitated the payment of at least $13,000 in bribes to Mr. Bland and the athletic advisors facilitated the payment of an additional $9,000 directly to families of two student athletes.
-Mr. Evans solicited at least $22,000 from Mr. Sood.
Additionally, James Gatto, an Adidas executive and Merl Code, an affiliate of the company and its high school and college basketball programs, allegedly conspired to pay high-school basketball players or their families for commitments to attend and play for an Adidas-sponsored university, and to sign with Adidas after making the NBA.
Mr. Gatto, Code, Dawkins and Augustine agreed to make payments of as much as $150,000 from Adidas to another high school basketball player for the same commitment, said federal authorities.
In addition, Mr. Gatto, Code, Dawkins and Sood funneled $100,000 from Adidas to the family of a high school basketball player in exchange for a commitment to play at a university whose athletic programs are sponsored by the company.
Adidas is not charged or named in the lawsuits, nor are any universities.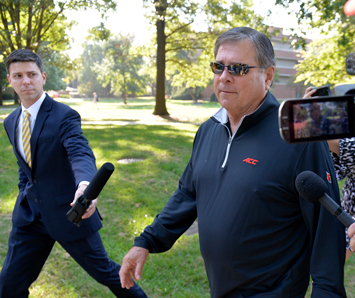 "To not deal with the shoe industry, Nike, Adidas, Under Armour, executives, college presidents, and the top head coaches is hypocrisy. If you're gonna stamp out corruption in a post office, you can't start with the mail man, because he's just delivering the mail. You gotta start at the top," stated Marcus Muhammad, Nation of Islam student minister, mayor of Benton Harbor, Michigan, and former guard for the DePaul University Basketball Team.
He said the NCAA better stands for the 'National Corruption Athletic Association,' because it has corrupted college basketball 100 percent. "The unfortunate situation in this whole scenario is that they have gone after the runners to prosecute them, and are leaving the bosses to go free, because the corruption starts at the top," he stated.
Mayor Muhammad said that the Honorable Minister Louis Farrakhan warned Black coaches in a message years ago about the undue influence and wicked forces that want to exploit what he called 'Black gold,' which is Black talent.
He warned that as other countries put forth products to make their nations rich, Blacks' product is their talent, and big business seeks to find, mine, and exploit that talent for their own gain.
"As a coach, you have today, an enormous responsibility. You are father, where there is no father. You are counselor, where there is no counselor. You are doctor. You are lawyer. You are defender. You are nurturer. You are cultivator," stated Min. Farrakhan in that address.
Min. Farrakhan said every coach wants a good athlete, because his name becomes greater as he produces more and more talented athletes, but coaches must never subordinate the real value of their athletes by only being concerned with their physical prowess and leaving their intellectual, moral, and spiritual side uncultivated and under-developed, he admonished.
"If you do that, then you are no better than others who exploit their talent for your vain purpose," stated the Minister.
Over the years, some, like the Fab Five, have tried to force a change. Chris Webber, Juwan Howard, Jalen Rose, Jimmy King and Ray Jackson, the freshman starting lineup for the Michigan Wolverines, protested the NCAA after finding their jerseys being sold for hundreds, while they could barely buy sandwiches on campus, noted Mayor Muhammad.
The problem has reached a zenith, because Black coaches failed to heed Min. Farrakhan's warning 22 years ago, he stated.
Banking on ballers
The NCAA's principles for the conduct of intercollegiate athletics state that student athletes should be amateurs and "protected from exploitation by professional and commercial enterprises."
It boasts of creating pathways to opportunities for college athletes at its more than 1,100 members schools by prioritizing academics, well-being and fairness.
According to NCAA, most of its revenue (81 percent projected for 2012-13, its last audited accounting per its website) came from media rights, mostly from a $10.8 billion, 14-year agreement with CBS Sports and Turner Broadcasting for rights to the Division I Men's Basketball Championship. Most of the remaining revenue came from NCAA championships, primarily ticket sales.
"You're the only one that's producing anything. You're the one that's on the field taking the hits. You're the one that's on the field drawing the television attention and all the revenue, and after that game you can't afford to take your date out and have a dinner, because you don't have the money and it's against NCAA rules for anybody to give you a dinner," Dr. Edwards argued.
The NCAA is operating a modern-day version of the fugitive slave laws, which once outlawed reading for Blacks, accused Dr. Boyce Watkins, author, academic, and Black economic empowerment advocate.
"It's White supremacy 101 … Basically, they've legalized White money and they've made Black money illegal. There's nothing logical about the way this 'trumped-up' concept amateurism even works," Dr. Watkins told The Final Call.
He added, "What you've basically done is you put the athletes and their families in special category where you've now made it a federal crime for them to receive compensation for their labor, but I've never seen a person who's ever watched a basketball game in order to watch the coach."
It'd be one thing if everybody was making money or volunteering their time, but one group is profiting from restriction of labor rights of another, and the people that end up on the short end of that stick tend to be Black, he continued.
"It is interesting that it was those four Black faces … the four that they've initially put out there, especially given the socio-political back drop in which all of this is going on–the so-called post-Obama era and what we have going on in government now, I think really puts an interesting twist on it when you talk about the timing of it," said Dr. John Singer, associate professor in the Division of Sport Management within the Department of Health and Kinesiology at Texas A&M University in College Station.
Dr. Edwards feels it's just a matter of time before the young athletes take matters into their own hands.
"Even Rip Van Wrinkle eventually woke up, and that's what we're looking at here! … "They've just moved them from the cotton fields to the football fields, but the essential relationship–a plantation relationship–is the same, and eventually these young athletes are going to wake up and say one day, when it's time to take the field for a championship game … 'Yeah. We'll take the field, when somebody comes in here and talks to us about the money," he said.
"You watch Alabama playing Clemson in the last Division I collegiate football game, it looked like Ghana playing Nigeria. And everybody was Black except the head coaches, and the people who put the championship game on and who run the networks and so forth," Dr. Edwards continued.
Who wins in the end?
Whether or not the players involved in this latest scandal will lose their eligibility is the least of their problems, said Dr. Edwards. It's something they can't wash off or get rid of it, but will stick 25 years from now anytime someone Googles their name, he said.
Now they must worry if new coaches would even retain them, and, they may lose their scholarships which in any event, are only given one year at a time, Dr. Edwards stated.
He predicts the scandal will mean developing a whole new regimen for recruiting athletes on all sides.
The young players lose in the NCAA scandal, lamented Dr. Watkins. "They punish to protect their money. They will kill the dreams of any person involved. They're gonna ruin their families. They're going to make the players ineligible to play. They're going to leave their families in poverty," he stated.
He said the athletes should hire Black lawyers, and file class-action, anti-trust lawsuits, because the NCAA has been in consistent violation of the Sherman Anti-Trust Act, designed to preserve free and unfettered competition as the rule of trade, but nobody calls them on it due to their government tax exemption.
"It's what they would consider to be a victimless crime, because the victims are Black and Black people are invisible," continued Dr. Watkins.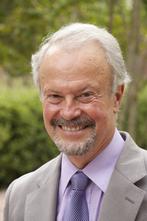 Edward O'Bannon, Jr., a former University of California Los Angeles basketball player filed a class-action anti-trust lawsuit against the NCAA and Collegiate Licensing Company on behalf of its Division I football and men's basketball players. At issue was players' likenesses being used in video games created by the company without their permission.
At trial in June 2014, District Judge Claudia Wilken ruled in favor of Mr. O'Bannon, holding that the NCAA's rules and bylaws operate as an unreasonable restraint of trade, in violation of antitrust law. The case on behalf of more than 24,000 former college football and basketball players settled for $60 million.
"This situation is truly a disheartening one. I believe it is the responsibility of the NCAA to first and foremost ensure that it supports and cares for its student athletes. I think increasingly ensuring student athletes are supported and valued will reduce the need for students to feel they have to find ways to support themselves," Dr. Richard Lapchick, director of the Institute for Diversity and Ethics in Sports at the University of Central Florida stated.