and Charlene Muhammad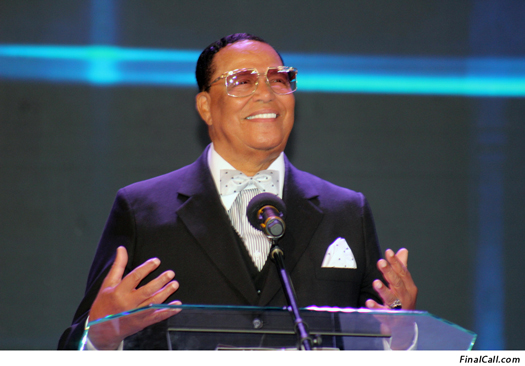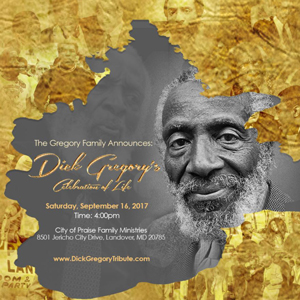 LANDOVER, Md.–Presented by the Reverend Willie Wilson as a hybrid angel sent by God, a cross between the angel Gabriel, a messenger and Michael a warrior, Nation of Islam Minister Louis Farrakhan delivered the eulogy for 'Baba' Dick Gregory. Emanating a warrior's spirit with a sincere message calling for those in attendance to grow to where Mr. Gregory had, the Minister shared what made the humanitarian, comedian and 'living legend' such a special human being during a homegoing service that drew thousands.
The "Celebrating The Life Of A Legend Dick Gregory" tribute held in the spacious and beautiful City of Praise Family Ministries located in Landover, Md. located across the street from Fed Ex Field, home of the National Football League's Washington team whom Mr. Gregory in solitary with Native Americans battled to change the franchises insulting and racist 'nickname' over the years. The celebration took place on September 16.
The six-hour-plus service was put into context by Rev. Wilson during his introduction of Minister Farrakhan when he said, "you can't have a short celebration for such a tall man." With the introduction complete, Minister Farrakhan went right to work.
Talking about Mr. Gregory's multifaceted life and reflecting on the various speakers, he characterized Mr. Gregory as a diamond. Minister Farrakhan opened his eulogy stating the light shined on that diamond, in every direction a different color containing all the colors of the sun. "His heart and mind were always on justice not only for Black people but on all. When Dick was around you better learn to listen," the Minister explained. "He had us laughing, but he was not a comedian, his jokes filled with wisdom."
Minister Farrakhan went on to explain that although Mr. Gregory had a Christian and Muslim family, he never joined an organized religion as such. "He was so far beyond dogma and ritual," the Minister pointed out. "I would love to hear Dick talk about the real God. The universal God. Dick had grown and outgrown the negativity and divisiveness and denominationalism of sectarian religion. So, he wanted us to grow to where he was."
"When asked one day by the Honorable Elijah Muhammad when he was going to join the Nation he responded I just want to tell jokes and make Black folks glad and White folks mad," Min. Farrakhan shared.
Dick Gregory could always be found with the common man and the common women, elevating their thinking. Few people operated from his level. He was always with people but yet alone," he noted.
The astute Minister went on to explain the Honorable Elijah Muhammad taught him that in the vastness of space there are black holes that produce new stars. We have stars in the heavens who have died but their light is still traveling, stars of immense beauty. Our brother always kept his eye on the universe. He would say, "and the universe stepped in."
What did he mean by that Minister Farrakhan asked? "You see the God who created all of this; you cannot pigeonhole him into some mess that you call religion," he continued.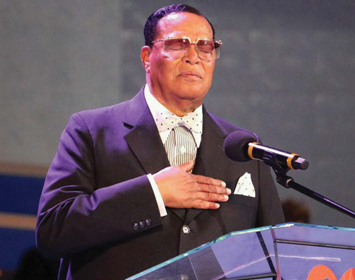 "We are so immature in our religious expression, favoring one denomination above the other. These are satanic expressions, things that break up the human family and cause the people of God to argue and fight when the reality is we all belong to the oneness of that universal creator."
Minister Farrakhan went on to explain how organized religion limits you. He explained, "in the Holy Qur'an it teaches if the seas were ink and the trees pens you could never exhaust the wisdom of God. Through the process of life and death, we evolved towards perfection. So, our brother Dick Gregory knew God in his special way."
In acknowledging Mr. Gregory's wife Lillian, he characterized her as a helpmeet. "One who helps a man meet the obligation that God has put on him. A man who does not know who he is or where he wants to go does not need a woman. A woman is to help you achieve the goal that God has given you for your life. Lillian was not only his wife, but she helped him to meet the expectation that the creator gave to that man. He wasn't looking for a purpose; he was born with a purpose."
Minister Farrakhan then went on to point out God creates all of his creation with aim and purpose. It is only the human being, the greatest of God's creation that is befuddled. In referencing the impact of White supremacy, he noted Dick Gregory used his gift to lighten our burden.
"Dick Gregory spoke for the living, and he was talking for the dead. Every soul must taste of death. The only way you cannot die is that you were never born," Min. Farrakhan said. "The moment you come from your mother's womb, there is a day of destiny. Funerals are not for the dead but for the living, and we want to know what have you done," he explained.
"Jesus said blessed are the pure in heart they shall see God where ever they look. Every time you look at another human being fashioned in the image and likeness of God you are looking at God. You reverence a church made of stone but when you interact with another human being your language is caustic and nasty. The church was not built by God, but you were," he stated emphatically.
Min. Farrakhan in his conclusion pointed out the universality of a baby crying. "They don't cry in Chinese and any mother worldwide understands their need. In the beginning, you speak a universal language, and in the end, you speak a universal language as you give up that last breath of life. But in our life time, we are in a Tower of Babel."
"Jesus and Muhammad made a universal sound because they aimed to unite the whole of humanity into oneness with God and one community. God is not bugged out by color that's the sickness of White supremacy. Some of you that hate Black have a black dog, and some of you that hate White have a white dog," Min. Farrakhan pointed out in describing the madness in the human family.
"You can hug the black dog but can't hug the man or women. The world is very sick. White supremacy has nothing to do with Jesus."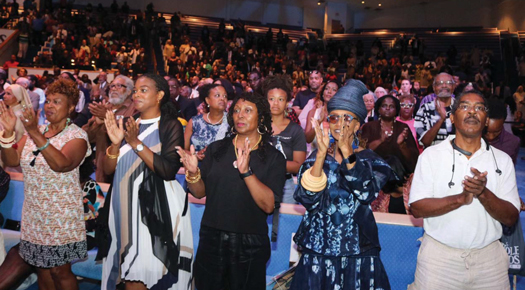 In concluding Min. Farrakhan told those in attendance that they have been "taught some narrow mess" in the name of religion. He then pointed out the commonality of all religions that you find when you go to the root of knowledge. In Christianity, they say all are one with Christ. The problem is we are not in him yet. That's why Dick couldn't join, the Minister explained. He strives to be one not with religion but one with the universal king. The Minister went on to point out again, the importance of faith using the analogy of the infant. Faith is God's gift to all human beings. "The baby intuitively sucks from the mother's breast expecting something. It starts pulling. At first, nothing comes, but the child doesn't lose faith. It keeps pulling and is rewarded. This universe is the mammary gland of God." Everything you want is all here, he said.
"Faith produces works, and Dick Gregory was a man of faith. His faith made him one of the greatest men of our time. So, the best way to honor this giant is to be in his shadow which is a refuge for you. He is one of the great living legends of our time. His work speaks for him," Min. Farrakhan concluded.
Renowned Black History professor Dr. Leonard Jeffries told The Final Call that today was a special spiritual event that took place that encompassed the very spirits of Black peoples' ancestors and God all coming together.
"There hasn't been a mix like this of the various people that Mr. Gregory influenced that came out to speak his special truth. And to have it end with Minister Farrakhan bringing the message that he brought, and Stevie Wonder, it couldn't have been a better celebration of us as a universal force and a universal people."
Celebrating a teacher and healer
Reverend Al Sampson, pastor of Fenwood United Methodist Church in Chicago and who was ordained by Dr. Martin Luther King Jr., was among the many dignitaries who traveled from near and far to pay tribute to Mr. Gregory's lasting impact and legacy.
Rev. Al Sampson's eyes welled with tears several times as he spoke to a small group on his way into a chapel reserved for guests awaiting the ceremony. He began his reflection on the life and legacy of Mr. Gregory, his sacrifice and fight for equality in America during the Civil Rights era. Mr. Gregory' genius was on multiple levels, said Rev. Sampson.
The genius of Dick Gregory was the example of how he could gather information, "because out of information, your strategy flows," explained Rev. Sampson. He also said he learned from the legendary activist the importance of fasting, a common principle taught in various religions.
Mr. Gregory learned from Alvenia Fulton, a natural healer in Chicago, how to make one substance to cleanse the body and another to revive the stomach, according to Rev. Sampson, that enabled him to do 40 and 90-day fasts.
"I went and taught my people in church to go from Good Friday all the way to 40 days and learn how to fast, which is the power of the spirit," Rev. Sampson continued.
Dr. C.T. Vivian, a close friend and lieutenant of Dr. King, highlighted Mr. Gregory's new book, "Defining Moments in Black History: Reading Between the Lies." His great friend and fellow activist was more than concerned about history first, he told The Final Call.
"He also wants to see where it fits or does not fit into ours. You can't get any history just out in space … one's history may be the same as another's but only in part," Dr. Vivian said. "From the moment we started, we both knew what we were going to hear or wanted to hear, and as a result we began then, not just to talk nor just chat. We really began to create for a reason," continued Dr. Vivian.
Phyllis Yvonne Stickney, stand-up comedian, film and TV actress grew up admiring Mr. Gregory, and remembers him as a political humorist and satirist. She first saw him on the Ed Sullivan Show, which was a rarity during a time when few if any Blacks were on major television shows.
"I grew up watching and being proud of him just as another little Black girl in America, seeing someone who had a voice that was clear, and strong, and funny at the same time," stated Ms. Stickney.
Mr. Gregory and her biological father are the only two people she called her "Baba," meaning "father" or "dad" in Swahili. She said she began calling him the revered and affectionate title after he gave her one of her major life lessons as she hosted the Essence Music Festival.
She'd just gotten off stage, entered the VIP room, and Mr. Gregory sat next to her and questioned, "How do you know what you know," she recalled. No one's asked her that question before or sense, she stated.
After she replied 'the Most High and the ancestors,' "the only thing that came to my mind," he invited her to D.C., shared some information, and gave her her 'magic glasses,'" Ms. Stickney said.
"He said to me, you'll be grateful for the gift of laughter, because it'll be the only thing that will keep you sane. And he was right, and he is my Baba, and I love him," she stated.
"That's who Dick Gregory is to me, and why I'm here is to celebrate his life. To let him know in spirit, to let his family know, regardless like I showed up whenever I could, I just showed up to let him know, I'm here. I see you, and I remember what you taught me, and I hope you're proud," said Ms. Stickney.
Rev. Michael Eric Dyson, academic, author, and radio host, called Dick Gregory a remarkable rhetorician, incredible comedian, powerful activist, and a man of faith, courage, conviction, and conscious, who was unafraid of anybody or anything.
"His persistent witness in the face of the withering denial of Black humanity is a monument not only to his courage, but to his indefatigable commitment to research, to study and to thoroughly engaging the mind, spirit and body with as much truth as possible," said Rev. Dyson.
He urged a look at what's occurring in the U.S. today–the confrontation of White supremacy's rise, its resurgence and the inability of Whites to tolerate Black truth, Black witness, Black testimony, Black conscious and to fight against it with everything in their own power.
Yet, the tragedy is that if the poor and working-class White, Black and Brown would unite, they could change the nation in a fundamental way, Rev. Dyson said.
"We're seeing under President (Donald) Trump the resurgence of White supremacy with its naked face, its vicious brutality, and we have to fight back. Police people are still being let off for killing Black people. The president of United States of America is trying to draw false relationships and comparisons between Nazis and protesters against it, and so we have to raise our voices in unison against such nonsense, and nobody did it better than Dick Gregory," he said.
"His legacy is unvarnished truth, unadorned truth telling, non-sentimental expressions of the gut-bucket realities that Black people confront, and the ability to call a spade a spade, and to tell White supremacy in its face that it was evil and wrong." Dick Gregory didn't back down or lie, explained Dr. Dyson.
"He told the truth as best he could say it, and that meant he brought the ferocious intelligence that would characterize him his entire adult life, to bear upon this problem, and he did it with such power and such accuracy that those who heard him were astonished at the fact that he could speak so honestly and so openly and so truthfully without bodyguards in this country. Telling that kind of truth would get you in trouble, but he didn't care, he gave his life bearing witness to the truth as he knew it," stated Rev. Dyson.
Doctor B. Sirius, an herbalist and natural healer, said he was honored to have worked with Mr. Gregory since 1995 and honored to attend his celebration of life. Mr. Gregory taught him how to use the energy of nature to heal, center, and create peace in self first, to ultimately create it in the world, he explained.
"Part of the legacy that he leaves is health. Health and wellness is the issue that actually keeps us from moving to the place that we should be. If we eat right, think right, and get our minds in a place where we are taking in nutrition, then we can begin to balance our emotions and move forward," said Doctor B.
"Mr. Gregory taught us how to live. He taught us how to learn, how to lead, how to be a legacy. He taught us how to leave peacefully, and he's brought all these people together who are creating peace, love, and harmony, and most of these people for the first time are seeing each other all in one place," he continued.
"So, as he left on the eclipse, his life is an eclipse, like when the sun and the moon are in alignment, he has aligned all of these different people from different walks of life."