By Charlene Muhammad CHARLENEM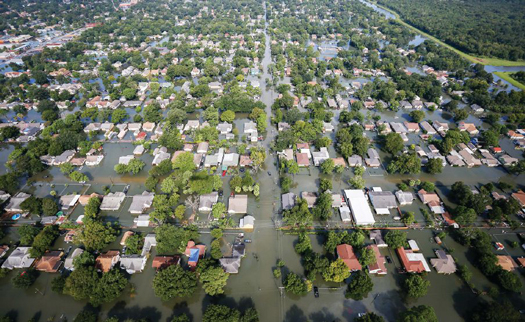 Texas begins long rebuilding process after disastrous storm
Flood waters are receding and recovery and cleanup efforts from the devastation of Hurricane Harvey are underway.
Now survivors are battling for housing and other unmet needs with the poor and vulnerable hit hardest. The storm hit Texas and parts of Louisiana and other parts of the Gulf Coast.
Harvey's death toll was estimated at 50 people, at Final Call presstime. More than one million have been displaced, and tens of thousands of homes damaged.
Low income Section 8 renters are hanging on by the skin of their teeth, stated Houston-based Dr. Abdul Haleem Muhammad, Nation of Islam student minister for the Southwest Region.
"In fact, Harvey knocked out their front teeth," he said.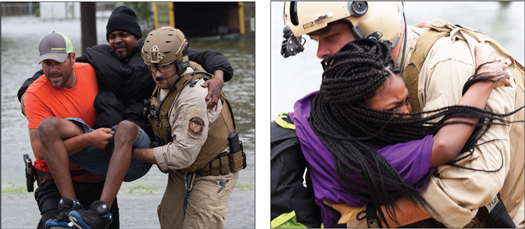 "When you're poor, and you have a catastrophe like this, you really get knocked for a loop and suffering is never really seen," said the urban planner and environmental consultant.Dr. Muhammad said the national media has paid attention to the more affluent areas, using flooded roads and accessibility issues as an excuse. But the media needs to go to less affluent areas to see how real people are suffering, he continued.
Survivors are plagued with threats to public health, and hopeful federal funding will help piece their lives back together. But while there is immediate disaster and relief, the Federal Emergency Management Agency is not tasked with making those who didn't try have to flood insurance whole, a FEMA official told the media.
Congress is expected to vote quickly on the first $7.9 billion aid installment requested by President Donald Trump to help with immediate recovery and rebuilding needs in Houston and beyond.
Texas Governor Greg Abbott placed the costs between $150 billion to $180 billion. But can the U.S. afford to rebuild one of its major cities?
"My hope is that our government will do what it's supposed to do and that is step in a time of need such as this and be of assistance not only with heavy equipment to remove the debris and the trees that are crossing the roads but also move in with the necessary funding, so that we can help people to have their lives restored and made whole," said Congressman Al Green, whose 9th congressional district includes Houston.
The federal government has demonstrated it can act quicker, for instance, when it provided resources and funding necessary for recovery one week after Hurricane Katrina decimated New Orleans, Louisiana, said the Black Democrat. The cost was over $100 billion.
"It's not a question of whether we can. It's not a question of whether there's a way to do it. The question is do we have the will to do it?," Rep. Green told The Final Call.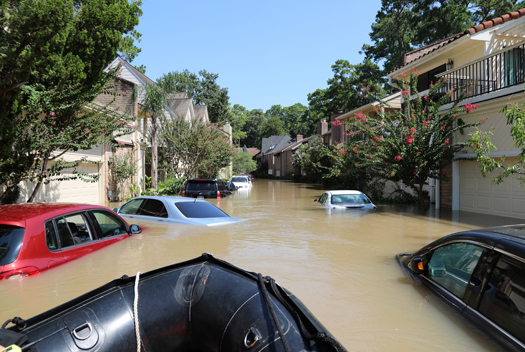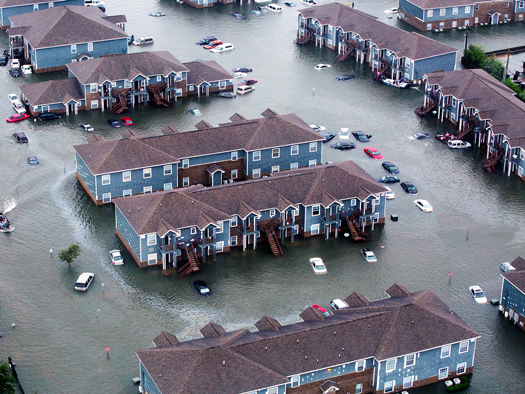 "We can afford to do this, because we were able to afford a trillion dollars for Afghanistan for wars, and these wars were never made a part of the budget that we had to reconcile. They were just money spent off the books, and we spent it, and we did it to secure our nation," the lawmaker added.
Houston open for business
Mayor Sylvester Turner has proclaimed Houston is open for business. The drinking water is safe, the electric grid is sound, with only about 12,000 people without power, and the transit system is up and running, he told Face the Nation Sept. 3.
"Anyone who was planning on a conference or convention or a sporting event or a concert coming to this city, you can still come. We want you to still come. We can do multiple things at the same time," Mayor Turner stated.
He's seeking rapid housing assistance for residents who have elected to stay in their homes, particularly seniors and low-income residents. In addition, he is seeking advanced funding for heavy debris removal and expedited FEMA registration centers to relieve more than 300 first responders, so they can tend to their own properties that have flooded.


Houston's two major airports were up and running. Officials said they were resuming limited bus and light rail service as well as trash pickup.
Valuable community lifelines
Across the state, volunteers have been pulling together to provide basic, daily necessities that have now become luxuries, distributing everything from food, to diapers, wipes, hygiene items, toiletries, toothbrushes, toothpaste, towels, baby food and formula, water, and soap. Back-to-school drives have doubled.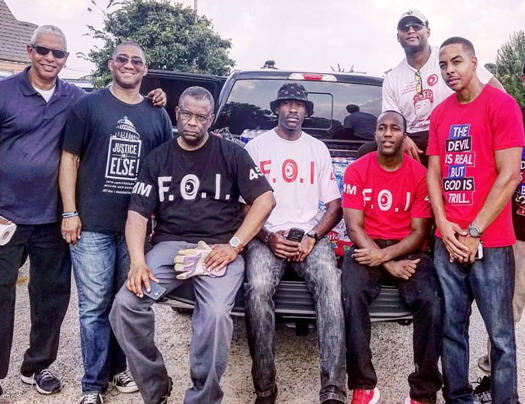 The Muslims of Muhammad Mosque No. 45, along with the 10,000 Fearless Emergency Response Team and My Queendom Come female empowerment and mentoring organization, have been providing needed items, along with cleaning and some medical supplies.Sixty-four volunteers aided 35 individuals at Muhammad Mosque No. 45, the Nation of Islam's Southwest Regional Headquarters Hurricane Harvey Relief Center and at three apartment complexes in one day, according to Dr. Muhammad. Over two days, they serviced 234 families at Mosque No. 45, and distributed aid to four apartment complexes and one housing subdivision.
Volunteers delivered water to Port Arthur, and the 10,000 Fearless Emergency Response Team and Austin Mosque No. 64 transported 80 evacuees from the deluged city to safety in Austin.
Donations small and large have been made online at NOIHouston.org, from ordinary people and some celebrities. The relief center has collected more than $14,000 to date, according to Dr. Muhammad.
The Fruit of Islam (F.O.I.), male members of the Nation of Islam, have been helping to clear out and repair homes, and delivering donations to neighborhoods and community centers.
The area of Southeast Houston, where Mosque No. 45 sits, was unscathed. The mosque and school were 90 percent functional, said Min. Haleem Muhammad. About a dozen homes were flooded out, but all Muslims in the mosque are accounted for, he said.
"All of our elders and pioneers in the mosque have reported in and they're doing fine. Those who were displaced are safe and secure at this time," Dr. Muhammad stated. He added, "Out of gratitude for Allah, the Most High, we are now serving our people. We're up. We're operational, and we're functioning."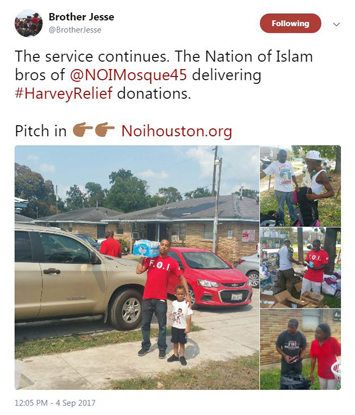 Deric Muhammad, Houston-based activist and author, and Pastor E.A. Deckard of Green House International Church have been spearheading efforts at the Hurricane Harvey Relief Center at the church and Greens Point Educational & Revitalization Center.
A time of great judgment?
During his Sept. 5 lecture from the Nation of Islam's headquarters at Mosque Maryam, Student National Assistant Minister Ishmael Muhammad reiterated the Honorable Minister Louis Farrakhan's warnings about God using weather and disasters–rain, hail, snow and earthquake–against America.
"God has to agitate the people, and whenever God sends a messenger or a prophet … he seizes the people with distress and affliction," so they might humble themselves, Ishmael Muhammad said.
But the worst is yet to come, he continued, noting record 110 degree heat waves in Los Angeles, and fires that are breaking out across California. Allah (God) is burning up the West Coast and flooding the Midwest, he said.
Min. Farrakhan has continually warned President Trump that almighty God Allah would use natural disasters to cripple America, his latest coming a week before Harvey struck, Ishmael Muhammad noted.
"You don't just have a man in front of you that speaks well. You just don't have a man that's a strong, bold, Black man and you like to hear what he's got to say about White folks. The man that is in front of us is divine! The man that is in front of us is God's servant to the Black man of America, a warner to America, and a warner to the nations of this earth," Ishmael Muhammad said.
Toxic threats in Texas
Of the 4,500 drinking water systems potentially affected by Harvey, 1,514 are fully operational, 166 had boil-water notices, and 50 are shut down, according to the Environmental Protection Agency.
And 13 of 41 and Texas' Superfund sites (most intensely contaminated places) are now flooded, with the risk that waters were stirring dangerous sediment, according to the EPA.
At a chemical plant some 25 miles northeast of Houston, two trailers of highly unstable compounds blew up on Sept. 1.
"The people pay a price for that" in respiratory problems, predicted Hilton Kelley, founder of the Community In-Power and Development Association, Inc. in Port Arthur, Texas. The group works to empower low-income residents.
According to Mr. Kelley, one out of every five households in the city has a child or someone that must use a nebulizer just to breathe.
He and several friends jumped into action and transported many stranded residents to the Carl Parker Center in his 15-passenger van. They saw people in want, except for water, and found officials really had no plan for them, as some people were sleeping on bleachers, he said.
It is time to create a better system, instead of fumbling the ball in helping victims to get safe shelter, food and water, promising people money, and just kicking the can down the road to the next administration, Mr. Kelly argued.
A disaster's emotional toll
Nadirah Muhammad, a licensed marriage and family therapist associate, has been assisting evacuees at the George R. Brown Convention Center in Houston with their emotional and behavioral health.
She's heard over 600 stories of what they went through with Hurricane Harvey. The survivors are in pretty good spirits, as long as they have clarity about the recovery process, she said.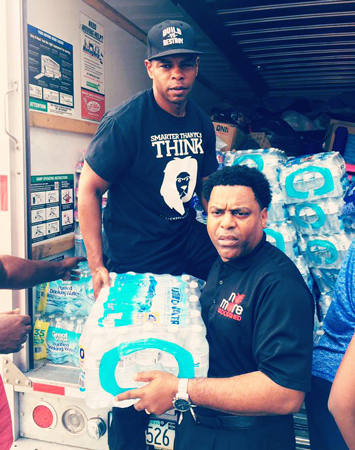 They need some compassion, someone to listen, and to sincerely know someone understands their situation, she added. "They know there's not much that can really be done at this point, but it's how you handle them, because if you handle them in a certain way, that's going to trigger the tears."
Mary Gradnigo was visiting her daughter in Lake Charles, La., when Harvey struck, flooding her home in Houston. She was disappointed and embarrassed when she went to Burton Coliseum to volunteer with recovery for the hundreds evacuated there from Houston on 47 buses the night before, she said.
She said some Caucasian volunteers not associated with the Red Cross, but who answered calls to come help serve food were rude to people, including children.
"I couldn't believe it! The little kids were asking for items that they had run out of and they came out with a tray of fresh cinnamon rolls. So, the little kids saw it and ran to the table and asked can we have one of those? Can we have one of those? And the lady just stood there and looked at them like she wanted to tell them no, and I told her, 'just give them the food! My God! Give it to them.' They're hungry," she said.
"They were Caucasian, and the majority of the people in the shelter were African American," she said. "One elderly Black woman was complaining to a Red Cross volunteer that she was freezing all night long, and they would not give her a blanket. I just couldn't take it. I had to leave," she said.
Maureen Forte of Chicago, and her daughter, Melissa, were at the Kay Bailey Hutchison Convention Center in Dallas on business when Harvey struck.
Harvey survivors have complained of price gouging for goods and services such as ice, food, batteries, generators gasoline, towing, and water. One case of bottled water was labeled over $40 at a Best Buy, but the company said the pricing was a mistake.
The Forte's said they noted price gouging–normally priced $3 hamburgers going for $15 and $10 taxi cab fares more than doubling to $25.
Maureen Forte saw not just a need for water and non-perishable items, but also pampers, adult diapers, clothing, school supplies, and toys, especially for some children unaware of the serious ordeal.
"One little boy I overheard him say we're on vacation. He did not realize the situation with his home flooding and losing everything," she said.
Meanwhile at Final Call presstime, there were fears a storm brewing in the Caribbean could strike Florida and the Carolinas.
(The Associated Press contributed to this report.)