JABRIL.MUHAMMAD
I'm continuing with the Honorable Minister Louis Farrakhan's words from last week's article.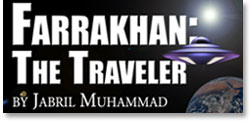 I ended with these words: "Yes– America, who feared revolution coming from the Blacks in this country because of their discontent, now have to fear revolution from their own people because of their great dissatisfaction with government. It is a great time of trouble. The Holy Qur'an teaches us that whenever Allah sends a messenger, He seizes the people with distress and affliction that they might humble themselves. Has God sent a messenger into America? Has God warned America? And has America been proud against God and His Warner, so that America, and the Black man, must now be seized with distress and affliction that they might humble themselves?"
"Have you not considered the mistake that Pharaoh made by enslaving a nation and robbing that nation of the knowledge of themselves and the knowledge of their God; and putting that nation under a heavy burden? And the scriptures teach us that Almighty God heard their moaning and their groaning, and came to see after their cry! And raised a Warner from the midst of the slave!
"Oh America! Should not this be a warning to you? Nebuchadnezzar and Belshazzar, the great kings of Babylon, held within them the Hebrews. But the Hebrews did not belong to Babylon; yet, they were defiled by the Babylonians. They were mocked! They were scorned! They were enslaved! But God raised up Daniel from the midst of the slaves to be a Warner to those great kings.
"Almighty God and His Abundant Mercy raised from the midst of the Black man and woman of America a Divine Teacher, to teach the Black man and woman of America into the knowledge of the time. And that teacher was and is the Honorable Elijah Muhammad. Elijah Muhammad's duty was to teach 30 million Black people in America that our time of deliverance and justice had come; that we could no longer depend on White people to care for us! That if we would be a great people, we would have to begin caring for ourselves.
"He warned America to let the Black man go, and let him do something for himself, and help him to go for himself. You went to war with Germany. You destroyed her cities and her towns, but after the war was over, America, you helped Germany to rebuild … . We helped you in your war with Germany. You went to war with Japan. You defeated Japan; you humbled her, and brought her to her knees. And after the war was over, America you helped her to get on her feet … . But we helped you, America to fight your war with Japan!
"You have helped your enemies. And you have helped your friends. But here, the Black man of America–your most loyal and faithful servant: Even though he is the most mistreated human being in the annuls of history, yet there is no record of the Black man and woman of America revolting against the government, lending herself to any foreign power against you, America! But how do you treat those who helped to reap down your fields and build your country? You tell us we have gone as far with you as we can go.
"You send billions of dollars overseas! But my beloved Black brothers and sisters are dying from hunger and starvation! And you say that they are a welfare burden. What about Germany? What about Japan? What about Israel? What about your friends around the world? What have they done, America, to build you up? It seems that the more we work for you, the more you hate us, and give us evil in return.
"We say to you: You have entered a time of trouble because you are mistreating the Black man of America whom God wants to go free to build a nation of self. And you know this, America! But you refuse to obey God's orders coming from a Divine Messenger from among us, so reap what you have sown.
"My beloved Black brothers and sisters, you, too are having a great time of trouble. You paid no attention to the Honorable Elijah Muhammad when he called you to do for yourself. You laughed at him, you mocked him, you scorned him, you ridiculed him! And now, Almighty God is showing you that the people that you put your faith and trust and confidence in over God and His Servant and The Truth, which was brought for your redemption and salvation–now your rejection is bringing us into a time of trouble.
"But this distress and this trouble and this affliction is only that you and I might humble ourselves. It is not too late, but this is the final call. Oh, my beloved Black brothers and sisters; We must unite! We must stop this petty bickering among ourselves. We must break down every artificial barrier that keeps us divided against self. Oh, you mighty Black leaders: Stop petitioning Washington to help you, and turn inward to self, and use all of the skills and resources that we have at our command to build the Black man up in this great time of trouble. We plead with you, in this time of adversity and difficulty and stress and affliction, to come home to God, and come home to yourselves and come home to each other.
"And you that lead, you that preach; you that teach; Study deeply into which will deliver our people! And with boldness and straightforwardness, deliver The Truth! And guide the people with Justice! For we have entered a great, great time of trouble, but this time of trouble signals the approaching of our deliverance! Unite, Black man; and fl y to Almighty God Allah for refuge under the banner of the Teachings of the Honorable Elijah Muhammad.
"May Allah grant you the light of understanding and keep you hidden under His wings of protection in the Great time of trouble."
More next issue, Allah willing.