By Charlene Muhammad CHARLENEM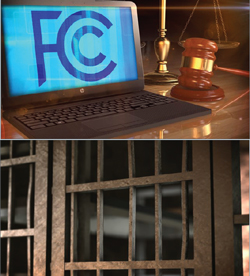 The United States Court of Appeals for the District of Columbia Circuit ruled in a 2-1 decision that regulations that capped the high cost of in-state phone calls by prison inmates are now null and void. The June 13 ruling has put partisan politics over people, say prison reform advocates.
The federal panel stated that following the presidential inauguration in January 2017, the Federal Communications Commission (FCC) exceeded its authority to cap intrastate rates under section 276 of the Telecommunications Act of 1996.
"Today's D.C. Circuit decision is deeply disappointing, not just for me and the many advocates who have fought for more than a decade to bring about much needed reform in the inmate calling services regime … it is a sad day for the more than 2.7 million children in this country with at least one incarcerated parent. But the families who have experienced the pain, anguish and financial burden of trying to communicate with a loved one in jail or prison, are still counting on us, so we will press on," said FCC Commissioner Mignon Clyburn.
"Disappointing is an understatement, but I don't know what other word to use," said Carrie Wilkinson, director of the Prison Phone Justice Campaign. The organization works to lower the costs of calls from prisons, jails, juvenile facilities and other detention centers to ease the burden on prisoners' families, who are disproportionately poor, people of color and members of communities already hit hard by mass incarceration.
"I think what's frustrating is these families who have been price-gauged for so long, and got kind of caught up in the politics. The families really got caught up in bad timing, and while I'm hopeful that the companies will do the right thing and not take every opportunity to increase the ways they can now price-gauge them even more for an indefinite period of time," Ms. Wilkinson told The Final Call.
She said advocates will have to redouble their efforts and fight harder, and they're working to determine the best strategies.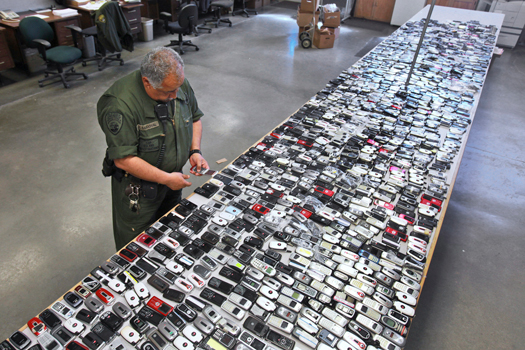 Attorney Lee Petro of Drinker Biddle & Reath said the decision strikes a devastating blow against the efforts to have the FCC adopt reforms of the Inmate Calling Services.
"The FCC under President Obama adopted rules that would protect inmates and their families from unjust, unreasonable and unfair rates and fees. Immediately after President Trump took office, his appointee for Chairman informed the court that the FCC would no longer defend two critical aspects of the prior decision, which directly resulted in Tuesday's decision," Atty. Lee told The Final Call.
According to prisonphonejustice.org, calls can cost anywhere from 48 cents to over $5.00 per minute depending on the state.
Atty. Lee said advocates are now looking at possible further judicial action. "In addition, we will take FCC Chairman Ajit Pai at his word that he wants to 'address the problem of high inmate calling rates' and will be a willing partner if he takes steps to actually protect inmates and their families from egregiously high intrastate rates and fees," Atty. Lee said.
He added, "Absent further action by President Trump's FCC to protect inmates and their families from egregiously high intrastate rates and fees, we will need help from Congress to reaffirm the authority granted to the FCC in 1996."
Also, he continued, while a handful of states have taken meaningful steps, most have declined to actively regulate this industry. "If President Trump's FCC will not protect consumers, then state public utility commissions will need to stop ignoring this problem and use their authority to assist the citizens they were sworn to protect," Atty. Lee said.
According to Ms. Wilkinson, one bright spot that remains true is the public has become much more knowledgeable about the existence of such practices, are educated about what's really going on, who's profiting from these phone calls, and the fact that the poorest people in the country are subsidizing correctional facilities.
She said there has been a groundswell of support, including some legislation that has reduced the costs of calls, that proves it can be done.
"In West Virginia, in the DOC (Department of Corrections), the cost of a phone call is 2.3 cents per minute, so these companies can provide service at low costs and I assume they're still making a profit, or they wouldn't provide the service," Ms. Wilkinson stated.
Ms. Wilkinson said she too hopes Chairman Pai keeps his word to address the high calling rates in a meaningful way for families.
"Unfortunately, what I've seen so far is just people trying to protect the profits of the companies and the correctional facilities, and the FCC seems to be doing that now by not wanting to regulate, and the courts have supported them in that," Ms. Wilkinson said.