By Charlene Muhammad CHARLENEM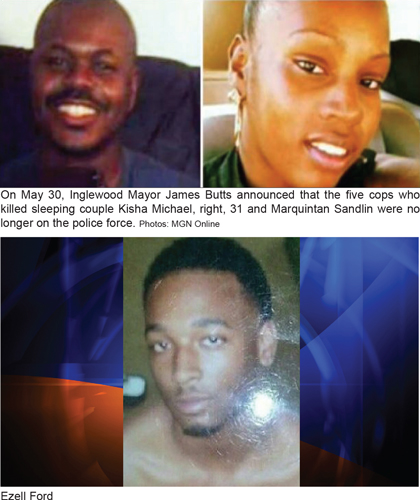 LOS ANGELES–Frustrations continue to mount among victims' families, community, and religious leaders, who called recent outcomes in three police excessive force cases mere slaps on the wrists.
District Attorney Jackie Lacey's office announced on June 6 that Los Angeles Police Department Officer Brett Ramirez will face no charges in the August 12, 2015 fatal shooting of Redel Jones in South L.A.
According to police, the approximately 5 feet 5 inch tall Black woman robbed a pharmacy of approximately $80 with a knife and a handwritten demand note. As officers chased her, they said she pulled a large knife out of her waistband. According to the D.A.'s office's partially redacted report, Ms. Jones charged at Ofc. Ramirez with the knife, and he fired five rounds, striking her four times.
The report said an eyewitness indicated Ms. Jones wasn't charging at officers, nor was she holding anything, however, the report included a surveillance video which depicts Ms. Jones holding a knife and other objects.
Despite conflicting accounts by witnesses, the D.A.'s office has closed the file, concluding the officer was in reasonable fear for his life, acted in lawful self-defense, and used reasonable force.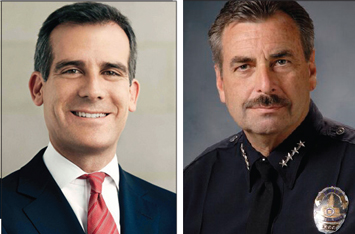 "We have to remember that for time in memoriam, there've always been Black people who've aligned their interests with White power structures instead of Black people. Jackie Lacey, I think a lot of us were hopeful. She's a Black woman. She's a mother. We were hopeful that she would have the community's interests at heart, but that really belies her background and training," said Dr. Melina Abdullah, organizer with Black Lives Matter Los Angeles.
She noted D.A. Lacey's been following suit of mentor former D.A. Steve Cooley, a White Republican.
On May 30, Inglewood Mayor James Butts announced that the five cops who killed sleeping couple Kisha Michael, 31 and Marquintan Sandlin, 32, on Feb. 21 last year are "no longer members of the Inglewood Police Department."
"The Department's report and any discipline that results from the report are confidential," said the mayor. The only other details he offered is that L.A. County D.A.'s Office is conducting an independent review focused on law compliance.
Dr. Abdullah said a key solution is to up the pressure on D.A. Lacey, who ran unopposed for her second term."Four plus years she's been in office, not a single officer has been charged in the killing of Black people or of anybody and it's time," Dr. Abdullah said.
"Yesterday, she just announced that she won't file charges against the killer of Redel Jones. The killer of Brendon Glenn (killed by LAPD Officer Clifford Proctor in 2015) was actually recommended for charges, and she has not filed charges against him. Ezell Ford's killers were found out of policy. She didn't file charges against them," she continued.
Now in Inglewood, five officers have been separated from service, so D.A. Lacey has no excuse, Dr. Abdullah stated.
She said people need to focus on the significance of the officers being fired in Inglewood, because they've not seen that happen before so it's a huge deal.
She feels it speaks to the organizing and constant pressure that the people have been putting on the City of Inglewood around the Sandlin and Michael killings.
"But it also requires something of Lacy. She needs to charge those folks. We know that whatever's on the video, whatever is in the report must be super egregious for them to be fired," Dr. Abdullah argued.
Without any charges, she said, the officers could apply for jobs with other police departments.
She and other activists are calling for a complete transformation of the system, which includes continuing to apply pressure on D.A. Lacey and the demands that Mayor Eric Garcetti fire LAPD Chief Charlie Beck.
"We haven't let that go, and we won't let that go," Dr. Abdullah stated. If Inglewood Mayor Butts, a former cop, could fire officers, what's wrong with L.A.'s mayor, she questioned.
"We have to hold him accountable and we have to say no Garcetti. If you are refusing to do anything, then you're going to pay political consequences," Dr. Abdullah stated.
The L.A. City Council recently approved a $500,000 settlement in the case of Clinton Alford, Jr. On Oct. 16, 2014, LAPD Ofc. Richard Garcia brutally beat, kicked, and spat on the then 22-year-old during an arrest. According to police, he fit the description of a robbery suspect.
Chief Beck said then he believed Ofc. Garcia acted criminally and personally urged the D.A. to file charges. The officer pled no contest to felony assault charges and struck a plea deal allowing him to pay $500 to charity and perform community service. But he got no jail time, and his felony was dropped to a misdemeanor.
"L.A. is not the kind of place that will allow these injustices without some kind of recoil or without some kind of answer to that," said Student Minister Tony Muhammad, Nation of Islam Western Region Representative. He said these types of killings and beatings is why the city just marked the 25th Anniversary of the 1992 L.A. Rebellion which was a response to the police beating of motorist Rodney King and a history of police misconduct toward Black residents.
Student Min. Muhammad said it looks like police officers are getting away with a pat on their hand, but will not get away with God or the universality of justice.
"The Honorable Minister Louis Farrakhan said it to us like this, he said 'all liars.' You're dealing with the D.A.'s office lying. You're dealing with the coroner's office lying. You're dealing with the police officers policing themselves. They're lying … The people now are beginning to boil again, and God will not be mocked. There's going to be an answer, and they're going to reap what they have sown," he warned.
"I know that there are police in every city that try to do their jobs, but I also know that there are police in every city that are rogues, who use their badges and their authority as a license to kill. I say this very humbly: This has reached the point of explosion," Min. Farrakhan said during a national tour stop leading up to the historic Justice or Else gathering on 10.10.15 in Washington, D.C.
"I have pleaded with the government of the United States of America to do its job. We are supposed to be living in a civilized society: We are not supposed to take vengeance when someone does evil to us; that's what government is supposed to do so that the society remains civil," the Minister continued.
"But when the government fails … When liars are judges, when liars are medical examiners, when liars are prosecutors, when liars are district attorneys; when liars allow murder to go on, and we go home grieved–and the murderer goes home to dinner with his family; when our women are beaten and killed while under detention: How long can we as a people endure such without responding appropriately when government fails to act?"