JABRIL.MUHAMMAD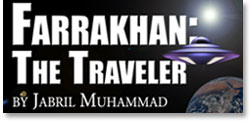 At this point, I repeated a point I've made in another article, with significant additions. It was:
One day–maybe 1932–Master Fard Muhammad said to his servant, "Come on Karriem. We got about all we're going to get." The Honorable Elijah Muhammad, instantly, humbly and tearfully responded, "Master, if you destroy them, destroy me." (He replaced His servant's name, first with Karriem and later with the name Muhammad.)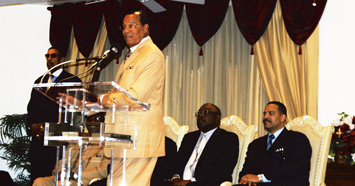 When the people rebelled against their God, Moses and Aaron fell on their faces and begged God for mercy for such foolish people. Later, when God reacted to continued rebellion of the people, who feared Pharaoh and his hosts, (as they ought to have feared God), and when God threatened to destroy His people, it was Moses and Aaron who fell on their faces and begged God to exercise extraordinary mercy and save their people–and the others who would be saved.
This connects to the fact that Master Fard Muhammad came, in part, to produce the Honorable Elijah Muhammad to save us–and others who would be saved.
Now, included in His (God's) purpose for coming, was to produce the Honorable Minister Louis Farrakhan for the Honorable Elijah Muhammad, that he (the Christ) may use him (the Minister) to get all of His people.
The Bible records that Paul went through a period of intense pain, sorrow and grief, or depression, over the rebellious condition of the Jews and their unwillingness to accept– or properly accept–him whom God produced to save them. So did Minister Farrakhan pass through such an intense experience, a few years ago.

In an article that I wrote, I mentioned the fact that God only allows intercession under specific conditions or circumstances. He only permits intercession through certain ones and even then they must be prepared by Him (God).In other words not only are there pockets of time, during which God allows intercession–and this is something very special–there is, what I will here briefly call, a special kind of mutual influence between the Lord God Almighty and a servant of His, for the benefit of others. We are witnesses and beneficiaries of such unusual experiences in the life of God, His Christ, and the Honorable Minister Louis Farrakhan.
What should be our reaction? Gratitude or ingratitude? Arrogance or deeper humility? Faultfinding and slander or soul searching and the spirit of forgiveness? A flinging aside of time for prayer to Allah and the study of His word? Increased stinginess and a greater measure of selfishness or an increase of acts of charity and greater sacrifices in behalf of God's truth?
Let us consider how such cases in America's judicial system that embody and clarify such concepts as amnesty, pardons, clemency, etc., that grow directly out of the lives of human beings. And let us look at and reflect on incidents in the lives of some of God's prophets, who performed certain acts, which serve as precedents for what Minister Farrakhan has done and is doing for us all.
********
The following is from a talk I did in San Diego on December 3, 1995 titled, A Valuable Blackman:
My Dear Brothers and Sisters, I have a very important subject to review. You already know this, but I just want to review it. And those of you who are new to this teachings or don't have it all together, in your head, I hope that this, what we're going to cover for the next hour or two, will cause you to make the kind of study that you deserve to make for yourself, about a very important Black man–the Honorable Minister Louis Farrakhan.
Needless to say, any man, who can summon a million people to one spot and the government not be able to stop that, is a man about whom you should know much. And not to take the time to avail yourself or not to find out how you can learn more about him is to do yourself a disservice.
Honorable Minister Louis Farrakhan in the narrowest of terms is the subject I'm speaking on. Greatness in and of itself is meaningless except in terms of one's value. Value is best measured in terms of service. Even though it would be taken as this author's personal bias nevertheless the Honorable Minister Louis Farrakhan is a most valuable man in the sight of the Two who back him namely, Master Fard Muhammad and the Honorable Elijah Muhammad and to those who are with him.
That word with is a very big word here.
On three separate occasions and this is what I was leading up to, between 1969 and 1970 the Honorable Elijah Muhammad spoke in a certain progression concerning the value of Minister Farrakhan to himself.
First he said*, "Brother, you are more valuable to me than a truck load of diamonds and gold."*
On another occasion he said, "Brother you are more valuable to me than a thousand airplanes with a thousand head of sheep on every plane."
On a third occasion he said to his Minister, "Brother you are more valuable to me than all of the wealth that is in the earth because the wealth of the earth I met when I came here and I shall leave it when I'm gone, but through you I will be able to get all of my people."
(I was not there for that event. But I came to see this 1000 percent!)
Stop and let us think about these words!
More next issue, Allah Willing.