By Final Call News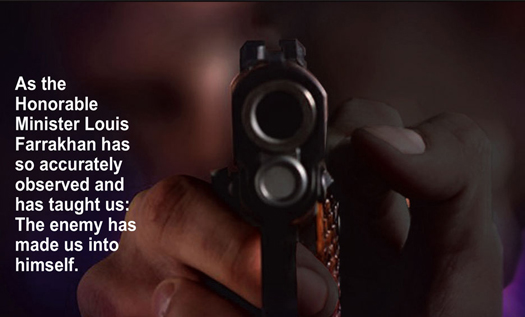 There seems to be no end to the sorrow spread across America on a daily basis and the painful loss of Black life, whether at the hands of police officers or as Richard Collins III, a graduating student at Bowie State University in Maryland, was allegedly killed by a White student on the campus of the University of Maryland.
Those tragedies, however, reflect an old and unforgiving enemy who has been determined to misuse and abuse us from the time our ancestors arrived on these shores in 1555. But in the darkest days of chattel slavery, our love of one another sustained us. At the end our official slavery, there were countless notices and ads in newspapers as we sought a long lost mother, father, brother, sister, son, daughter, wife–though our chances of reconciliation were slim.
We loved and wanted one another, we were important to one another. Black Lives Mattered to Black People.
Too often today, our lives don't matter whether the cause is domestic strife, criminality or even social media posts. We spare no one, neither male nor female, nor young or old. Death stalks us as we execute deadly lessons learned from the children of our former slavemasters. The list is long and tear stained but some incidents should shock us enough to awaken us.
Funeral services were held May 26 for a 6-year-old boy who was shot to death following the theft of his mother's car. Hundreds turned out for funeral services to remember Kingston Frazier at Morning Star Baptist Church in Jackson, Miss.
Police say a car thief jumped in and drove off with the Toyota Camry that was left running as the boy's mother shopped. She was getting items to celebrate the child's kindergarten graduation. Kingston was asleep in the back seat.
Later the car was found with the dead child inside, he had been shot in the head.
Byron McBride, Jr., 19, Dwan Wakefield, Jr., 17, and D'Allen Washington, 17, are charged with capital murder in the case. They are all teenagers and they are all Black males. If convicted of murder, the 19-year-old could receive the death penalty.
According to the Associated Press, one teen suspect has implicated Mr. McBride as the person who actually stole the car and shot the child.
Authorities said the only motive was to steal the vehicle.
A little further north, Chynna Stapleton was charged with first-degree murder after ramming her car into an 18-year-old girl who was described as a romantic rival. The woman and the teenager allegedly were engaged in a Facebook battle related to a man who fathered a child with Ms. Stapleton. The women wound up in a face-to-face confrontation on Chicago's South Side. Then the woman chased the girl with a jeep and pinned her against a tree, slamming the vehicle into her several times, according to media reports.
To the East, in the city of Baltimore, a day care worker was charged with murder, accused of killing an eight-month-old child. The Associated Press reported May 25 that Leah Walden is charged with first- and second-degree murder, first-and second-degree assault, first-and second-degree child abuse and reckless endangerment.
"A day care worker in Maryland was captured on video 'torturing' an 8-month-old girl who later died, authorities said," according to the wire service.
A police official said "the video shows Walden using 'excessive blankets, which fully covered the child's head, violently snatching the child out of the crib with one arm, swinging at the baby as if she was slapping her, and placing pillows over the baby's face.' "
The official said "Walden told (day care supervisors) she fed the baby, wrapped her in a blanket and put her down for a nap. The management of Rocket Tiers alerted police to the video, which told a different story," AP added.
Painful, horrible and almost unimaginable–except that we hear such horror stories every single day.
As the Honorable Minister Louis Farrakhan has so accurately observed and has taught us: The enemy has made us into himself.
As he hated us, we hate ourselves. As he has murdered us, we now murder one another. As he tricked and exploited us, we now con and flimflam one another. How long do we think we can continue along this path?
Not only is it an affront to our ancestors and their unceasingly struggle and desire to be free, it is also an affront to God. Yes. It is an insult and an abomination in the sight of God that we inflict such injuries, bedevil and slaughter one another. Why does God care? Because as the Honorable Elijah Muhammad, patriarch of the Nation of Islam, has revealed, God has chosen Black people in America as his people in fulfillment of the prophecy of the children of Abraham found in the Bible. The prophecy says that Abraham's seed would be afflicted and serve a strange people in a strange land for 400 years–and after that time God would come to deliver that people and judge those who his people had served. No one has suffered more and better fits this description over the last 400 years than the so-called American Negro.
So if God wants us and we despise one another and spitefully use one another, can we obtain the favor of God? Can we obtain the blessings he came to bestow on us? Emphatically not. We must change. We must submit and we must have the Supreme Being exchange our hearts of stone and hearts of beasts for the heart of the Messiah. The process to change us and the words to help reform us are available through the teachings of the Hon. Elijah Muhammad and his books, and books and almost countless lectures by Min. Farrakhan.
Knowledge is also available from other groups who wish to see us rise from this ugly and abject condition.
But change must come and come now, otherwise we risk the chastisement of Almighty God Allah. We should be bothered enough to throw off this behavior and join an effort to correct it: Become a part of the 10,000 Fearless called for by Min. Farrakhan to stand between the gangs and the guns and increase peace and join those who are training for conflict resolution. Go to https://www.justiceorelse.com/ join-10000 and sign up today.
Surely, if the peacemakers are blessed, the peace breakers are on the wrong side of God, which is the wrong place to be today.