JABRIL.MUHAMMAD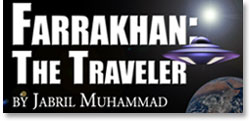 I have written a commentary on both the veracity, significance and power of the Honorable Minister Louis Farrakhan's more than a vision experience some years ago.
Here is an excerpt of it:
Ninety-six months after he determined that he would, by Allah's help, lift the name and rebuild the work of his teacher, and fifty-five months after he announced that the Honorable Elijah Muhammad was physically alive, Minister Farrakhan had a very unusual experience.
In a little mountain village, in the country of Mexico, during the night of September 17, 1985, he had a vision-like experience that was far more than a vision. He didn't realize that he had this experience until two days later when an earthquake took place.
Then, on the 19th he told his experience to his wife, Mother Khadijah, and to Mother Tynnetta Muhammad. His vision-like experience took place between two significant speaking engagements. The first was in Los Angeles, California, where he spoke to about 19,000 people, on September 13, 1985.
Up to that time, it was the largest live gathering ever to hear the teachings of the Honorable Elijah Muhammad in the history of the Nation of Islam, west of the Mississippi River. Minister Farrakhan left Los Angeles and went to Mexico, where he experienced his vision.
The next event was to take place in New York City, October 7th, where he would speak to an audience approaching 50,000 people inside two of the buildings of Madison Square Garden and on the outside.
Minister Farrakhan used Phoenix for most of the time he spent in preparation for his speech in Los Angeles. He now returned to Phoenix to prepare for his next speech, which was to come in New York City. Mother Tynnetta Muhammad and I were with Minister Farrakhan, on the first day of his preparation for his New York speech.
This discussion took place at a lake called Lake Pleasant, in Phoenix, Arizona. Then as we were gathering our books and papers to return to Scottsdale, Arizona (a city adjoining Phoenix) Minister Farrakhan informed me of his vision-like experience.
I was at the same time both immensely gratified and profoundly moved by it and struck by what seemed to me to be the casual manner in which he told me what he did.
I regarded what he told me as momentous, wondrous or spectacular, or even more than that. He did not seem to realize the weight and significance of what he was telling me, at that time.
(Why am I'm retelling this now and at this time? I'm waiting for your reaction.)
*********
It was a few days later, while he and I were on a jet, on our way, on a route that would take us to New York City, that I asked him to please go over his vision-like experience again with me. I wanted him to put his experience on tape because I wanted his every word of his experience carefully preserved. To me what he experienced was something that would powerfully reverberate around the planet earth.
As he spoke into the tape recorder he began to break down. He said he was realizing that something very unusual had happened to him, which he could not explain. Tears began to roll down his cheeks as he spoke to me. It was evident to me that he was experiencing more fully the reality of his vision-like experience, even as he spoke. He said he felt as if he had been inoculated with something and now he was feeling the effects.
To me, his reaction accounted for the way he seemed to me when he first told me of his more than a vision. When he first told me of his experience, he did not seem to recognize the enormity of what he was telling me, which he had experienced.
I was to later learn that this was also the view of Mother Tynnetta Muhammad. She told me of her impression of him when he first told her of his vision in her home in Mexico.
Now, on the jet, he was going through a stage in which the fuller dimensions of his astounding experience were dawning upon his mind. After we finally arrived in the hotel, in New York City, we received some very fascinating information from some of his family members, including his wife, Mother Khadijah.
During that same night as we were flying from Phoenix, Arizona to the East Coast, which is a northeast direction, we learned that sixty "baby" planes were seen moving above the city of Tucson, Arizona. They were seen traveling on the same northeast course we had traveled.
Another factor making this event so striking was that there was a heavy cloud cover over the city. Therefore, there was no way that these flying objects could be mistaken for 60 moving stars, all going in the same direction.
As we all know, clouds block one's view of the stars. A total cloud cover blocks out all of one's ability to see stars, if you are on the ground. These were not flying objects with which the authorities could cope.
These were, according to trained observers, "UFOs," and they were obviously flying under the clouds. These "UFOs" generated excitement. Later I learned that there were local (in Tucson, Arizona) radio interviews and several news programs, which were generated by this awesome event. However, it seemed that this startling display of intelligence and power was generally kept from the country as a whole.
We wondered if we were being escorted by the, "baby" planes. Remember, there was a lot of evil and loud talk–especially from the Jewish community, and from the very highest government officials of the United States–about Minister Farrakhan, at them.
I took these planes to be Allah's way of showing them that the Minister had plenty of backup (support.)
Once we really behold the Powers ultimately determining the course of life on earth–and Their relevance to Minister Farrakhan–we will then have no trouble recognizing the outcome of today's events. It then became possible to comprehend what the real new world order will be, and look like, and what we must do to qualify to live in it.
This comprehension, this increased grasp of reality, and the true forces–the Ultimate Intelligence–governing reality (in all of its manifestations) ought to inspire the kind of behavior that puts us in accord with God Almighty, Whose intelligence and will is the root cause of the change of the worlds.
More next issue, Allah Willing.